Wild pitch sends Yanks to series win over Halos
Tanaka strong in no-decision; Ellsbury scores deciding run in eighth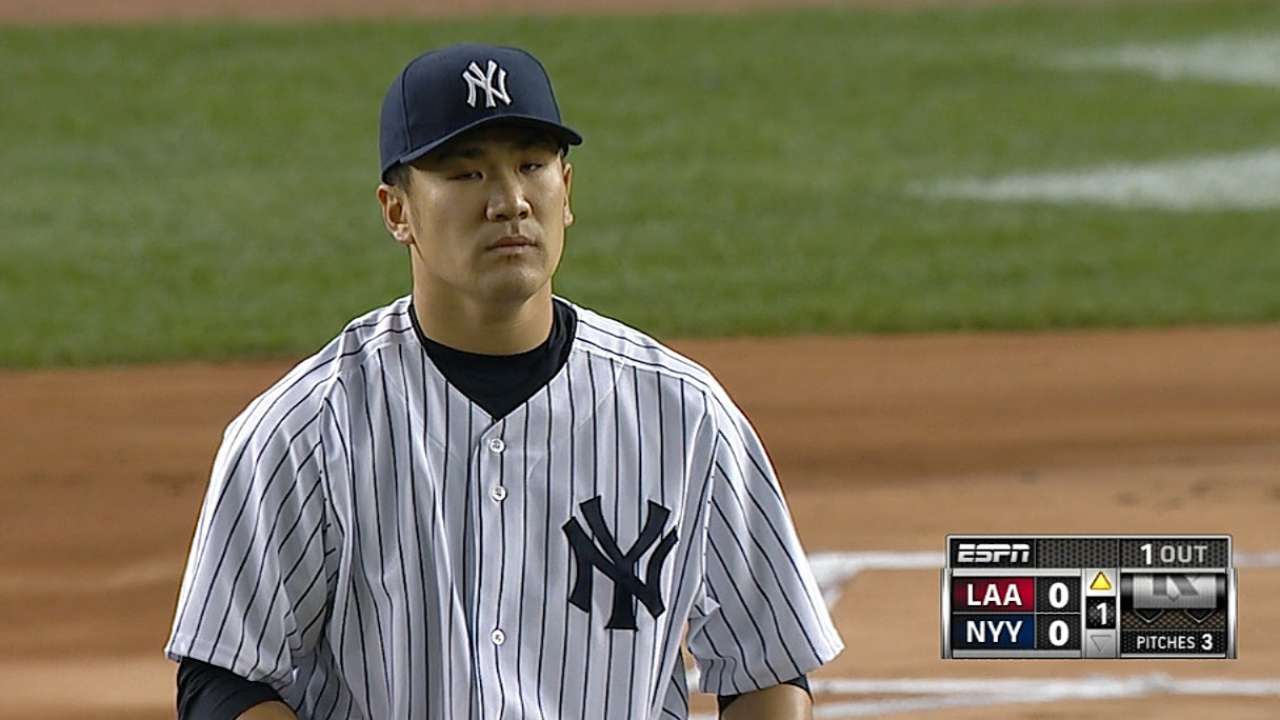 NEW YORK -- Masahiro Tanaka has made his first month in the Major Leagues look easy. His calm demeanor and poised presence on the mound have allowed him to live up to the sterling reputation he built in Japan. Such a smooth transition has been a surprise even to his manager.
That's why his start against the Angels on Sunday night was significant. For the first time this season, Tanaka had an outing that was anything but easy.
"I think it shows you how he has the ability when he doesn't have as great of command, and maybe doesn't have as great of stuff, he still finds a way to get through innings," Yankees manager Joe Girardi said. "And that's what he did tonight."
Tanaka gave New York another solid start, and Jacoby Ellsbury scored the go-ahead run on a wild pitch in the bottom of the eighth inning to give the Yankees a 3-2 win in their series finale against the Angels.
Even without his usual sharpness, Tanaka stifled the Angels throughout the night. New York's offense just couldn't back him up. Tanaka yielded only two runs on five hits over 6 1/3 innings, with four walks and 11 strikeouts. He left the game with the Yankees trailing, 2-1.
Mark Teixeira's game-tying solo home run off Los Angeles starter Garrett Richards in the bottom of the seventh kept Tanaka from taking his first loss of the season.
Yet the Yankees didn't need a hit to score the go-ahead run.
Los Angeles reliever Michael Kohn walked Ellsbury and Carlos Beltran, prompting Angels manager Mike Scioscia to bring in Nick Maronde. But a passed ball by Chris Iannetta moved the runners to second and third.
"I just missed it. It was a fastball right there, and I just missed it," Iannetta said. "You catch I don't know how many balls a year and that doesn't happen. But it did. Can't do anything about it now."
Just a few pitches later, Maronde threw a slider in the dirt. Iannetta said he tried to get in front of it, but it bounced off to the side and to the backstop.
Ellsbury broke from third and easily scored the game-deciding run for the Yankees.
But Ellsbury wouldn't have been in position to do so without Tanaka continuing his superb start to his first season in the Major Leagues.
Through five starts, Tanaka has been every bit the pitcher the Yankees hoped he would be when they signed him to a seven-year contract in the offseason. Tanaka hasn't succumbed to the difficulty of learning a new team, new league and new culture.
"He's been able to make it pretty seamless, from everything that I've seen," Girardi said before the game. "That's a little surprising."
But Sunday's start wasn't quite as smooth as his previous four.
Tanaka lacked his precise command from early on. He matched his season total of two walks by the end of the second inning. Yet for as much trouble as he got into, he continued to work out of it.
With runners at first and second with one out in the third, Tanaka got Howie Kendrick to ground into a 6-4-3 double play to escape the jam.
Then in the fourth, Tanaka did it again.
After Erick Aybar doubled to right, Tanaka hit Ian Stewart and walked Iannetta to load the bases. J.B. Shuck hit a grounder to second that scored Aybar, but Tanaka struck out Collin Cowgill to limit the damage.
David Freese led off the sixth with a solo home run to give Los Angeles a 2-1 lead, but Tanaka promptly retired the next three hitters he faced.
Tanaka needed 108 pitches to get through the outing. The Angels drove up that total after jumping on him early.
"My pitch numbers went up because of that," Tanaka said through an interpreter. "Basically I wasn't trying to give up any runs. In order to do so, sometimes you have to let those pitch counts go up. That's what happened today."
But while Tanaka was still in the game, the Yankees couldn't muster much offense against Richards. The Yankees eventually got on the board in the fifth, when Teixeira scored on Ichiro Suzuki's RBI groundout to briefly knot the game at 1.
It turned out the Yankees didn't need much offense, anyway. The Angels had plenty of chances to build a lead, but couldn't break Tanaka. Los Angeles finished the game 0-for-8 with runners in scoring position.
Tanaka's start wasn't easy, but it was more than enough.
"The guy really competes," Girardi said. "That what he goes out and does, and finds a way to get it done."
Chris Iseman is a contributor to MLB.com. This story was not subject to the approval of Major League Baseball or its clubs.