Salazar solid, but Indians lose on walk-off homer
Starter allows one run in seven innings; Gomes belts tying shot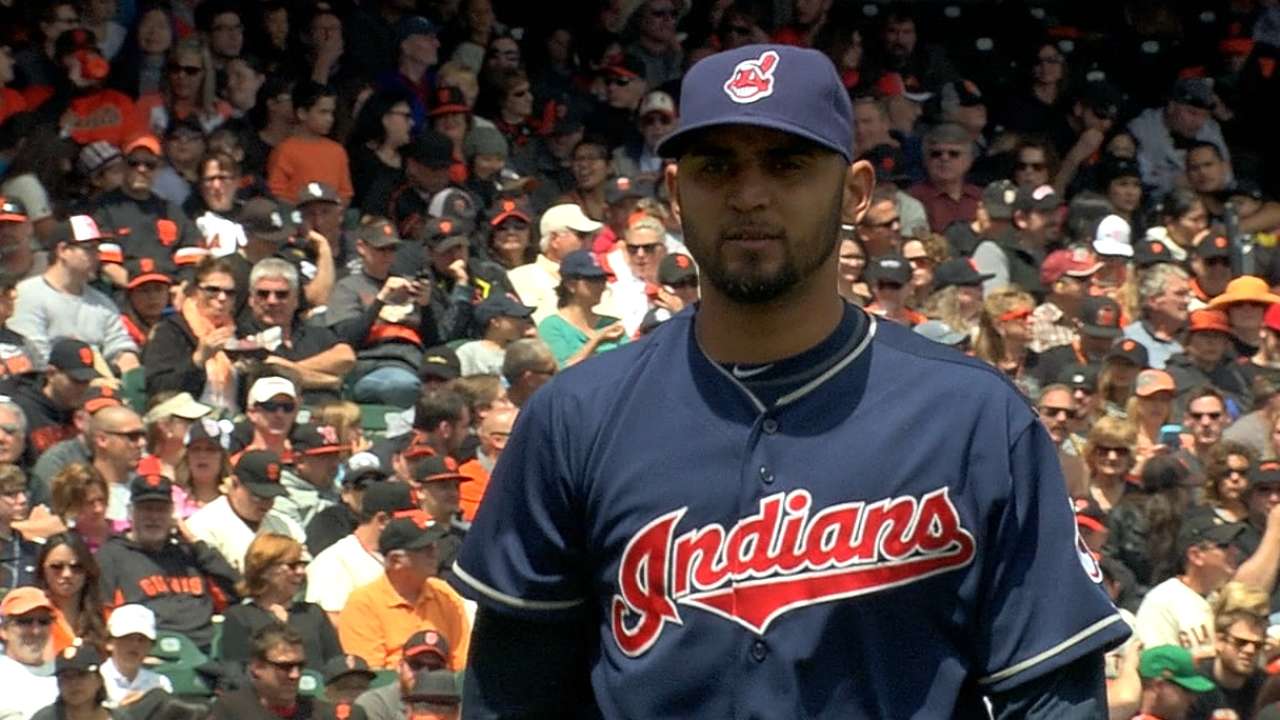 SAN FRANCISCO -- Danny Salazar decided he had spent enough time stressing over his mechanics and overthinking situations while out on the mound. The young Indians starter made a point mentally to change his approach Sunday afternoon.
"I was trying to bring the guy that was here last year," Salazar said.
Salazar's success in his limited time with the Tribe last summer led to a start in the American League Wild Card Game. After struggling for much of April, the hard-throwing right-hander finally looked like last season's phenom in his outing against the Giants on Sunday, but Cleveland's familiar offensive issues arose in a 4-1, walk-off loss at AT&T Park.
San Francisco sent the Indians packing courtesy of a three-run, game-winning home run from Brandon Hicks, who sent an elevated fastball from setup man Cody Allen disappearing into a sea of partying fans in the bottom of the ninth inning. The Indians were swept in the three-game series mostly due to their anemic offense.
Ryan Vogelsong's strong effort against the Tribe's lineup made Salazar's start a mere silver lining.
"We needed to be able to give them more than one run through nine innings," Indians second baseman Jason Kipnis said. "If you ask any person in the Major Leagues if they can beat a team held to one run in nine innings, you should be able to do it. I think this one is on the hitters. I thought Danny pitched outstanding."
Indeed, this was the type of outing Cleveland had been waiting for Salazar to provide.
The 24-year-old Salazar turned in seven innings after being unable to last even five in each of his previous three outings. During that three-start stretch, the right-hander posted a 9.95 ERA and hitters tagged him for a .352 average. San Francisco, on the other hand, managed only one run and went 5-for-25 (.200) against Salazar.
The lone breakthrough for the Giants came in the fourth inning, when Pablo Sandoval slashed a two-out pitch down the left-field line for a double. One pitch later, Brandon Crawford yanked a fastball down the right-field line for another two-base hit, scoring Sandoval to push the Indians behind, 1-0.
"To Sandoval, I saw the replay here. That was a great pitch," Salazar said. "I don't know how he got there, because it was way outside. He just got it. The second double, it was a good two-seam [fastball] inside, but it came back to the middle and he hit it."
It was hard to fault Salazar for one hiccup in an otherwise solid showing.
"He was pretty good, man," Indians manager Terry Francona said. "Seven innings, one run -- on a lot of days, you're thrilled with that."
The problem was that Cleveland's lineup was lulled to sleep by Vogelsong.
In the opener Friday, veteran Tim Hudson had his way with the Indians' offense. On Saturday, the Tribe chased Tim Lincecum before the fifth inning, but then shot blanks against San Francisco's bullpen. In the series finale, Vogelson held Cleveland to two hits -- both via Michael Bourn -- in seven shutout innings.
The Indians hit .162 (17-for-105) overall and .100 (2-for-20) with runners in scoring position in the series, managing just five total runs in the process. Cleveland's Nos. 4-6 hitters (Carlos Santana, Michael Brantley and Asdrubal Cabrera) combined for an 0-for-29 showing in the three defeats.
"You try not to look back too many days, because that doesn't help," Francona said. "We have good hitters. We have to start making better adjustments during the game and make it harder for guys to get us out. For whatever reason, whether it's pressing, it's probably different for each hitter, but we've got to make it a little harder."
Vogelsong was in line for the win until the eighth inning, when reliever Santiago Casilla took over on the mound for the Giants. Yan Gomes promptly deposited a 1-2 pitch into the left-field seats for a leadoff home run, marking the third blast of the season for the catcher and pulling the game into a 1-1 deadlock.
Gomes' shot also snapped a 52-inning homerless drought for Cleveland.
"Tying it up there really gave us a boost," Allen said. "I thought we'd get some momentum going."
Allen entered in the eighth inning with a runner on second and one out, escaping unscathed with a flyout and strikeout. In the ninth, the Tribe's setup man gave up a leadoff single to Buster Posey, who was replaced by pinch-runner Ehire Adrianza. Gregor Blanco, pinch-hitting, used a sacrifice bunt to move Adrianza to second base.
Following a strikeout of Sandoval, the Indians elected to intentionally walk Crawford.
"They were just trying to get a right-on-right matchup to feel more comfortable," Allen said. "It didn't work."
Hicks settled into the box, took one ball and then made Allen pay when the pitcher left the fastball too high in the strike zone. The result was a three-run home run that brought a disappointing conclusion to a discouraging series for Cleveland in the City by the Bay.
"I felt like we had a chance to win a couple games here," Allen said. "It's one of those things where we kind of had a couple opportunities to win some games and they were better than us in some areas."
It was a tough loss for the Tribe, but Salazar at least has something to build on.
"I wasn't thinking about my delivery or anything," he said. "[My mind was] just on keeping the ball down there. Yan, behind the home plate, he was awesome in there, too. Sadly, we didn't get the win."
Jordan Bastian is a reporter for MLB.com. Read his blog, Major League Bastian, and follow him on Twitter @MLBastian. This story was not subject to the approval of Major League Baseball or its clubs.