Richards duels Tanaka, but Halos fall to Yanks
Righty allows two runs over seven, takes no-decision in NY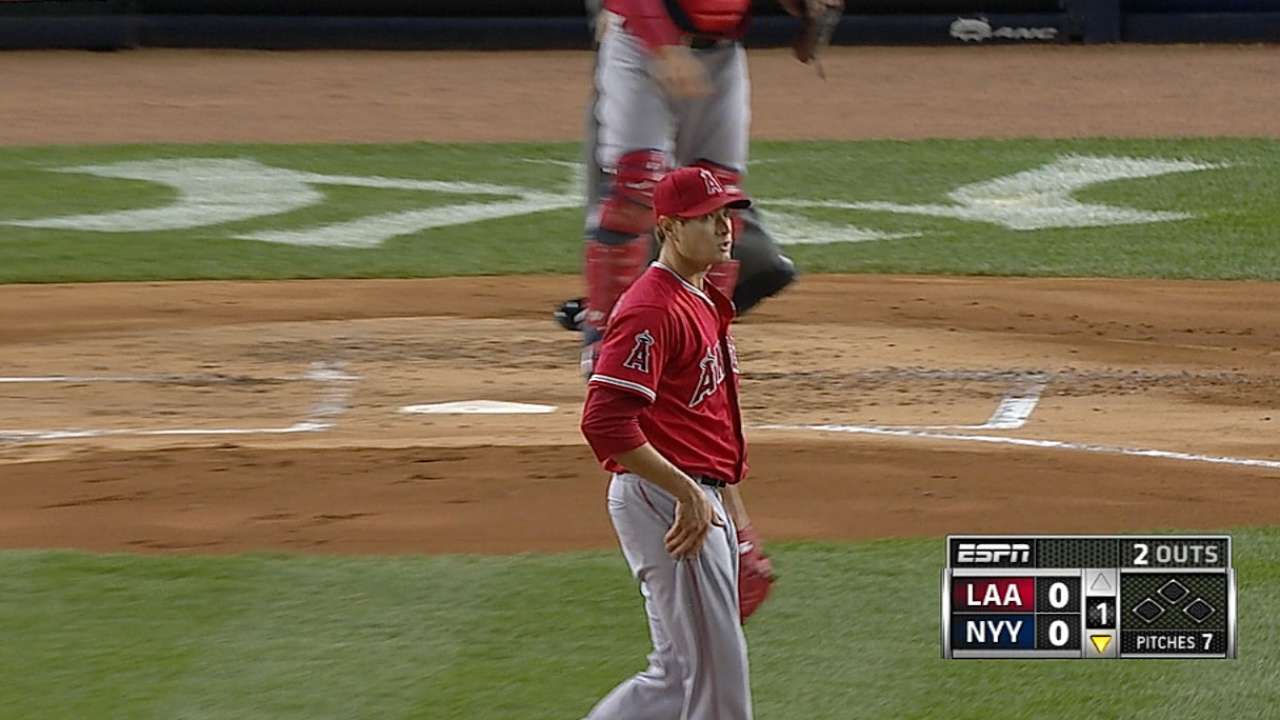 NEW YORK -- Garrett Richards threw 58 two-seam fastballs against the Yankees on Sunday night, and the only one that stayed up was the one that went out for the home run that extended Masahiro Tanaka's 20-month streak of starts without a loss.
Chris Iannetta fielded 140 pitches Sunday night, and the one that bounced off his glove was the one that advanced two runners in the eighth and set the stage for the go-ahead run in a 3-2 defeat.
Another one-run game, another loss.
The Angels are now 2-7 in that scenario this season.
"It comes back to the same discussion we've been having for a long time, and that's the middle and back end of your bullpen being able to hold leads," Angels manager Mike Scioscia said. "That's going to sway those one-run games, there's no doubt about it."
The series finale from Yankee Stadium swayed on one of baseball's most routine plays.
In a 2-2 game in the eighth, Jacoby Ellsbury and Carlos Beltran drew walks against Michael Kohn, putting runners on first and second with one out and prompting Scioscia to go to left-handed pitcher Nick Maronde against left-handed hitter Brian McCann. On 1-0, Maronde's down-the-middle fastball bounced off Iannetta's glove, allowing both runners to advance.
"I just missed it," Iannetta said of his 15th passed ball since joining the Angels in 2012. "It was a fastball right there, and I just missed it. You catch I don't know how many balls a year and that doesn't happen."
Asked if sometimes that can happen when trying too hard to frame a pitch, Iannetta said: "I don't care what you're trying to do -- frame it, stand on your head and catch it, it doesn't matter. You have to catch it. It's one of the dumbest plays I've made in my career -- or not made."
Four pitches later, McCann's foul tip, on what would've been the third strike, fell from Iannetta's glove as he attempted a pickoff throw to third base. The pitch after that, a 1-2 slider, bounced right in front of home plate, ricocheted off Iannetta's chest protector, and trickled into the Yankees' on-deck circle, allowing the eventual winning run to come across.
"There's times when I've made that play, there's times when I haven't," Iannetta said. "It wasn't routine, but I hold myself to make every one of those plays. That's what I want to do. I just didn't make it tonight."
Kevin Jepsen checked in next, getting Alfonso Soriano to bounce into an inning-ending 6-4-3 double play after McCann reached first on a hit by pitch. But with two outs and pinch-runner John McDonald on second against Yankees closer David Robertson, Raul Ibanez -- out of the starting lineup because he was sick -- came on to pinch-hit for Collin Cowgill, and struck out to end the game.
And so the Angels finished their nine-game, three-city road trip 4-5, losing two of three in Detroit, winning two of three in Washington, and losing two of three in the Bronx -- where they've dropped 22 of their last 30 games, including the postseason.
"There's some games you look back on that we should've won," center fielder Mike Trout said. "There are some positives you can get off of it. You can't take the games back now, so you just have to turn the page and get back at it tomorrow."
The Angels traveled to Southern California on a redeye flight, one that will get them back home close to 4 a.m. PT, leading up to a 7:05 p.m. game against the Indians later that night.
They did so knowing they were a mere nine outs away from handing Tanaka his first regular-season loss since Aug. 19, 2012 -- a streak that includes wins in 28 consecutive decisions in Japan's Nippon Professional Baseball -- until Mark Teixeira tied the game at 2 by crushing a 2-2 pitch from Richards way over the right-field fence to lead off the seventh.
Richards, who pitched seven innings of two-run ball to put his ERA at 2.53 through 32 innings, called it "the one two-seamer that didn't sink tonight."
"First and foremost, I wanted to win the ballgame for us, but it would've been nice to give him his first loss," Richards said of Tanaka. "He battled out of some jams and obviously has some good stuff. Hopefully we'll get him the next time around."
Tanaka entered with 35 strikeouts through his first four career starts -- fourth most in Major League history -- to go along with a 2.15 ERA, an opponents' OPS of .574, and just two walks in 29 1/3 innings in the U.S.
The Angels doubled that walk total in the first four innings, and had the lead when Tanaka exited with one out in the seventh. But they managed only two runs against the $155 million right-hander, on a fielder's-choice groundout by J.B. Shuck and a solo homer by David Freese.
Tanaka and his nasty splitter scattered five hits, walked four and struck out 11 in 6 1/3 innings, putting his ERA at 2.27 and, yes, remaining undefeated.
"Hitters, we haven't seen it yet," Trout, who finished 2-for-4, said of Tanaka's splitter. "If you face a guy over time, you start to see the pitches, you know what he's got. He threw some pitches to a lot of us.
"We almost had him."
Alden Gonzalez is a reporter for MLB.com. Read his blog, Gonzo and "The Show", and follow him on Twitter @Alden_Gonzalez. This story was not subject to the approval of Major League Baseball or its clubs.