Miley unable to cash in on D-backs' support
Early offense doesn't hold as Rox knock left-hander for seven runs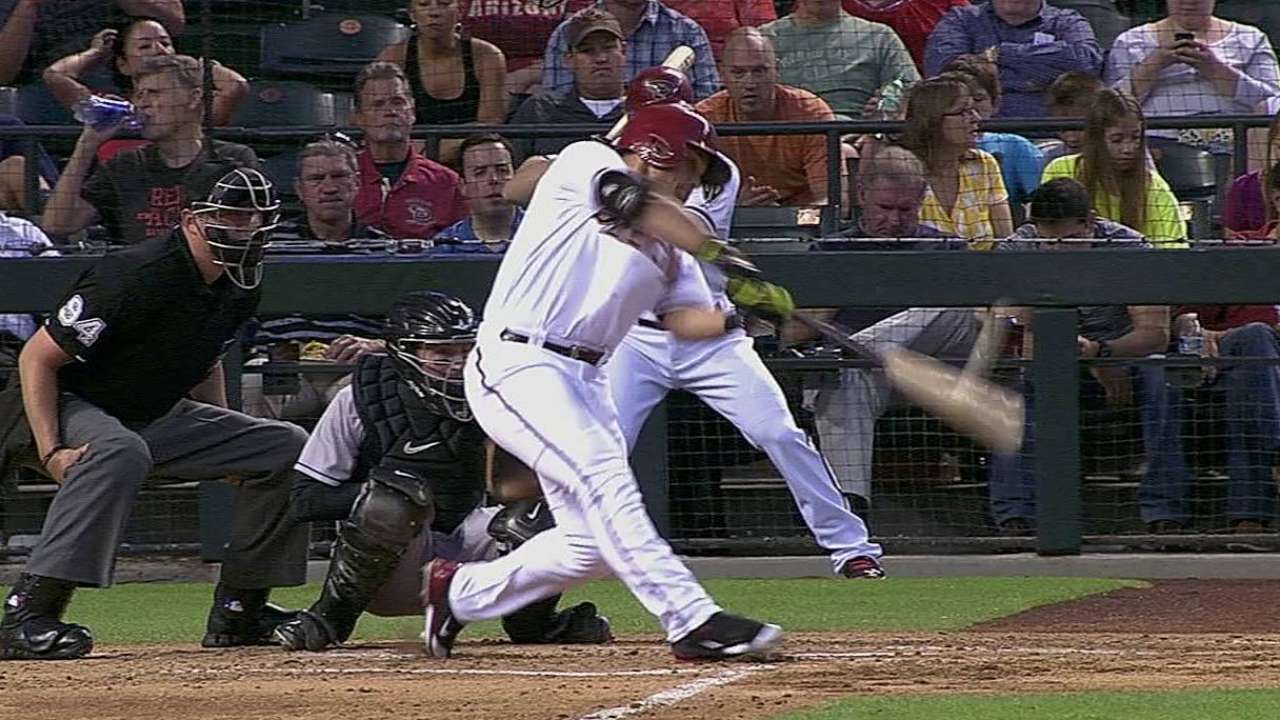 PHOENIX -- The D-backs' offense did its best to help out Wade Miley on Monday night, but the left-hander could not take advantage.
Three times the D-backs rallied to tie the score and each time Miley could not take advantage as the Rockies went on to win, 8-5.
"They kept trying to get me back in the game," Miley said of his offense. "They'd score, we'd score and we'd get back in it and I just didn't do my job."
The loss was the third straight for the D-backs, who fell to 8-21, worst in the Majors.
"You've just got to keep going," first baseman Paul Goldschmidt said. "If we put it together and consistently play well every day, the wins will start coming. It's been a little bit off obviously. You can't go out there and try to do too much or put too much pressure on yourself. You've just got to try and execute and do the little things and do everything we're trying to do and have some results, some wins."
The seesawing started early as the Rockies took a 1-0 lead on back-to-back two-out doubles by Troy Tulowitzki and Carlos Gonzalez.
Gerardo Parra answered for the D-backs with a solo homer in the second to tie things up.
Tulowitzki was a thorn in Miley's side in the third, when he doubled home a pair of runs with two outs to put the Rockies up, 3-1.
"I didn't do a very good job of executing pitches and it cost me," Miley said.
Once again, the lead didn't last long as Miguel Montero hit a sacrifice fly and Aaron Hill singled home a run in the bottom of the third to tie the score at 3.
Miley then went right out in the fourth and gave Colorado the lead again, this time on an RBI double by Jordan Pacheco.
An RBI by Goldschmidt in the fifth tied things up yet again at 4.
"We scored some runs, but we gave some up and yesterday was the opposite," Goldschmidt said referring to the 2-0 loss to the Phillies on Sunday.
Finally in the sixth, Miley gave up more runs than his offense could overcome.
Tulowitzki started it off with a solo homer, and later in the inning, Justin Morneau hit a two-run shot of his own to put the Rockies up, 7-4.
"Every time we'd score a run and get back in the game, I couldn't keep it at zero," Miley said. "I'd give up runs and in the sixth inning it caught up. It was a three-spot -- not one. I don't know. I don't have any answers."
Miley was even more surprised at the results given how he thought his stuff was.
"I felt really good tonight," he said. "It was really weird. Those guys are swinging it well right now and I didn't get the job done. It was on me."
The Rockies came into the game leading the National League in runs scored.
Tulowitzki finished 3-for-3 with a pair of walks, two doubles, a homer and three RBIs.
"He's a good pitcher," Tulowitzki said. "I know he was 7-0 against us coming in. He's pitched well against us. I know they've played us tough here. So it was a good win."
Franklin Morales (3-1) picked up the win for the Rockies as he allowed four runs on seven hits over five innings.
Miley (2-3), who allowed seven runs on 10 hits in six innings, suffered the loss. It was his first defeat against the Rockies in 11 appearances (10 starts).
With the loss, the D-backs fell to 2-12 at Chase Field (2-14 if you include the two "home" games they played against the Dodgers in Australia).
"I can't explain it," Goldschmidt said of the home woes. "Obviously, it's not good. There's just been times this year we haven't played well, a lot of it really, to be honest with you."
Steve Gilbert is a reporter for MLB.com. Read his blog, Inside the D-backs, and follow him on Twitter @SteveGilbertMLB. This story was not subject to the approval of Major League Baseball or its clubs.