Led by Tulo, Rockies power way past D-backs
Shortstop homers, hits two of team's six doubles; Morneau goes deep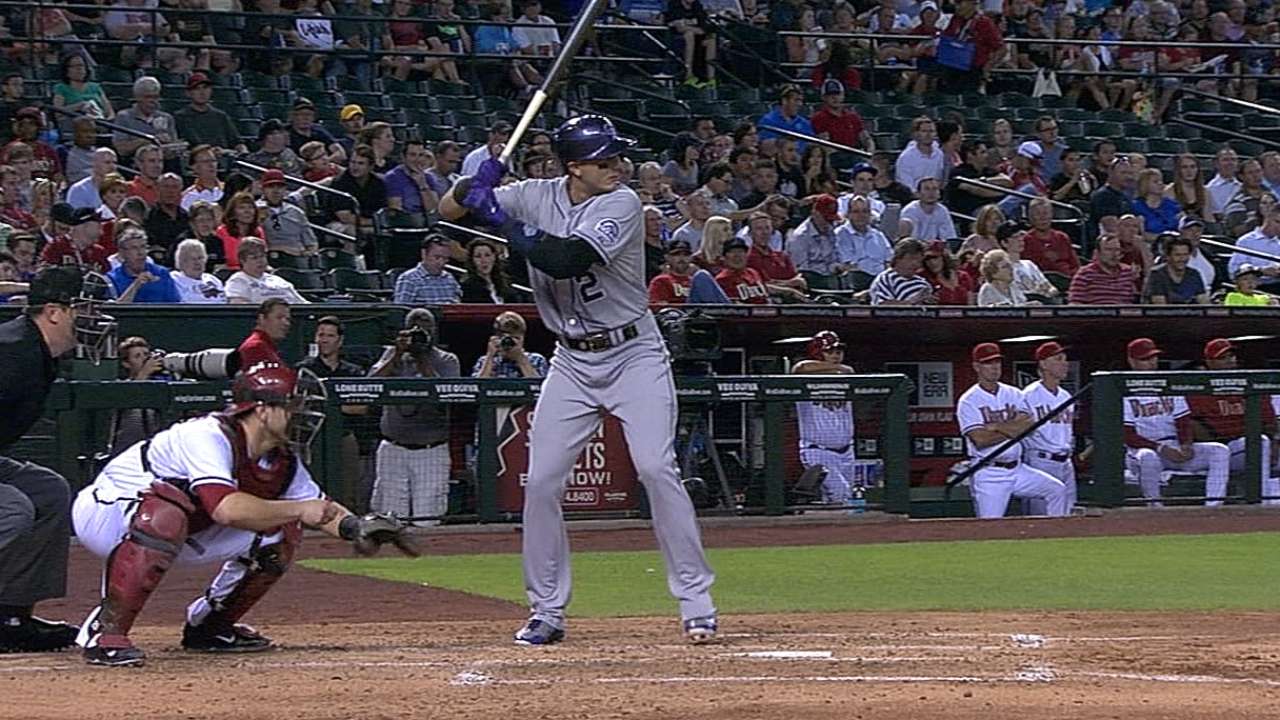 PHOENIX -- For the first time this season, Rockies manager Walt Weiss flipped Troy Tulowitzki and Carlos Gonzalez in the batting order, batting them third and fourth, respectively, on Monday night in an 8-5 bashing of the D-backs at Chase Field.
The move worked its magic for Tulowitzki, at least, who was on base five times with two doubles, a homer, a pair of walks and three RBIs.
"It did well for today," Tulowitzki said after the Rockies raised their record to 15-12, pulling them within half a game of the first-place Giants in the National League West. "I've done it before. I think every once in awhile he flip-flops. With a lefty [Wade Miley] on the mound, I think that's why today I hit third."
Weiss explained before the game that he wanted to take some pressure off Gonzalez by dropping him back a notch in the batting order. It had the desired effect in the first inning when the left fielder combined with Tulowitzki for back-to-back doubles, Gonzalez being thrown out at third trying to stretch after knocking in only his third run since April 12.
But on the evening, Gonzalez went 1-for-5 and remained in a miserable slump. He's 2-for-19 during the first four games of this six-game trip and 8-for-59 (.136) with no homers and three RBIs in his last 15 games. He also hasn't homered since April 11.
"Right now I'm in a battle mode," Gonzalez said. "Things are not going the way I want to. But it's part of the game. All I've got to do is be patient, keep playing and as long as I'm healthy it's good."
Gonzalez said the hand he injured last year is just fine. He acknowledged, though, that he has been suffering some tendinitis in his left knee.
"But that's not enough to keep me out," he said. "And I'm not going to use that as excuse."
The remainder of the lineup certainly didn't struggle against Miley and the last-place D-backs, whose record dropped to 8-21 for a .276 winning percentage, both marks the worst in the Major Leagues. They are 2-14 at home, including their two-game Opening Series against the Dodgers in Australia.
Tulowitzki's average shot up to .366 with his prodigious offensive evening, which included his sixth homer of the season. Justin Morneau smashed a two-run shot, also his sixth. Add their five doubles and the Rockies socked seven extra-base hits among the 10 hits they accrued against Miley, who also surrendered seven runs in six innings and was tagged with his first loss against the Rockies. He went into the game 7-0 with a 2.52 ERA vs. Colorado.
The Rockies finished with six doubles in all and 12 hits against four D-backs pitchers.
"We got out-battled," D-backs manager Kirk Gibson said about his beleaguered team. "Those guys, you look up and down the board at their averages, we knew coming into the game they were swinging the bat well."
Among other Colorado offensive feats, Nolan Arenado's double to lead off the fourth extended his hitting streak to 18 games, the longest this season in Major League Baseball. Morneau's homer extended his streak to 12 games, the second-longest active streak.
Arenado also played spectacular defense at third base, eating up grounders far to his left and right, particularly a double-play hopper off the bat of Aaron Hill in the seventh inning he snared to his left and that Weiss said was not an easy play.
"It might have looked like it, but it wasn't," Weiss said.
Before the game, Weiss waxed eloquently about Arenado's defensive skills. Pairing with Tulowitzki at short, one would be hard pressed to find a better left side of the infield in the Majors.
"He's won some games with his defense, he changes some games with his defense," Weiss said. "I'm careful not to make comments as strong as this one, but he's the best I've ever seen. I've never seen anybody like him."
That's no small statement considering as a shortstop himself, Weiss played beside Carney Lansford in Oakland, Vinny Castilla in Colorado and Chipper Jones in Atlanta.
"Again, I'm careful not to overstate things, but he's an amazing third baseman," Weiss said.
Barry M. Bloom is a national reporter for MLB.com and writes an MLBlog, Boomskie on Baseball. Follow @boomskie on Twitter. This story was not subject to the approval of Major League Baseball or its clubs.