Wainwright deals, Peralta powers way to series win
Ace delivers eight scoreless frames to become first pitcher to five wins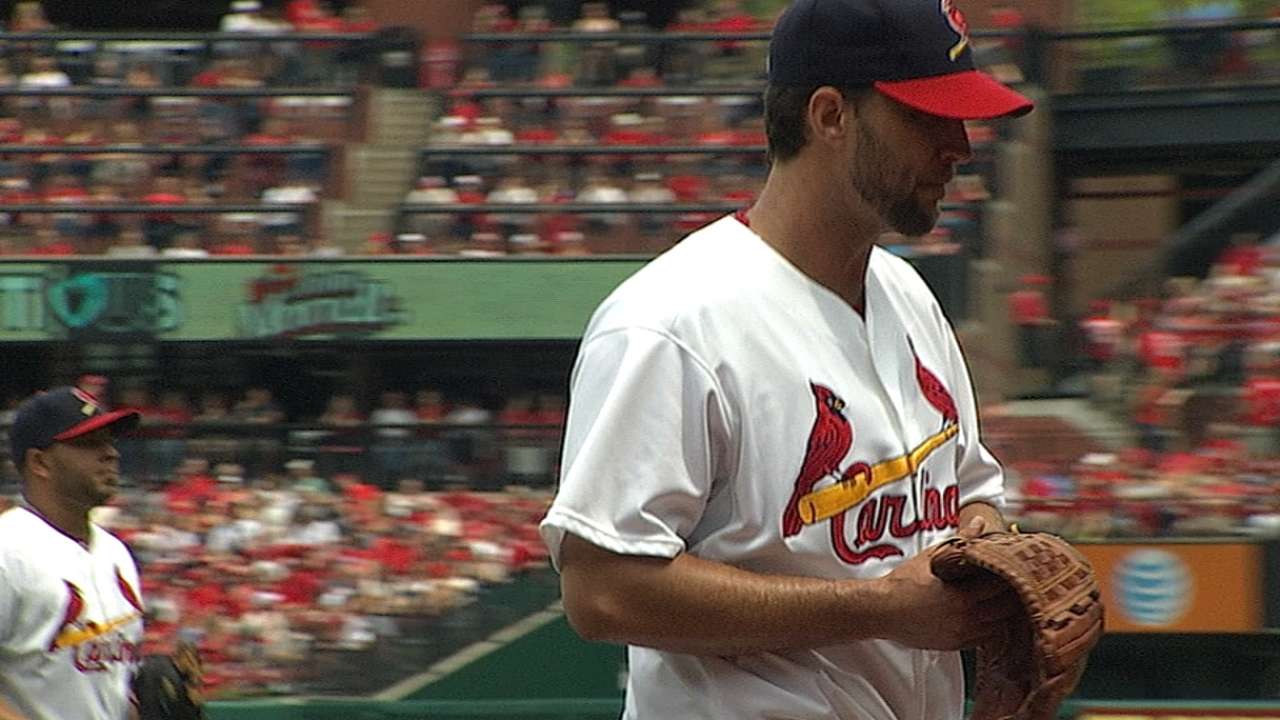 ST. LOUIS -- Given the team's recent output, it was as if the floodgates opened on Sunday as the Cardinals scored six times off Pittsburgh starter Edinson Volquez. Not that Adam Wainwright needs that much support these days anyway.
With eight more shutout innings, Wainwright pushed his scoreless inning streak to 25 as he pitched the Cardinals to a 7-0 win in front of 41,986 at Busch Stadium. It won St. Louis another series against division-rival Pittsburgh and helped Wainwright emerge as the Majors' first five-game winner. He'll finish April with a 1.20 ERA.
"It's been an absolute joy to watch," manager Mike Matheny said of Wainwright's season start, which has him one of four pitchers in franchise history to win five games before May.
"I'm getting results, obviously, but I'm really having more fun pitching now than I ever had," Wainwright said. "It's just such a chess match right now with me."
It's been entirely one sided, too.
But Wainwright's dominance risks becoming a story of old, only because of how routine the ace right-hander is making it look as he carves up one offense after another. However, the Cardinals' offense coming alive -- with the added enjoyment of seeing balls leave the park -- constitutes a novelty.
The Cardinals had scored just 15 runs over their last nine games, leaving them fortunate to have garnered three wins during that sluggish stretch. Only once over those nine games had the Cardinals scored four runs in a game.
They matched that in Sunday's sixth inning, which was punctuated by Jhonny Peralta's second homer of the game, a three-run shot into the Pirates' bullpen.
"The last week or so, we've been hitting hard balls right at people," Matt Adams said, who had a two-hit day. "It felt good today to have some of those balls land and cross the plate a couple of times."
It was Peralta who snapped the team's homerless skid of 366 at-bats when leading off the fifth. It took only eight more team at-bats for another. The homers were Peralta's fifth and sixth of the season, making him the first shortstop in franchise history to hit six homers in the first month of the season. Edgar Renteria hit five in 2000.
"My approach today was to hit the ball to the middle of the field," Peralta said. "I tried to make good contact with the ball. The home runs, I don't try to hit home runs. The only way is I try to make good contact and the home runs come."
Before Peralta powered the Cardinals to a comfy cushion, it looked like run support would be at a minimum yet again. The Cardinals manufactured a first-inning run after Matt Carpenter led off with a double, his second of the season. Jon Jay's sacrifice bunt and Matt Holliday's sacrifice fly moved Carpenter home.
The club would not have similar scoring success with Yadier Molina's leadoff double an inning later.
But Peralta's first homer padded the lead, and the Cardinals then had their biggest inning since April 12 with the assistance of a double play not turned in the sixth. Pirates first baseman Ike Davis wasn't able to keep his foot on the base -- despite his insistence that he had -- to finish off what would have been an inning-ending double play.
"What a huge play that is," Matheny said afterward.
Pirates manager Clint Hurdle challenged the safe call, but after a near three-minute review, the umpires announced that the plate would stand as called. Allen Craig followed with an RBI single before Peralta's mighty blast.
"Been playing through calls you didn't like for 128 years," Hurdle said. "I understand 'clear and convincing,' there wasn't a shot they could use. [We've] got to have the resolve to finish an inning. We finish that [double play] right there, [four] runs never get on the board."
Wainwright looked the same before, during and after the Cardinals' scoring, and he showed no effects from hyperextending his right knee on Tuesday. He wore what he described as "an elementary brace" on his knee to keep him from getting full extension.
Only twice did the Pirates advance a runner into scoring position against him. As has been Wainwright's modus operandi, too, he silenced a lineup while tinkering with new way to use his pitches.
He varied the speed of his curveball -- going hard when he wanted ground-ball contact and slower to generate the swings and misses. He experimented with a slower cutter and garnered three outs on changeup. He has become anything but predictable.
"The best way to know if things are going to work is to try them at game speed," Wainwright said. "Luckily, things were working. I would hate to go out there and give up some runs, but I was confident it was going to work."
He needed 99 pitches to finish eight innings on Sunday, but did not get a chance to secure his second April shutout. Matheny, citing cautiousness with Wainwright's knee and an unnecessary need to push his ace, opted to have Carlos Martinez close the game.
"I didn't throw a fit about it or anything," Wainwright said. "I made him come over and shake my hand."
His outing was also more of the same for the Cardinals' starting rotation, which remains the club's pillar. The starting five entered the day trailing only the Braves in ERA (2.24) and batting average against (.210), which has kept the club afloat during this dry offensive spell.
Over the last 14 games, the Cardinals' starting pitcher has allowed one or fewer runs 10 times. Wainwright has three wins during that stretch, the team, seven.
"They have done a nice job of staying focused and not using that [lack of run support] as a distraction," Matheny said. "They continue to come out every night and give us an opportunity."
Jenifer Langosch is a reporter for MLB.com. Read her blog, By Gosh, It's Langosch, and follow her on Twitter @LangoschMLB. This story was not subject to the approval of Major League Baseball or its clubs.