Volquez bested as Bucs offense stifled by Cards
Pirates blanked after losing key replay challenge in sixth inning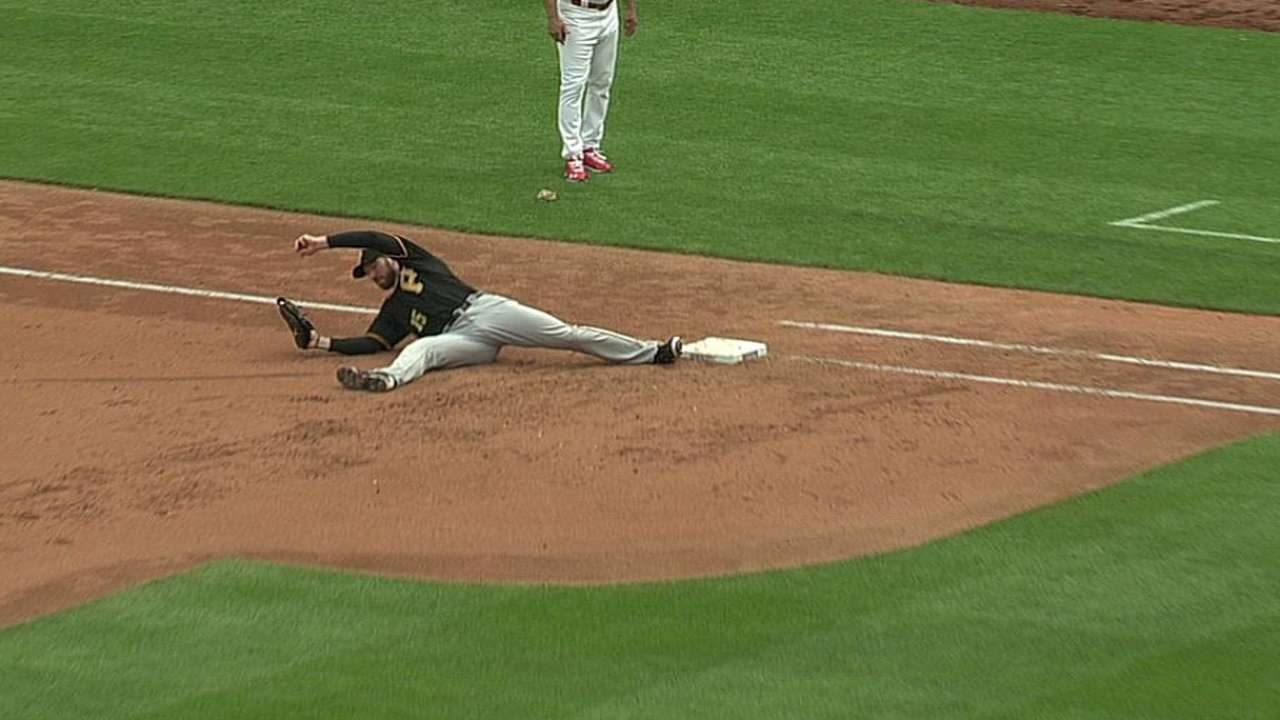 ST. LOUIS -- Truth be told, the Pirates wished they could have challenged the fairness of having to face Adam Wainwright. The only thing Clint Hurdle could challenge, however, was a close play at first base.
Losing that challenge led to four St. Louis runs. Having to hit off Wainwright led to a 7-0 loss to the Cardinals on Sunday in the finale of the weekend series.
Wainwright stretched his scoreless streak to 25 innings, walking two and striking out seven in eight innings. He was the cheese on the string to the Pirates' mice.
"I was having fun kind of tinkering with speeds out there," Wainwright said. "I changed speeds on my curveball throughout the game, my cutter, too. I threw a couple slower ones to see reactions."
Four of his runs immediately followed the Bucs' challenge, which, if leading to an overturned call, would have ended a scoreless sixth inning. The involved Pirates players thought both the call and its review were missed.
Their manager wanted to have none of it. For one thing, the challenge resulted from a relatively easy play that could have been made without the complication.
"You've got to play through it," Hurdle said. "We've been playing through calls you didn't like for 128 years. You've got to have the resolve to finish an inning. We finish that double play right there, four runs never get on the board."
As he has all season, the Bucs' Edinson Volquez matched serves with an opposing ace, still being in a 2-0 duel entering that sixth inning.
Matt Holliday and Matt Adams were aboard with one-out singles when Yadier Molina hit a double-play ball to third base. Pedro Alvarez tossed to second for the force but, with ample time to convert the double play on a ball hit by a catcher, Neil Walker's relay pulled Ike Davis off the first-base bag.
"Sometimes, when the ball gets to you that quick, it's a little different situation," Hurdle said. "But it's a throw Neil has made a hundred times. You hit the guy [Davis], give him a ball he doesn't have to get out for, you turn the double play. We didn't execute. We didn't finish the play."
Umpire Ted Barrett signaled safe. Davis flashed his own signal -- for Hurdle to come out and challenge, which he did.
The call stood, as replays were inconclusive.
"I still think I was on the bag. I could feel it with my foot," said Davis who, once he toppled off the bag, wound up sprawling in the infield dirt a foot off the base.
The inning continued. Allen Craig singled for a run before Jhonny Peralta smacked his second homer of the game for three more and it was 6-0.
"To be honest, he was out," Volquez said of Molina. "I was a little concerned about the call at first base. I don't understand how that happens. I saw the replay here … if we got it here, how are you not going to have it in New York, watching all those big screens? But when they called, they said they could not find the [convincing] replay. How that happen?"
Hurdle had no problem there.
"I understand 'clear and convincing.' There wasn't a shot they could use," the manager said.
Hurdle was less tolerant of a couple of shots not converted by the Pirates against Wainwright, who is not apt to give you many mulligans.
In the sixth, Jose Tabata was hit by a one-out pitch and Alvarez singled with two away. Walker took a called third-strike.
In a bigger opportunity in the third, Starling Marte followed leadoff singles by Tony Sanchez and Volquez with a hard bunt back to Wainwright, who got the easy force at third, then two more quick outs to end the threat.
"Not getting the bunt down to the third baseman hurt," said Hurdle, citing where Marte's intended sacrifice bunt should have been directed. "We might've had a window of opportunity there. That was the last real shot we had at [Wainwright]."
Volquez had hoped to be a force in the Pirates rotation. As the projected No. 5 starter, what he could not expect was being their "sacrificial lamb" -- the guy pitted against the opposition's ace. Yet, here he is after five starts, with a 1-2 record to accompany an ERA of 3.21.
He has twice faced both Wainwright and Milwaukee's Yovani Gallardo, and once went up against Johnny Cueto.
"I don't even think about that," Volquez said. "I just want to do my job, every five days. I don't care who I face."
He can, however, admire who he is facing.
"He's been outstanding ... great," Volquez said of Wainwright. "He's unbelievable. Everything he throws to the plate is a strike. Lot of movement. He's a superstar."
As they had in Friday night's 1-0 win, the Cardinals pushed across a first-inning run as Matt Carpenter led off with a double, was sacrificed to third by Jon Jay and scored on Holliday's sacrifice fly.
This time, however, the Cards added on. Peralta led off the fifth with a 427-foot home run, which made news in St. Louis not only because it gave the Cardinals two runs (they had scored one or none in 10 of their first 25 games) but because it was their first homer in 367 at-bats.
Soon enough, Peralta was hitting their second homer in nine at-bats, and 823 feet worth of long balls and two inches short of a bag did in the Bucs.
Tom Singer is a reporter for MLB.com and writes an MLBlog Change for a Nickel. He can also be found on Twitter @Tom_Singer. This story was not subject to the approval of Major League Baseball or its clubs.