Peralta solid, but offense stifled by Hammel
Righty turns in quality start, but Cubs starter holds Crew to three hits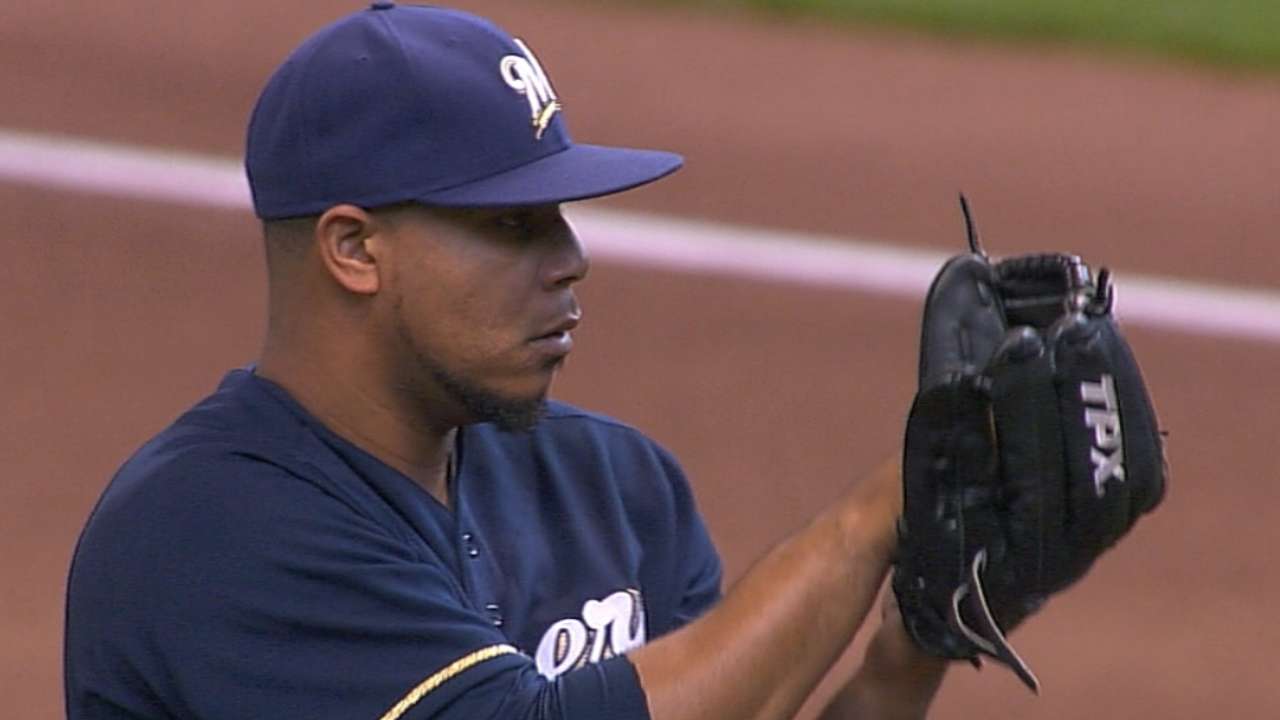 MILWAUKEE -- No Ryan Braun, no Jean Segura and no Brewers runs.
In fact, through their first five innings against Cubs right-hander Jason Hammel on Sunday, the Brewers' depleted offense didn't even manage a hit. Hammel's no-hit bid ended when Carlos Gomez delivered a one-out double in the sixth inning, but the Cubs still blanked the Brewers, 4-0, at sold-out Miller Park.
Starlin Castro hit a pair of solo home runs, and Chicago averted a series sweep by handing 18-7 Milwaukee only its second loss in nine games. The Brewers were limited to three hits.
Might it have been a different story against Hammel had the Brewers been at full strength?
"Who knows," manager Ron Roenicke said. "It's hard to tell. When a guy has good stuff and commands the ball like that, you're going to have trouble."
Facing a Brewers lineup that was missing the injured Braun and Segura, Hammel pitched most of the day with the lead and did not allow anything close to a hit until Gomez ripped his double inside of the third-base line in the sixth. Scooter Gennett followed with a walk, and both runners advanced on Hammel's errant pickoff throw, but the Brewers couldn't turn that good fortune into a run. Jonathan Lucroy struck out and Aramis Ramirez grounded out to end the threat.
Hammel pitched seven-plus innings in all, allowing no runs on three hits. He walked two batters and struck out seven.
"At the end of the day, you can't do anything more," said Brewers starter Wily Peralta, who pitched seven quality innings of his own, but lost for the first time this season. "You do your thing, and he pitched better and he got the win."
Baseball fans outside of Chicago might not be familiar with Hammel's body of work so far in 2014, but it has been impressive. He is 4-1 with a 2.08 ERA for a team with eight wins all season, and leads Major League starters with 0.69 walks-plus-hits per inning pitched.
Against the Brewers, a team he hadn't faced since 2011 with Colorado, Hammel is now 4-0 with a 2.25 ERA and 25 strikeouts in five starts.
If this is news to you, you're not alone.
"I'm not that familiar with him, either," Roenicke said. "We saw him a little bit with Colorado, and that was really good. He's got a really good fastball that he spots well. His slider and curveball are really good pitches. He mixed in a couple changeups, but those three pitches, spotting the ball, that was a good outing."
"And also," Gomez added, "he's, like, really big. It feels like he's close. We have to battle every time with him."
Hammel was informed after the game that Cubs right-hander Carlos Zambrano once threw a no-hitter at Miller Park. It was against the Astros when a hurricane in Houston forced the teams to relocate.
"This is a tough ballpark to throw a no-hitter in," Hammel said. "The ball flies in deep parts of the field. I was thinking about it, but the 'W' is first and foremost."
Peralta did his part, delivering the Brewers' 20th quality start in 25 games. He allowed three earned runs on eight hits in seven innings, with a walk and six strikeouts.
Cubs cleanup hitter Castro homered to straightaway center field off Peralta leading off the second inning, and the Cubs were just getting started. The next three batters reached safely to load the bases, and Darwin Barney made it 2-0 with a fielder's choice groundout, before Hammel bunted into an inning-ending double play.
The Cubs extended their advantage to 3-0 in the sixth on Mike Olt's sacrifice fly, and would have added more, had Ramirez not snared John Baker's line drive to end the inning.
"He wasn't as sharp as he's been, but he did a nice job of keeping them to three runs in seven innings," Roenicke said. "If he's not going to be sharp and that's what he does, it's pretty good."
Castro made it 4-0 against Brewers reliever Brandon Kintzler in the eighth inning when he lined a home run to left field.
The Brewers hit the road on Sunday evening to put the best record in baseball on the line in St. Louis and Cincinnati. Segura, who suffered a cut below his right eye when he was struck by Braun's bat in the dugout on Saturday night, said he intends to play at some point this week. Braun, who later left that game with a strained muscle on his right rib-cage, will miss at least 3-5 more games, Roenicke said.
"We've got to move on," said first baseman Lyle Overbay, who had one of the three hits on Sunday. "Obviously, we're going to have ups and downs throughout the season, it's just a matter of making sure we stick together here and ride it out. I've always said that this team is well-balanced, so even when we're not hitting, we can score runs. Today we had one hit [in the first six innings], and we could have scored two runs.
"Those are things good teams can do. This is putting us to the test, but we'll rely on our pitching and getting timely hitting."
Adam McCalvy is a reporter for MLB.com. Read his blog, Brew Beat, and follow him on Twitter at @AdamMcCalvy. This story was not subject to the approval of Major League Baseball or its clubs.