Hammel's gem, Starlin's homers give Cubs a boost
Righty holds Brewers hitless until sixth; shortstop goes yard twice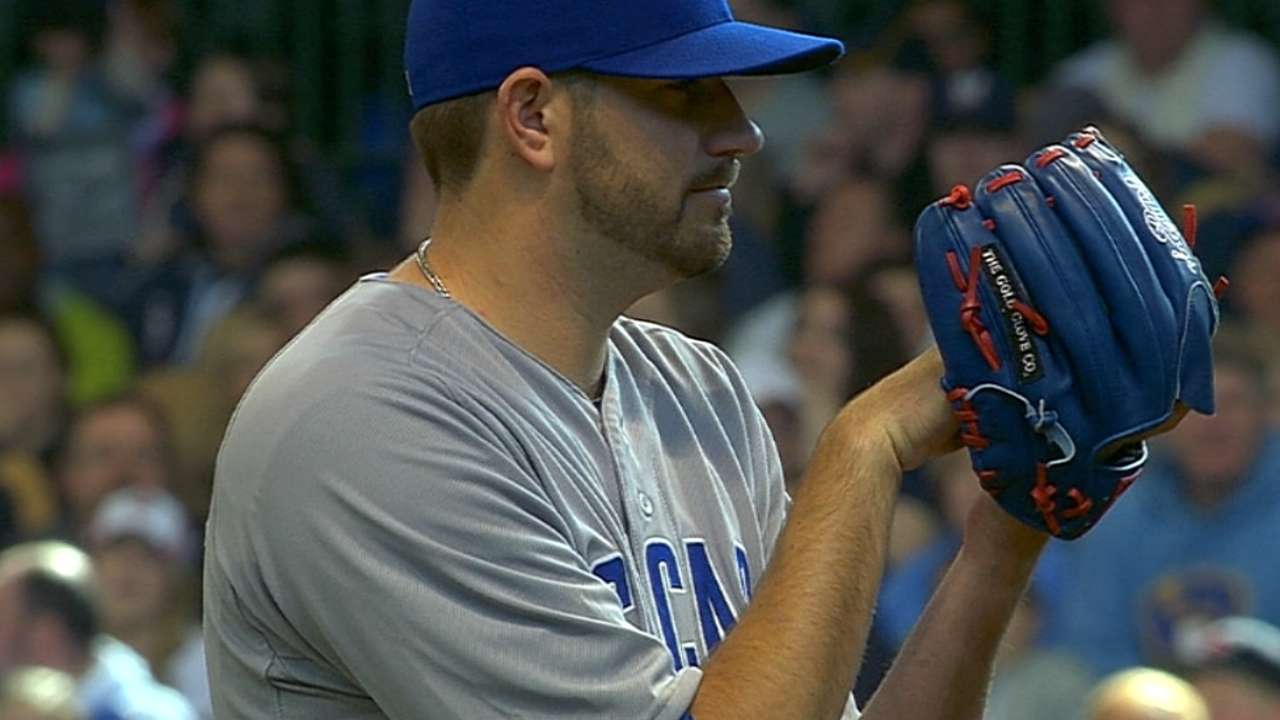 MILWAUKEE -- Jason Hammel might have had a no-hitter if he hadn't forgotten the signs.
Hammel admitted he got a little confused with one out in the sixth inning Sunday during Carlos Gomez's at-bat. At that point, the Cubs right-hander had held the Brewers hitless. Gomez lined a double to left for the first of three Milwaukee hits, but it wasn't enough, as Chicago held on for a 4-0 win to snap a four-game losing streak.
"Honestly, when guys say they weren't thinking of [a no-hitter], they're lying through their teeth," Hammel said. "I was, too, but I don't really care. I was more frustrated with what happened in the sixth. I screwed myself going back and forth with signs. ... Basically, I mixed myself up and lost my rhythm. The no-hit problem was my fault."
Cubs catcher John Baker could only shake his head, then laugh.
"He forgot," Baker said of Hammel during Gomez's at-bat. "We were laughing about it, and so of course, he gave up a hit. It cost me a watch. I should've figured out a way to use my mind to give him the signs with telepathy, but that didn't work."
Starlin Castro gave Hammel all the offense he needed, hitting two solo home runs for the second multi-homer game of his career and this season and did so in front of a sellout crowd of 45,286 at Miller Park.
There might have been a few people present who were at Miller Park on Sept. 14, 2008, when Carlos Zambrano no-hit the Astros in a game relocated to the indoor stadium because of Hurricane Ike, which had damaged the Houston area.
"This is a tough ballpark to throw a no-hitter in," said Hammel, whose career best is a one-hitter. "The ball flies in deep parts of the field. I was thinking about it, but the 'W' is first and foremost."
Manager Rick Renteria agreed. How much did the Cubs need this win?
"A lot. Absolutely," Renteria said. "You need a little bit of a confidence boost to let yourself know that hey, you're still in there, you can still play, you can still win ballgames, you can still go out there and execute and still go out there and put yourself in a position to have a chance to win, and today we did."
Castro got the Cubs started when he led off the second inning with his third homer of the season, hitting a 2-0 pitch from Wily Peralta to straightaway center and out of reach of Gomez. The Cubs then loaded the bases as Nate Schierholtz singled, Mike Olt walked and Baker singled, ending an 0-for-18 skid. Schierholtz scored on Darwin Barney's fielder's choice, as third baseman Aramis Ramirez threw home, but wide.
Anthony Rizzo and Castro both singled to start the sixth, and advanced on Schierholtz's groundout. Olt hit a sacrifice fly to open a 3-0 lead. Castro then launched his second homer of the game with one out in the eighth off Brandon Kintzler. Castro also hit two homers on April 8 against the Pirates.
"I'm really happy, because I think I have my mind really strong after last year," Castro said. "I feel happy when I go to home plate, and I trust myself. That's the reason I didn't [have success] last year. Now I go and trust myself."
The Cubs have faith in Hammel, who signed with the team days before pitchers and catchers reported to Spring Training. He's posted quality starts in each of his five outings, and on Sunday, struck out seven and walked two.
"He was consistent about throwing pitches close to a strike, pounding the black," Gomez said. "Also, he's like, really big. It feels like he's close. We have to battle every time with him."
That sixth inning was key. After Gomez doubled, Scooter Gennett walked and Hammel struck out Jonathan Lucroy and got Ramirez, who was batting .522 with runners in scoring position, to ground out.
"I was trying to pitch around Ramirez, but Jason, in his competitive mind state, he was throwing the ball well and didn't want to do that," Baker said. "Even though I was set up in the other [side of the] batter's box, he managed to throw some strikes and he figured out a way to get [Lucroy] to make an out. That's a good microcosm of the game. That fastball he threw to Lucroy was off the plate. ... When you see him swinging at a ball off the plate, you know it's a difficult thing for him to see, and that's what we stuck with."
It's been a great April for Hammel.
"I always want to be the stopper, and we all do," Hammel said. "It's something you think about. You want to be that guy who is dependable and you know what you're going to get every time out -- now that I'm healthy, and feel like I can execute when I want to."
Hammel also likes Miller Park. He hit the only home run of his career there on May 20, 2011, while with the Rockies.
Despite the loss, the Brewers still boast the best record in baseball at 18-7. Milwaukee was shorthanded, as both Ryan Braun and Jean Segura were out with injuries. Braun suffered a strained rib cage muscle, and he inadvertently sidelined Segura in a freak accident. Braun was warming up in the dugout Saturday and struck Segura in the face with his bat. The shortstop needed stitches under his right eye. Both are listed as day to day.
"They're two big components," Renteria said.
Carrie Muskat is a reporter for MLB.com. She writes a blog, Muskat Ramblings, and you can follow her on Twitter @CarrieMuskat. This story was not subject to the approval of Major League Baseball or its clubs.