Harrison's 2014 debut spoiled by Mariners rally
Rangers nemesis Seager rips 3-run shot off Ogando for lead in eighth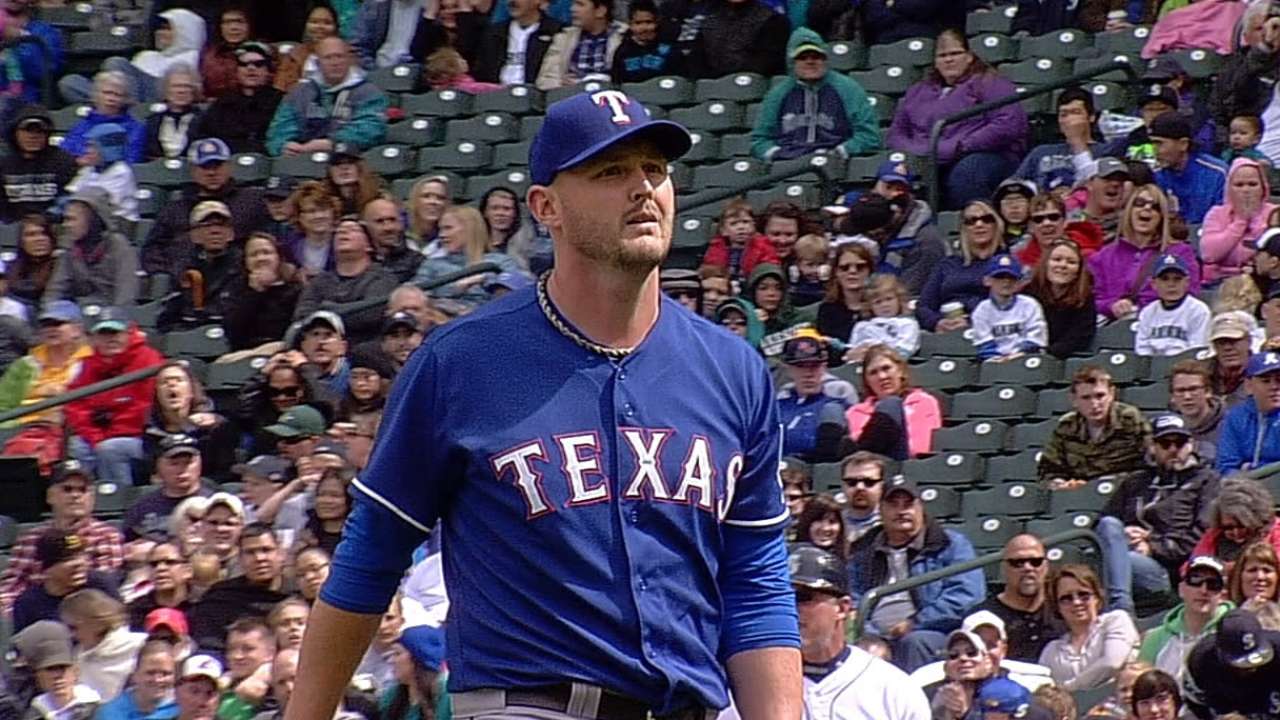 SEATTLE -- Matt Harrison, pitching in the Major Leagues for the first time in over a year, looked strong for six innings. Alexi Ogando, trying to help reward Harrison with a victory, looked overpowering for two batters, striking out Robinson Cano and Corey Hart with just six pitches.
Then it all unraveled in just a few minutes and the Rangers were sunk by the one Mariners hitter who gives them more trouble than the rest of the team combined.
Kyle Seager hit a three-run home run off Ogando in the bottom of the eighth that lifted the Mariners to a 6-5 victory over the Rangers on Sunday afternoon at Safeco Field. Seager, who entered the game hitting .213, also had a seventh-inning home run off Shawn Tolleson and is hitting .322 with a .573 slugging percentage in his career against the Rangers.
"I thought we had him," Rangers manager Ron Washington said. "For a moment I thought he was in a slump. I guess he's not. That's why you've got to get 27 outs. I felt like we were in good position, we just didn't put it away."
The loss was the Rangers second in three games against the Mariners after they began the road trip by sweeping the Athletics. In both losses the Rangers took a lead into the bottom of the eighth inning.
"It was a tough loss but it was still a pretty good road trip," shortstop Elvin Andrus said. "All losses are tough but those days are going to happen," second baseman Josh Wilson said. "You're going to lose some tough ones but that's the good thing about baseball. There's always a game tomorrow so you have a chance to come back and erase it."
Ogando looked like he was ready to get the ball to closer Joakim Soria for the ninth after blowing away Cano and Hart. He also threw two quick strikes to Justin Smoak, giving him a chance to strike out the side on nine pitches. That appeared more likely than what eventually happened.
"Ogando was throwing the ball well," Washington said. "Good changeup, good slider. They just beat him. He looked sharp, real sharp."
Smoak laid off one fastball up and away then hit a long double down the left-field line that just eluded outfielder Michael Choice. Pinch-hitter Dustin Ackley hit a high chopper over third baseman Adrian Beltre that Andrus fielded going to his right but had no play anywhere. That left runners at first and third for Seager.
"(Ogando) has so much good stuff you just have to look for something over the middle of the plate," Seager said. "You just got to hope for a mistake pitch because his stuff is really good."
Ogando threw two changeups. One missed the strike zone and the other didn't.
"It was supposed to be down and away, it was middle up," catcher Robinson Chirinos said.
Seager smashed it into the right-field stands pretty much in the same area code as his seventh-inning home run off of Tolleson. This is the third time this season the Rangers have lost despite leading after seven innings.
"It was a tough loss," Harrison said. "It seems like Seager has had our number the past few years. We battled all the way, it just didn't turn out the way we had hoped."
The positive for the Rangers is how Harrison pitched in his first Major League game since April 6, 2013, allowing two runs on just three hits. He walked two and struck out four while setting down the side in order in four of six innings.
He ended up throwing 95 pitches in his first start after being absent from the Major Leagues for over a year while dealing with the back problems that required two surgeries to correct. Sunday's game started with the Pacific Northwest temperature at 52 degrees but Harrison only seemed to have one problem and that was during an extended fourth inning.
"He was pretty good," Washington said. "Good slider, good changeup, kept the ball down. He did a great job for having not been out there for awhile."
Harrison retired the first nine batters he faced through three innings. Then he had to sit through a prolonged top of the fourth as the Rangers scored three runs while sending eight batters to the plate. There was one pitching change and 36 pitches thrown in the inning, but it still gave the Rangers a 5-0 lead.
Harrison started the bottom of the inning by walking Michael Saunders after getting ahead 1-2 in the count. Stefen Romero then smashed a line drive back to the mound that Harrison knocked down with his glove and got the force at second base.
Cano followed with a double to right-center, scoring Romero, and Harrison then walked Hart. That brought Washington, pitching coach Mike Maddux and trainer Matt Lucero to the mound to check on Harrison.
"We thought maybe he got stiff but he said he was fine," Washington said.
"My back felt fine, I just couldn't get my arm loose," Harrison said. "Fortunately I was able to lock it back in and make some pitches when I had to."
Harrison struck out two of the next three hitters to keep it 5-1. He retired the side in order in the fifth before allowing one more run in the sixth on a wild pitch. He left with the Rangers leading 5-2.
"He's a good pitcher," Mariners manager Lloyd McClendon said. "He's a pitcher that's won big games in the past for them. We were very fortunate to get some pitches that we could handle in the zone off him. He's usually pretty tough. I believe this was his first time back so I suspect next time we face him we'll have to battle a little tougher. He pitched pretty good."
T.R. Sullivan is a reporter for MLB.com Read his blog, Postcards from Elysian Fields and follow him on Twitter @Sullivan_Ranger. This story was not subject to the approval of Major League Baseball or its clubs.