Cueto matches Teheran, but Reds fall in 10th
Ace throws eight scoreless innings before bullpen takes loss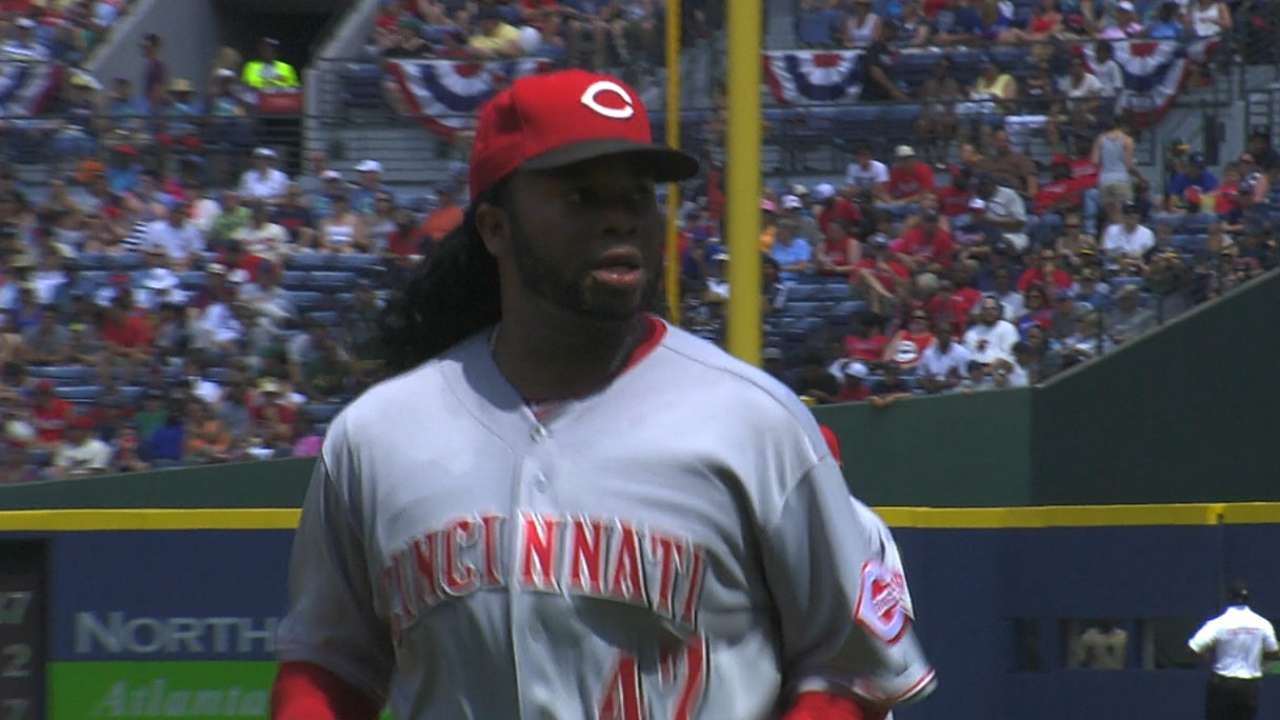 ATLANTA -- It's becoming too common of a refrain that Reds ace Johnny Cueto is unlucky after pitching great games and not being rewarded. It's been even more redundant that the Reds aren't winning the close games, regardless of who is on the mound.
Cueto pitched eight scoreless innings of three-hit baseball and came up empty in a 1-0 Reds loss to the Braves in 10 innings on Sunday at Turner Field. Freddie Freeman provided a walk-off single in the bottom of the 10th to give Atlanta the three-game series sweep.
Cincinnati, at 11-14 overall, is 3-9 in one-run games this season.
"That's part of the game," Cueto said via translator Tomas Vera about his misfortune. "I would have liked to win. I did a good job."
Cueto has a 1.15 ERA, but only a 2-2 record, through six starts this season. Coming off of back-to-back complete games before Sunday, he has allowed one earned run over his last 30 innings and has 27 strikeouts over his last three starts.
"It was a great month," Cueto said. "All I have to do, I hope, is to stay healthy and continue working."
The Reds are 2-4 in the games that Cueto has started. In two of the losses they were shut out, and in a third they scored only one run.
"It was definitely tough for Johnny because he hasn't had a bad game," Reds manager Bryan Price said. "He's pitched a great game. It was tough for us. It was another one-run game that we weren't able to pull out. You want to win the games that are there."
Price spent nine of the 10 innings watching the game from his office after he was ejected for arguing after a replay challenge didn't go the Reds' way in the bottom of the first inning. Price disputed that B.J. Upton was safe at first base after a Cueto pickoff throw. Pitcher Homer Bailey was also ejected for yelling from the bench.
"There's no real debate about if they got it right or if they got it wrong," Price said. "In the end, you have the biggest Jumbotron in the country out there in center field that would strongly suggest that the runner was out on the pickoff. Then to say he's not, it seems to contradict what everyone in the ballpark thought was an out. I didn't get it. It didn't make any sense to me."
After back-to-back losses to begin the series, Cueto gave the stopper performance the Reds needed with 11 strikeouts and three walks over his eight innings. But it was matched evenly during a splendid duel against the Braves' Julio Teheran.
Teheran gave up three hits over eight innings also, but he was rarely in trouble. After Billy Hamilton's one-out bunt single in the third inning, he was caught stealing by Gerald Laird. Teheran went on to retire 14 of the next 15 batters, including 10 in a row, until Zack Cozart walked with one out in the eighth. Cueto sacrifice bunted to put Cozart into scoring position, but the inning ended when Hamilton flied out to left field.
"It was really emotional for me," Teheran said. "I know I was facing the toughest guy in the game right now. He's been doing a great job, and I was just focused on trying to do my job, too."
After a one-out walk by B.J. Upton and a two-out single by Justin Upton in the first inning, Cueto retired the next 11 batters in a row. Trouble came in the fifth when Andrelton Simmons hit a ground-rule double to right field, and after Laird walked, Teheran sacrifice bunted to advance the runners. Cueto dodged danger by striking out Jason Heyward to end the inning.
In the sixth after a two-out Justin Upton double and a Chris Johnson walk, Cueto got Dan Uggla looking at strike three to escape again. With 114 pitches, Cueto was removed after eight innings by acting manager Jay Bell, and Sam LeCure took over. LeCure pitched a scoreless inning with a two-out single by Uggla.
Struggling reliever J.J. Hoover began the bottom of the 10th for Cincinnati and was pitching well before Heyward hit a two-out single up the middle just out of Cozart's reach at shortstop. Hoover got B.J. Upton to bounce a ball back to the mound. Instead of being a routine third out, it skipped off his glove for a single.
"I thought I had it. It kind of hit a second gear and kind of tipped out of my glove," said Hoover, who is 1-3 with a 12.79 ERA after the loss. "I thought I threw the ball well today. I just deflected that ball. Things happened from there."
Lefty Manny Parra replaced Hoover to face the left-handed Freeman, who hit a 1-0 pitch past Hamilton to the right-center-field wall to end it.
The Reds finished their 10-game road trip with a 5-5 record.
"We had two great games by the starters. The bullpens did a nice job," Price said. "That's what happens -- 0-0 on the road -- things tend to happen that go the other team's way quite often when you get into those situations in extra innings. You've got to create your opportunities and take advantage of times when you have a chance to score."
Mark Sheldon is a reporter for MLB.com. Read his blog, Mark My Word, and follow him on Twitter @m_sheldon. This story was not subject to the approval of Major League Baseball or its clubs.