Freeman's walk-off in 10th caps thrilling duel
Teheran throws eight scoreless as Braves sweep series vs. Reds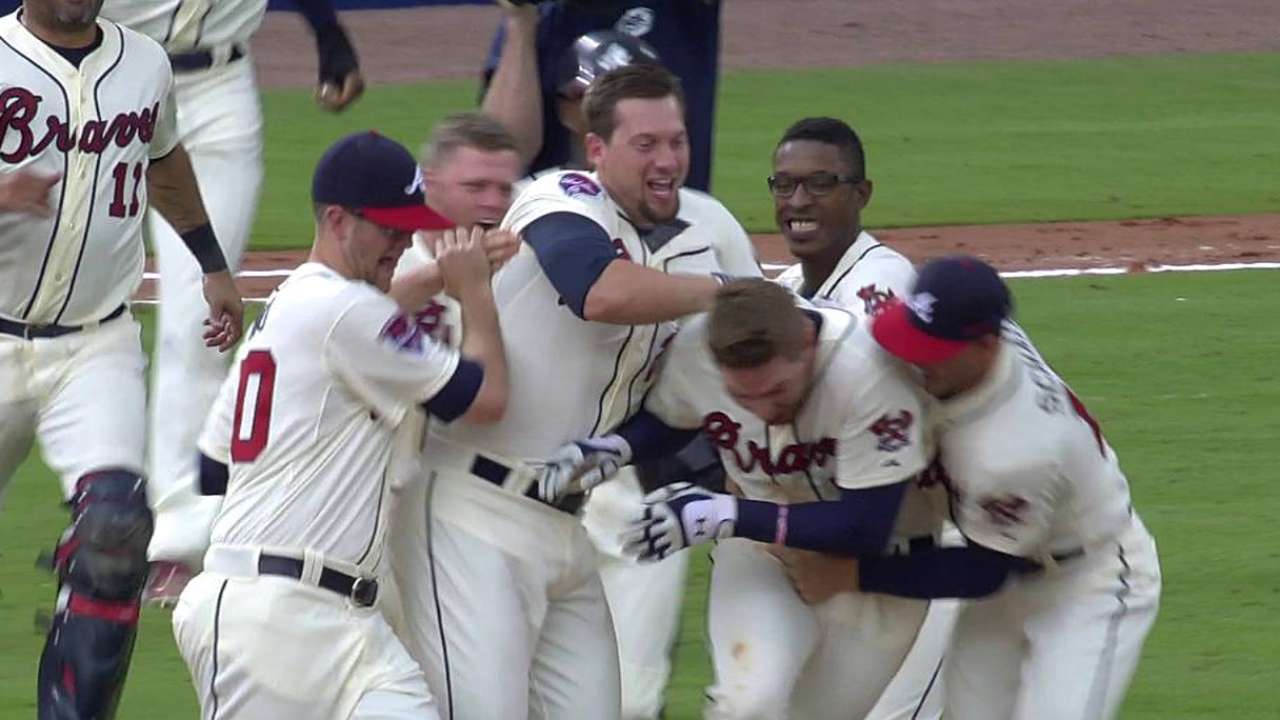 ATLANTA -- Julio Teheran has not garnered the widespread national attention that has been showered upon Marlins right-hander Jose Fernandez. But like Fernandez, Teheran has spent the first month of his second Major League season proving he already belongs in any conversation about baseball's elite pitchers.
Given a chance to compete against one of the game's best on Sunday afternoon at Turner Field, Teheran matched zeros with Johnny Cueto over eight innings and then saw his effort rewarded when the Braves completed a three-game sweep with a 1-0, 10-inning win over the Reds that came courtesy of Freddie Freeman's walk-off single.
"[Teheran] has been dominant," Freeman said. "He was dominant last year and he has just been continuing to do what he did last year. I think he's one of the best, to me. I get to see it every fifth day. So, it's a pleasure to watch."
Teheran took great pleasure in watching the Braves get the spark they needed courtesy of Jason Heyward's two-out single off former Atlanta prospect J.J. Hoover in the bottom of the 10th. When B.J. Upton followed with a single that deflected off Hoover's glove, the Reds turned to left-handed reliever Manny Parra.
Freeman watched Parra's first pitch miss the strike zone and then drilled his game-winner that short hopped the right-center-field wall. This decisive blow came as the crowd chanted Freeman's name and storm clouds approached Turner Field.
"I like those opportunities," Freeman said. "Being in the middle of the lineup, you like the RBI opportunities and definitely when you can end the game. Definitely, I was looking up and I saw that weather coming, so I wanted to get out of here, but it's definitely one of those situations you want that moment."
Likewise, Teheran has savored those opportunities to match up against the game's best. The 23-year-old right-hander tossed a three-hit shutout while opposing Cliff Lee on April 16, and he then nearly matched that performance while going up against Reds ace Johnny Cueto on Sunday.
Teheran and Cueto both surrendered three hits over eight scoreless innings. Cueto might have been more dominant as he recorded 11 strikeouts. But Teheran proved every bit as impressive as he matched zeros and recorded three of his five strikeouts with a runner in scoring position.
"He's pretty good," Braves shortstop Andrelton Simmons said of Teheran. "I know how good he can be. He's proving to people that he deserves to be the ace. He normally strikes out a lot of people. But I think he went about his job a little different today. He threw strikes, threw great and went against a guy that was throwing really good. They were head to head the whole time they were out there. That's pretty impressive. What more can you ask?"
While Cueto has now limited opponents to one run over his past 30 innings, Teheran has allowed just one run in his past 24 innings. The young Braves hurler has posted a 2.58 ERA in the 32 starts he made over the past calendar year. Clayton Kershaw and Fernandez are the only Major League pitchers who have posted a better ERA during this span.
"He's gone up against guys that are established Major League aces and he's gone pitch for pitch with them," said Braves manager Fredi Gonzalez, who has seen his team win 12 of its past 15 games.
Teheran and Cueto both cruised through the first four innings in relatively easy fashion and then notched a big strikeout to end the fifth-inning threats that they encountered. Ryan Ludwick opened the top of the fifth with a double down the left-field line and then advanced to third base on Brayan Pena's flyout to right field. Teheran responded by ending the threat with consecutive strikeouts against Zack Cozart and Cueto.
"It was really emotional," Teheran said. "I was excited. I was trying to do the same thing I've been doing. I've been trying to get complete games every time, so we just focused and tried to do the same thing."
After surrendering Justin Upton's two-out single in the first inning, Cueto retired the next 11 batters he faced. His dominant run ended when Simmons bounced a double over the right-center-field wall in the bottom of the fifth. Gerald Laird followed with a four-pitch walk, and Teheran then executed a sacrifice bunt attempt. But Heyward left Simmons and Laird stranded with an inning-ending strikeout.
The Braves threatened again in the sixth when Justin Upton doubled with two outs and Chris Johnson followed with a walk. But Cueto escaped unscathed when he struck out Dan Uggla for the third time in the game. This was the third three-strikeout game during this homestand for Uggla, who has been set down on strikes in 10 of his past 17 at-bats.
"It was a great game," Cueto said. "We both competed. Things went good for him and me."
Freeman ended the game with a single and might have saved it in the sixth when he made a diving stab of a sharp Billy Hamilton grounder that could have easily resulted in a triple to begin the sixth inning. The defensive gem aided Teheran as he retired 11 of the final 12 batters he faced.
Before Ludwick's double, the only hits the Reds had recorded were Hamilton's third-inning bunt single and Pena's second-inning double which bounced out of B.J. Upton's glove after the Braves center fielder seemingly lost the ball in the sun.
"I was trying to do my job, and I knew that the first team that would score was the one that was going to win," Teheran said. "I was just focused on trying to get this series in the book."
Mark Bowman is a reporter for MLB.com. This story was not subject to the approval of Major League Baseball or its clubs.