Seager's three-run homer propels Mariners
Third baseman belts two long balls as he burns Rangers again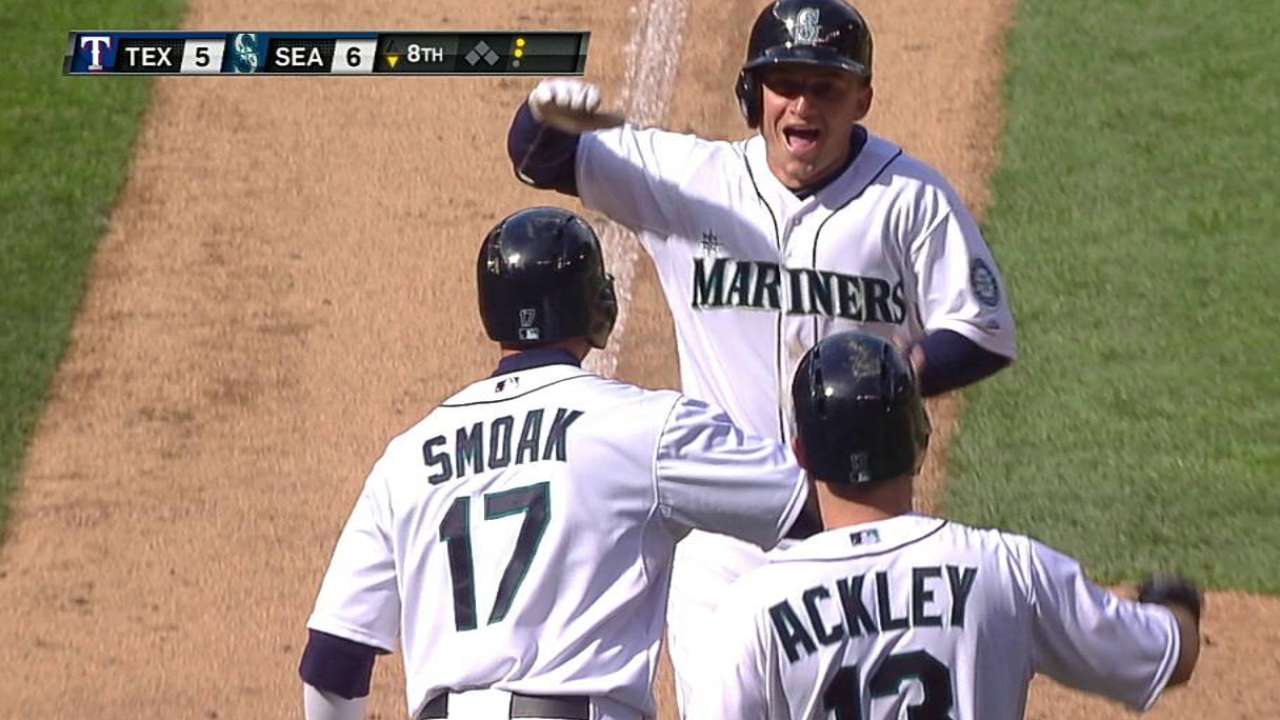 SEATTLE -- Powered by two more home runs from Kyle Seager, the Mariners rallied from a 5-0 deficit to beat the visiting Rangers, 6-5, on Sunday in front of 26,300 fans at Safeco Field.
Trailing 5-3 with two outs in the eighth inning, Justin Smoak doubled, then Dustin Ackley followed with a pinch-hit single.
Seager then deposited a 1-0 changeup from Rangers reliever Alexi Ogando deep into the right-field seats. The three-run homer gave the Mariners a 6-5 lead. It was Seager's fifth in the last four games. In his first 14, he batted .143 with two RBIs and a .492 OPS.
"I thought we had him," said Rangers manager Ron Washington. "For a moment I thought he was in a slump. I guess he's not."
Seager helped the Mariners avoid getting swept by the Astros on Wednesday with a walk-off, three-run blast. On Sunday, he delivered again, finishing 2-for-4 with four RBIs.
"[Ogando] has so much good stuff you just have to look for something over the middle of the plate," Seager said of his final at bat. "You just got to hope for a mistake pitch."
He got it, and Mariners closer Fernando Rodney worked a 1-2-3 ninth for his fifth save of the season.
The win moved Seattle to 10-14 on the year and ended their six-game homestand with a 3-3 record. It was Seattle's first series win since they swept the Angels to begin the season.
Trying to ignite the offense and perhaps preserve a few players for an upcoming 10-game road trip, Mariners manager Lloyd McClendon gave Brad Miller, Mike Zunino and Abraham Almonte the day off Sunday. And they struggled at first.
They couldn't solve Texas starter Matt Harrison, who entered with a 10-2 record and a 2.06 ERA in his career against Seattle but hadn't appeared in a game since April 2013 because of two surgeries to correct herniated discs in his back. He didn't have to shake off any rust, going six innings and giving up two runs on three hits.
Seattle didn't get a quality start from right-hander Brandon Maurer, who lasted just 3 2/3 innings and gave up five runs on seven hits and a walk. Maurer missed most of Spring Training with an injured back, then was forced into the rotation because of injuries to James Paxton, Hisashi Iwakuma and Taijuan Walker.
"I thought he threw the ball extremely well early, fatigued again and started to get the ball up a little bit," McClendon said. "We probably pushed him a little bit because of the circumstances and he's given us the very best he can give us under the circumstances. I'm proud of the way the young man has gone about his business."
Third baseman Adrian Beltre started the second inning by lining a ground-rule double to left field. Alex Rios followed with a single. Then, Mitch Moreland singled to right and the baseball bounced under Stefen Romero's glove, scoring Beltre and Rios.
In the fourth, Texas added three more when Leonys Martin lined a one-out RBI single, driving in two, and Michael Choice doubled down the left-field line, scoring Martin and ending Maurer's afternoon before he could complete four innings.
Then came the Mariners.
In the bottom of the inning, Michael Saunders, hitting leadoff for the second consecutive day, drew a walk to give Seattle its first baserunner. Two batters later, Robinson Cano broke up the no-hitter with an RBI double that cut the lead to 5-1.
After walking Corey Hart to put runners on first and second, Harrison worked out of the trouble. First, he struck out Smoak. When outfielder Cole Gillespie reached on an infield single, it loaded the bases, but Harrison brushed it off and struck out Seager to end the inning.
Meanwhile, Mariners relievers Lucas Luetge, Charlie Furbush, Tom Wilhelmsen, Danny Farquhar and Rodney combined to throw 5 1/3 shutout innings.
"They saved us … they all did a tremendous job," McClendon said of the bullpen. "If you look at the numbers, it's hard to win games when the bullpen is giving you four, five innings. It's hard to win a game, and they shut it down."
Seattle added their second run in the sixth when Harrison's wild pitch scored Cano from third, and another when Seager hit a solo shot in the seventh, setting the stage for the third baseman's dramatic eighth-inning blast.
"He's starting to heat up a little bit," McClendon said. "He's starting to swing the bat the way he knows he's capable of swinging."
Adam Lewis is an associate reporter for MLB.com. This story was not subject to the approval of Major League Baseball or its clubs.