De La Rosa looks like an ace in series clincher
Starter gets plenty of backing, including a three-run shot by Rutledge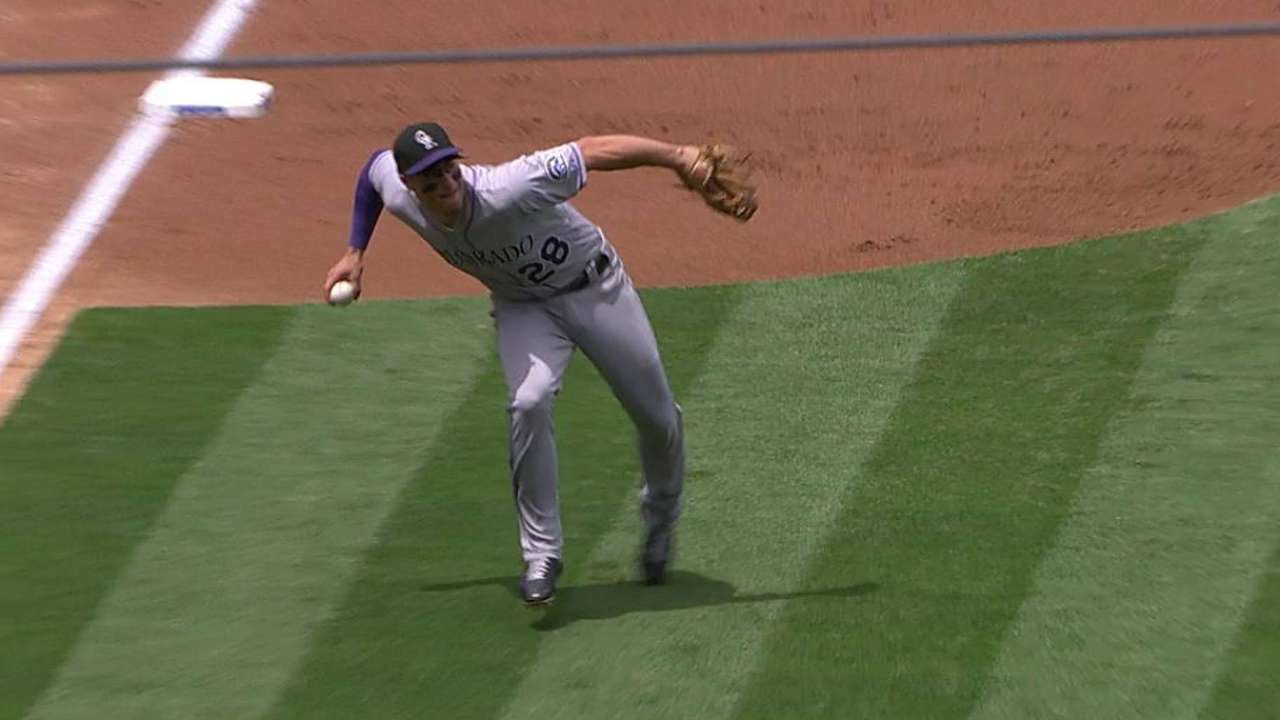 LOS ANGELES -- Rockies third baseman Nolan Arenado's defense in the first inning Sunday afternoon was highlight-worthy, but it's come to be expected. Maybe now pitching like Sunday's outing by left-hander Jorge De La Rosa should fall into the same category.
Finally pitching like the staff leader the Rockies wanted when they christened him to start on Opening Day, De La Rosa held the Dodgers to four hits and forced 13 ground-ball outs in seven innings of a 6-1 victory at Dodger Stadium in front of a sellout crowd of 52,359.
"I knew that was coming," said De La Rosa (2-2), who has won his last two starts, but on Sunday put together a performance reminiscent of last season, when he went 16-6 with a 3.49 ERA and was one of the most effective lefties in the National League. "Games like this, I've had before."
The Rockies (14-12) took 2-of-3 at Chavez Ravine, which improved their road record within the NL West to 5-5, with three games at Arizona starting Monday. Yes, it's only late April, but by dominating at home and being competitive on the road, it is a good formula for surprise contention after two straight last-place finishes. The defending NL West champion Dodgers (14-12) finished the homestand at 4-6.
Late April is as good a time as any for De La Rosa (2-2) to find his form. After pitching an unacceptable 4 1/3 innings in the first three starts, then having some good sequences but not total efficiency in his next two.
"He was efficient and he used his changeup really well and I thought his two-seamer was good," Rockies manager Walt Weiss said. "And he used his cutter inside. So it was his cutter, two-seamer and changeup that allowed him to get through their lineup multiple times."
That was more than enough for an offense that is formidable even though it received little in the series from stars Troy Tulowitzki (1-for-12) and Carlos Gonzalez (1-for-14). Sunday's 0-for-5 performance ran Gonzalez's slump to 7-for-53 (.130) in his last 13 games.
Brandon Barnes had a two-run, second inning single off Hyun-Jin Ryu (3-2) during a three-hit game, Charlie Blackmon went 2-for-4 with a double to lift his Major League-leading batting average to .402 and alertly scored a run in the fifth when Barnes enticed a rundown, and Josh Rutledge parked a three-run homer in the sixth.
"I try to think out of the box sometimes, and that run could have been huge there," Barnes said.
Additionally, Arenado had two hits while extending the Majors' longest hit streak this season to 17 games and Justin Morneau doubled twice while running his streak to 11 games.
"No doubt, you look at the stats -- me and CarGo were hitless today and we still put up some runs," Tulowitzki said. "It was huge."
Dodgers leadoff man Dee Gordon bunted for a single to open the bottom of the first. Arenado barehanded Yasiel Puig's bunt attempt to prevent another hit.
Gordon stole third, but Arenado temporarily kept him there when he fielded Matt Kemp's hard grounder and made enough of a move toward Gordon to keep him from advancing before throwing to first. Adrian Gonzalez's single gave the Dodgers a 1-0 lead.
Arenado made his signature play in the second, diving at the back corner of the infield dirt, then popping up to throw out second-inning leadoff man Scott Van Slyke.
"I told Nolan that that play was one of the top three that we have seen, and that's saying something, because there is a pretty good collection. But I've said it all year that he's as good as I have seen. He's changed several games this year with his defense."
It was the culmination of an outstanding two-way series for Arenado, a Los Angeles-area product who went 4-for-11 in the series and is 24-for-69 (.348) during his streak. The defensive work, especially the dive against Van Slyke, left lasting impressions.
"I love making plays," Arenado said. "I love helping the team out. It helps even more when we win."
After yielding two hits in the second, the only runners to reach against De La Rosa came when he hit Puig to open the second (before he was erased on a double play) and two walks. No runner reached scoring position after the second.
Even with last year's success, the Rockies pushed De La Rosa to pitch inside to right-handed hitters, noting that his 2-8 record and 5.88 ERA in 16 career games against the Dodgers was attributable to the fact their righty batters sold out for De La Rosa's outside changeup and sinking fastball.
De La Rosa never was comfortable with a "front-hip" sinker, which sometimes rode back over the plate and was crushed during the spring and early in the regular year. But De La Rosa has found comfort with a cut fastball that stayed up and in Sunday.
It added just enough of a mix so De La Rosa could put away hitters quickly. His last start, he won at home against the Giants, but needed 102 pitches to make five innings.
"I have trouble throwing inside sometimes," he said. "That really helps me a lot."
Rutledge chased Ryu (five-plus innings, nine hits, six runs) with his first homer of the year, after a Morneau double and an Arenado single to open the sixth.
"I was just hoping to get a pitch up and rive it for a sac fly, and it happened to work out for us," Rutledge said.
Thomas Harding is a reporter for MLB.com. Follow him on Twitter @harding_at_mlb. This story was not subject to the approval of Major League Baseball or its clubs.