Flu-ridden Jordan, shaky bullpen spell Nats' defeat
Right-hander goes four innings before exiting with persistent headache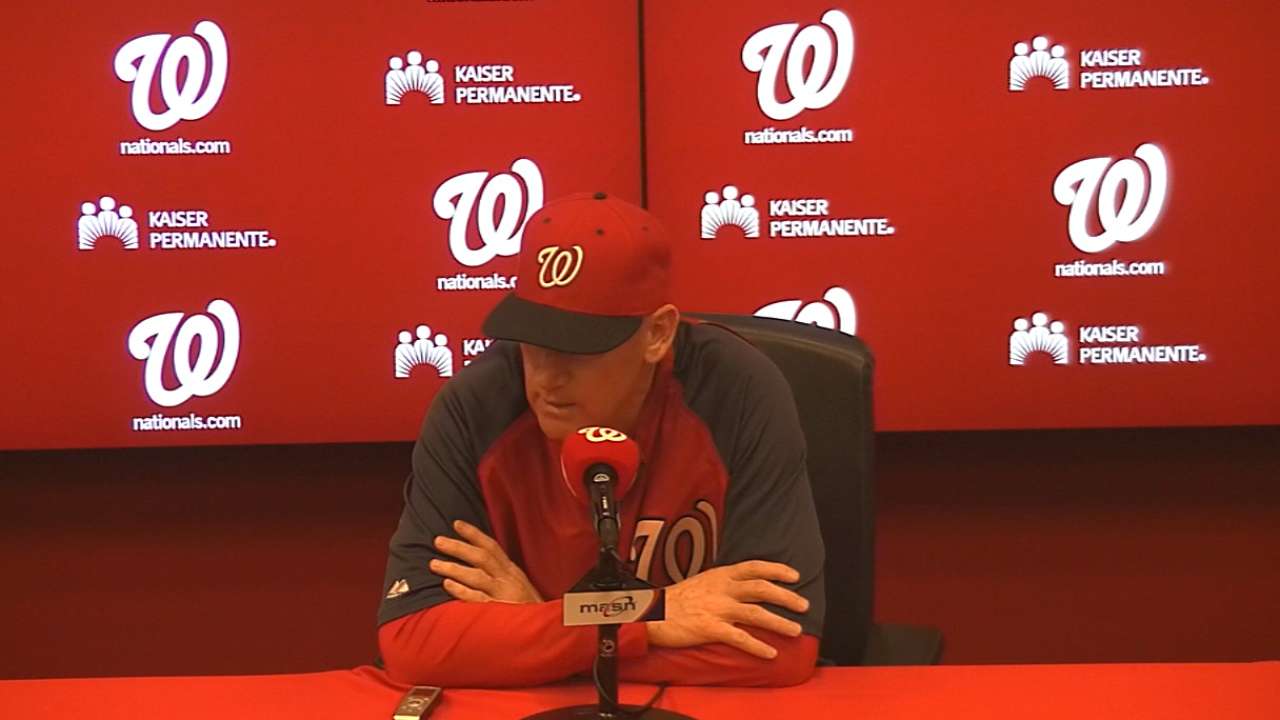 WASHINGTON -- The Nationals' bullpen had a tough time Sunday afternoon in a 4-2 loss to the Padres in front of 34,873 fans at Nationals Park.
The game was tied at 1 when manager Matt Williams decided to take right-hander Taylor Jordan out of the game after four innings and 63 pitches. His fastball, which was around 84 mph, is usually in the high 80s to low 90s. It turned out that Jordan had the flu, and he was running a fever when he arrived at the park.
"There was question of whether he would even start. We gave him a bag of fluids and he ate something this morning. The velocity was way down," Williams said. "He was weak out there. He could give us what he could give us today."
Jordan was still feeling under the weather when he spoke to the media after the game.
"I had this headache since early this morning. I really didn't sleep last night," Jordan said. "I have the chills, I'm hot. It wasn't so bad on the mound. The only thing was the headache. It just doesn't go away. Other than that, I wasn't really focused on much besides getting a couple of outs."
Left-hander Ross Detwiler replaced Jordan, and he had his own problems on the mound starting in the fifth inning. Everth Cabrera came home on a single by Chris Denorfia for a 2-1 lead the Padres wouldn't relinquish.
In the next inning, San Diego scored two more runs. After allowing singles to Will Venable and Cameron Maybin, Detwiler was replaced by Aaron Barrett, who simply couldn't find the strike zone.
Barrett allowed a single to Nick Hundley to load the bases. After striking out right-hander Ian Kennedy, Barrett walked the next two hitters -- Cabrera and Denorfia -- scoring Venable and Maybin.
As for Detwiler, Williams plans to use him more going forward. The skipper feels that Detwiler has been used sporadically, and that's why he has been inconsistent of late. The more Detwiler pitches, the better feel he has on his pitches.
"We have to get him in there more often, on a regular basis," Williams said. "With the game today, we got to get him in there. We needed multiple innings. … If the games go our way, we'll see if we can get him in there -- more lefty/lefty matchups on a more regular basis."
Barrett didn't have any excuses. He just lost command of his pitches. It didn't help that his mechanics were out of whack.
"There were no excuses. I let the team down," Barrett said. "I didn't make pitches when I had to. … I looked at some film. I felt like I was rushing, rushing pretty badly. My leg drive was going forward, but it didn't have a chance to catch up. It's something mechanical I have to fix."
Kennedy was outstanding on the mound, pitching seven innings and allowing a run on three hits. He also struck out nine hitters. The run scored in the first, when Jayson Werth doubled to left field, sending home Anthony Rendon.
"It's a really good lineup they have over there, and I know that Adam LaRoche had a big series against us, so having Ian pitch so well was very important," closer Houston Street said. "To see him settle down and get into a groove, it put the momentum back on our side."
The Nationals scored their second run of the game in the eighth, when Padres reliever Joaquin Benoit allowed a solo home run to Nate McLouth.
Bill Ladson is a reporter for MLB.com and writes an MLBlog, All Nats All the time. He also could be found on Twitter @WashingNats. This story was not subject to the approval of Major League Baseball or its clubs.