Dealing Kennedy helps Padres earn split in DC
Righty retires 16 straight at one point as part of nine-strikeout effort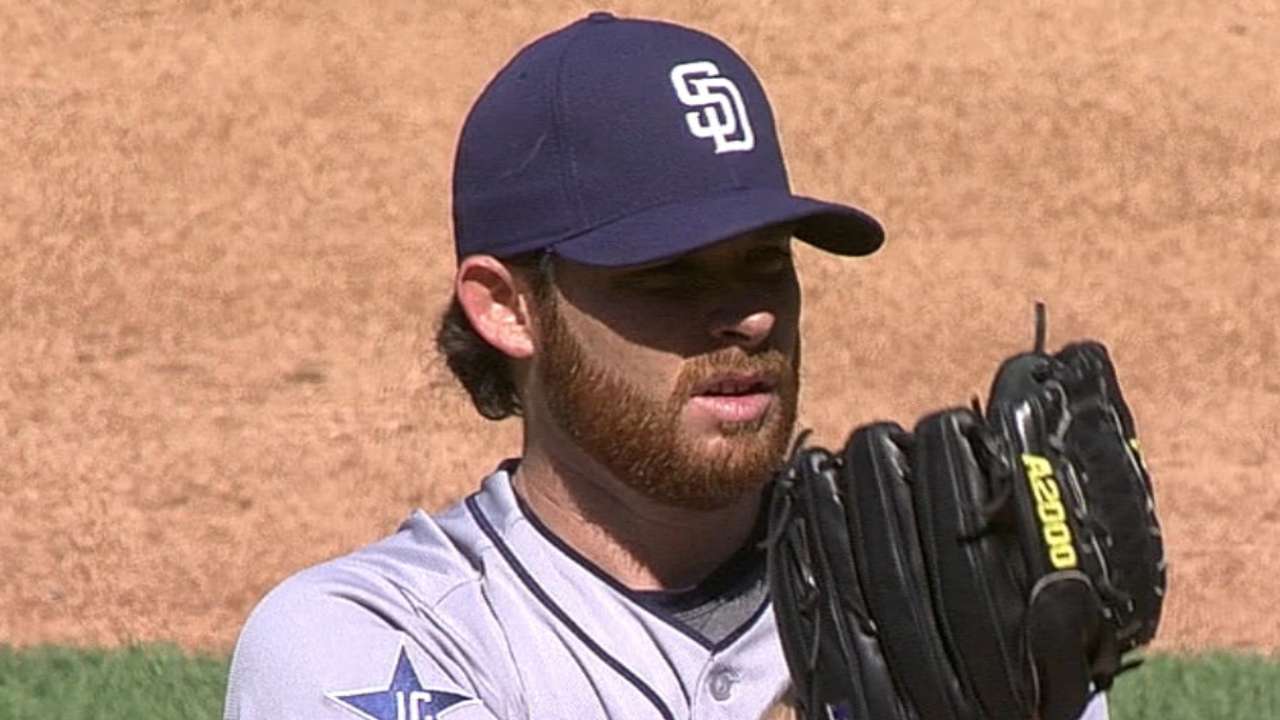 WASHINGTON -- When Cameron Maybin trotted out to center field Sunday, it not only marked his first game for the Padres since June 9 of last season but also the first time that the center fielder had actually played behind pitcher Ian Kennedy.
Never shy about tackling an eventful day in the outfield -- whether chasing down balls in the gap, making plays at the wall or using his arm to make plays -- Maybin has probably never been more content with doing as little as he did on this day.
"He made it easy for us out there," Maybin said after returning from a ruptured left biceps tendon.
It certainly looked that way, especially after the first inning when Kennedy essentially coasted, retiring 16 consecutive batters as one point as the Padres gained a split of the four-game series with a 4-2 win over the Nationals before a crowd of 34,873.
Kennedy (2-3) allowed a first-inning run on the second of two doubles by Jayson Werth before going on a big roll in which he retired the 16 successive hitters and 19 of 20 before Ian Desmond's one-out single in the sixth.
All told, Kennedy allowed three hits over seven innings with no walks and nine strikeouts.
"Overall, that was a perfect pitching performance," said Padres left fielder Chris Denorfia, who reached base four times.
The Padres (12-14) are well-versed by now in solidly-pitched games. It's been what has kept them afloat this month when their offense has essentially been non-existent for the most part, as the team has the fewest runs in baseball (69), despite a four-run outburst against the Nationals that, for them, probably felt like more than four runs.
"If we score four runs, we're going to win a lot of games," Denorfia continued.
With Kennedy throwing the way he was, spotting his fastball and then leaning more on his curveball and his changeup later, the Padres weren't going to need a whole lot of runs.
Trailing, 1-0, the Padres got a run in the fourth inning on Jedd Gyorko's sacrifice fly. One inning later, it was Denorfia who slapped a two-out single up the middle to score Everth Cabrera, who had singled, stolen second base and advanced to third base on a wild pitch.
The breakout inning, if you will, came in the sixth when Will Venable, Maybin -- who had two hits in his return from the disabled list -- and pinch-hitter Nick Hundley singled. Kennedy came to the plate, already at 86 pitches, but manager Bud Black felt he was still going strong.
Kennedy struck out, but reliever Aaron Barrett got into trouble by walking Cabrera and Denorfia with the bases loaded to force in runs and give the Padres a 4-1 lead.
"We'll take them any way we can get them," Denorfia said.
From there, Kennedy kept rolling, setting the Nationals (14-12) down in order in the sixth with a little help from Venable, who was fully extended for a diving grab of a slicing ball to right off the bat of Werth to end the inning.
"You can make a case that he got better as the game went on," Black said of Kennedy.
Then in the seventh, Kennedy struck out Adam LaRoche looking, allowed a hit to Desmond and struck out Kevin Frandsen and got Jose Lobaton on a ground ball to first base on his 117th pitch of the game -- the most that he's thrown since being traded to the Padres last July 31.
"After that first inning, I was trying to get ahead with everything," said Kennedy, who lowered his ERA to 3.16. "I felt like I got ahead of guys more often. I just made better pitches later in the game. No matter if it's the first or the seventh, you have to throw everything for strikes."
The Padres took a three-run lead into the eighth inning when Nate McLouth connected for a solo home run against reliever Joaquin Benoit, who didn't allow any more baserunners.
In the ninth, Huston Street allowed a single to Werth on a ball up the middle before getting the next two hitters for his ninth save in as many attempts.
The victory was the 12th of this month for the Padres, which rates as somewhat significant -- if for no other reason than April has recently been a sore subject for a team that won 10 games in 2013 and '11, and just seven a year ago. The 12 victories are their most in the opening month since winning 15 in '10.
The Padres begin their final series of April on Monday when they play the first of three games in San Francisco.
"You want to get out of April and be as close to .500 as possible," Street said. "They have a really good lineup, and to see him [Kennedy] get in a groove, it put the momentum back on our side.
"Today was absolutely a huge win."
Corey Brock is a reporter for MLB.com. Keep track of @FollowThePadres on Twitter. This story was not subject to the approval of Major League Baseball or its clubs.