Burnett brilliant as Phils blank D-backs, claim series
Veteran tosses eight scoreless frames to earn first win of '14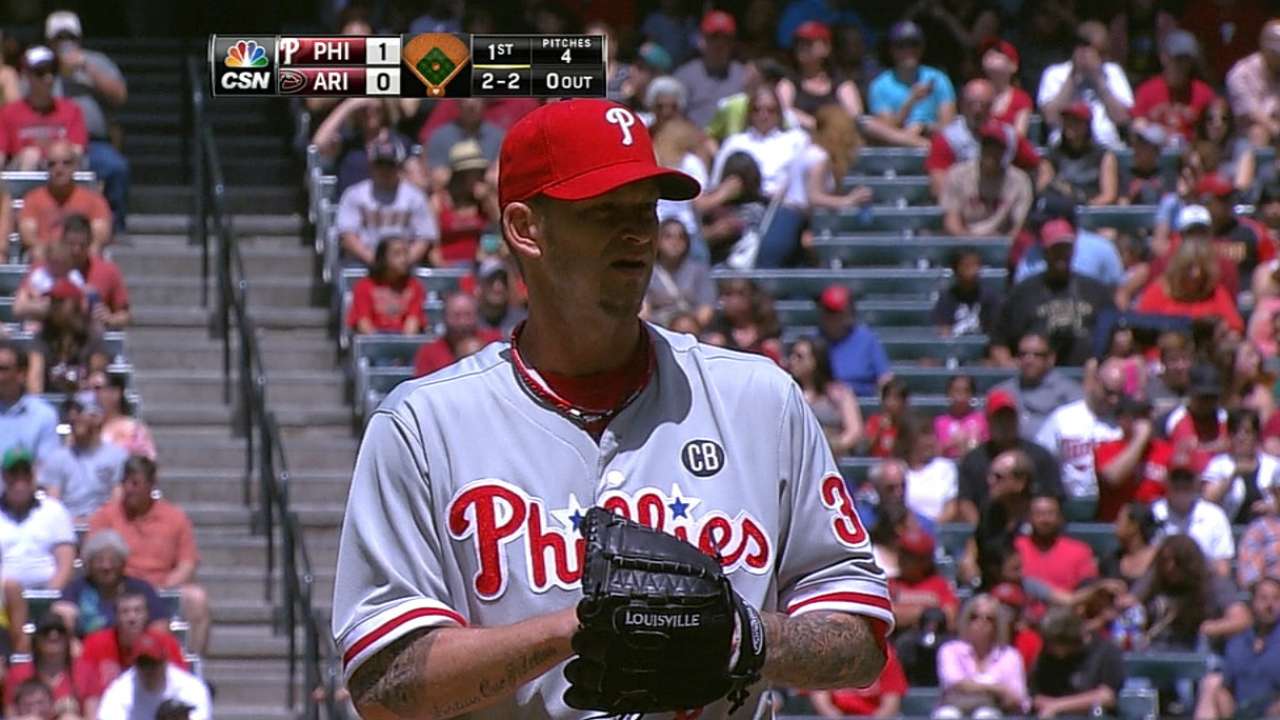 PHOENIX -- A.J. Burnett made himself at home in Arizona all weekend.
On Friday, he painted his face like an undead creature just like many of the locals as part of Zombie Night at Chase Field. A day later, he goofed around with his buddies in the dugout and gleefully rooted on his teammates to victory.
But the veteran finally wore out his welcome on Sunday afternoon when he shut down the D-backs' offense and hushed the crowd in a 2-0 victory to seal the series for the Phillies. It's all fun and games until you shut out the home team for eight innings with a steady dose of curveballs and fastballs. Burnett also threw one changeup.
"It just seems to be the theme," Burnett said. "We don't like it when we lose and it's even keel when we win, so it's good."
Burnett allowed only five hits and struck out eight in the victory, his first of the year and the Phillies' fifth in their last seven games. The Phillies now return to Philadelphia for seven games with a 6-4 record on their 10-game road trip and a 13-12 mark overall.
"It's a good way to the end the road trip and it turned out to be a good road trip," Phillies manager Ryne Sandberg said. "Burnett is a gamer and a battler. He had good stuff. He and [Wil] Nieves teamed up for a couple of good outings. I think it's 15 scoreless innings with those two teamed up."
The backup catcher has been a sparkplug all season. The Phillies have won all five of Nieves' starts behind the plate.
"He's fun to throw to. He has that energy about him," Burnett said. "He keeps you locked in and we're lucky to have two catchers like that. It was definitely a good day."
How in sync were the tandem on Sunday?
Nieves said Burnett rarely shook off the pitches he called and the catcher often pretended to give more signals in order to fool the Arizona hitters.
"Last time I caught him, he was on and we were on the same page and it happened today," Nieves said. "I think catching him, there is that trust that even if he does not want to throw something, he still does it because he trusts me."
Communication is not an issue between Burnett and Nieves. Burnett's health doesn't seem to be a problem, either.
Burnett has three quality outings since being diagnosed with a hernia earlier this month. His success could be explained by him shortening the lead stride in his delivery, which has given him a better command of the strike zone.
"He said it's keeping him humble," Nieves joked. "Instead of trying too hard, he is throwing nice and easy. Hopefully, he can keep the hernia all year."
The Phillies wasted little time against D-backs starter Brandon McCarthy. Ben Revere led off the game with a single, stole second base and came home on single by Chase Utley for an early 1-0 lead. Rivera is 9-for-10 in stolen bases this season.
"The way he gets on consistently allows him the opportunity to steal bases when it's right and he's getting a lot of chances," Sandberg said. "With those opportunities and his speed, it played big today."
Utley stung the D-backs again, this time in the sixth inning, when he led off the frame with a double. One out later, Marlon Byrd followed with a sharp grounder to D-backs shortstop Chris Owings in the hole near third base. Once Owings corralled the ball, he threw toward D-backs third baseman Martin Prado in an attempt to get Utley, who was advancing to third on the play. The ball sailed past Prado and Utley scooted home for the Phillies' second run.
It was more than enough.
"There's going to be days like that when Burnett's on and he's got the breaking ball's going," McCarthy said. "It's a struggle to score runs. It's fun to be part of a battle like that. I wish that we would've come out on top. Some days when there's a pitcher out there like that there isn't much you can do."
McCarthy struck out a career-high 12 batters in the loss. Jonathan Papelbon closed out the game for the Phillies.
"I thought [McCarthy] threw very well," Sandberg said. "Some of the guys commented that the ball looked small coming out of his hand just because of his size and his delivery, which is kind of interesting. He had a real good cut-fastball and a mixture of pitches. We were fortunate to get the early runs off of him and allow A.J. to do his thing."
Jesse Sanchez is a national reporter for MLB.com. Follow him on Twitter @JesseSanchezMLB. This story was not subject to the approval of Major League Baseball or its clubs.