Quiet bats squander McCarthy's career day
Righty strikes out 12, but D-backs shut out with six hits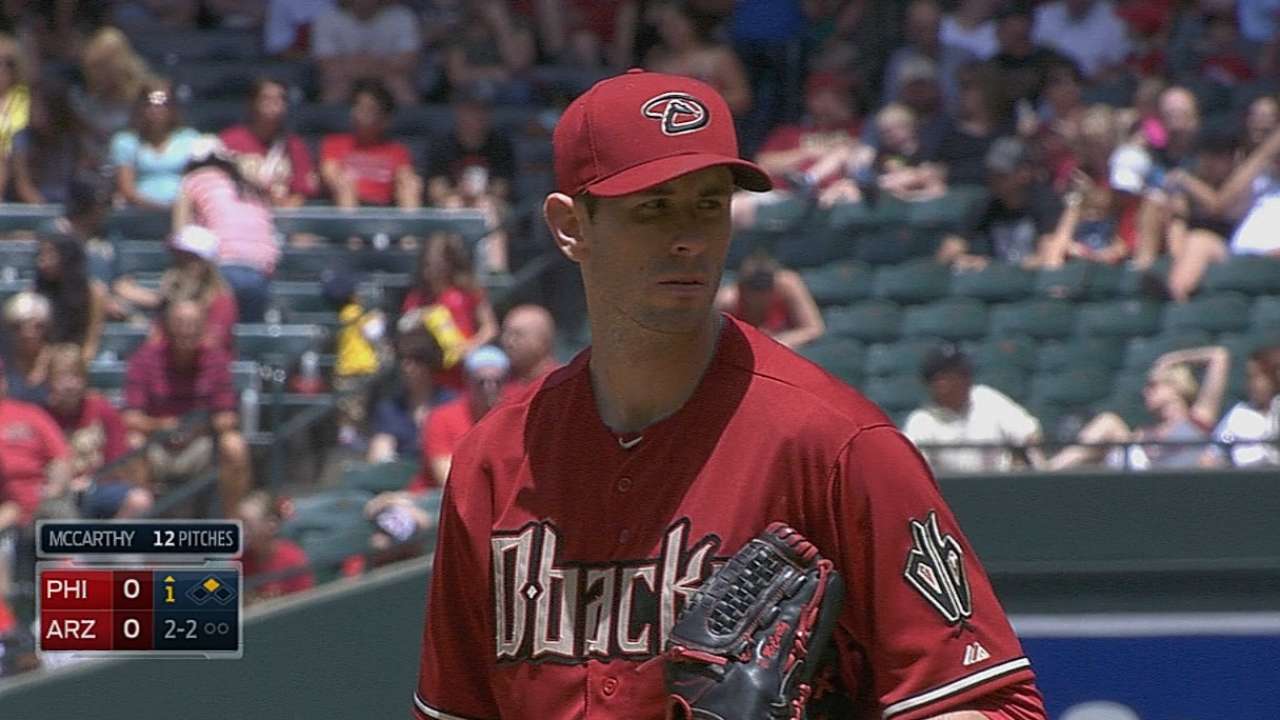 PHOENIX -- Brandon McCarthy struck out a career-high 12 batters on a glorious Sunday afternoon at Chase Field, but it wasn't good enough. And that seems to sum up the entire first 28 games of the D-backs' 8-20 season.
McCarthy's epic effort was bested by the Phillies, veteran right-hander A.J. Burnett and closer Jonathan Papelbon as the D-backs lost the swing game of the three-game series, 2-0.
"I thought he threw very well," Phillies manager Ryne Sandberg said of McCarthy. "Some of the guys commented that the ball looked small coming out of his hand just because of his size and his delivery, which is kind of interesting. He had a real good cut-fastball and a mixture of pitches. We were fortunate to get the early runs off of him and allow A.J. to do his thing."
McCarthy allowed a Chase Utley RBI single in the first inning. Utley scored the second run all the way from second in the sixth when shortstop Chris Owings made a sprawling stop on Marlon Byrd's hot shot into the hole on left side of the infield and Martin Prado inexplicably failed to cover third as Owings tried to nail Utley.
Byrd was credited with an infield single and the ball bounced wide of the base for a throwing error.
"C.O. made a pretty good play and Prado just didn't get back to the base," D-backs manager Kirk Gibson said. "Utley actually veered out, that's the kind of player he is. He got to a spot in between Prado and the ball. The ball bounced off him and they scored that run."
It was a very tough series for Prado. On Saturday night, the third baseman dropped a pop fly to open the eighth inning, leading to four Phillies runs in a 6-5 loss. In the ninth inning of that game, he over-slid second trying to advance on a short passed ball and was called out when instant replay showed that he missed the base.
Oh, and he went 3-for-13 without an RBI or a run scored, all three of the hits singles.
For his part, the rookie Owings tried to protect Prado on the play that gave the Phillies their insurance run.
"Utley's going to third and Marlon Byrd runs hard so that was the best play right there," Owings said. "If I just throw that ball a couple of inches to the right then we've got him. It was my fault right there."
There was enough fault to go around. McCarthy worked seven innings, allowing the two runs on seven hits and walking only one. With the loss, his record fell to 0-5.
Despite all that, he beat his own career strikeout mark by two. He'd whiffed 10 three times, but hadn't reached that mark since May 12, 2012, against Detroit when he was still with the A's.
McCarthy had four multiple strikeout innings in the game, striking out the bottom three players of the Phillies order in the seventh prior to leaving the game. It should be noted that the Phillies' seven-eight-nine hitters struck out nine of the 10 times they came to the plate on Sunday. And still, Philadelphia won the game.
"The game was big for me, I wanted to stop giving up runs," said McCarthy, who came into the game with a 6.23 ERA having allowed 25 runs with just 22 strikeouts in his first 30 1/3 innings this season. "Towards the end I knew the strikeouts were kind of piling up. When I came up through the Minor Leagues I always struck a lot of guys out and I had a running total. I felt today I was executing and was able to punch guys out. It's been a thing the last few years where I haven't been able to put guys away the way I like to."
Meanwhile, Burnett lasted eight innings, allowing just five hits, walking none and striking out eight batters of his own. The recent free-agent signee won his first game for the Phillies, evening his record at 1-1. Papelbon pitched the ninth and earned his eighth save, his second in as many days.
Burnett simply kept the D-backs -- now 2-13 at home -- off balance all afternoon, said Owings, who actually had two of his club's five hits off the veteran. The D-backs had runners in scoring position in the third, fourth, fifth and eighth, but couldn't squeeze a run home.
"There's going to be days like that when Burnett's on and he's got the breaking balls going," McCarthy said. "It's a struggle to score runs. It's fun to be part of a battle like that. I wish that we would've come out on top. Some days when there's a pitcher out there like that there isn't much you can do."
Barry M. Bloom is a national reporter for MLB.com and writes an MLBlog, Boomskie on Baseball. Follow @boomskie on Twitter. This story was not subject to the approval of Major League Baseball or its clubs.