McHugh follows up debut with two-hit victory
Astros' waiver claim dominant again after sterling first start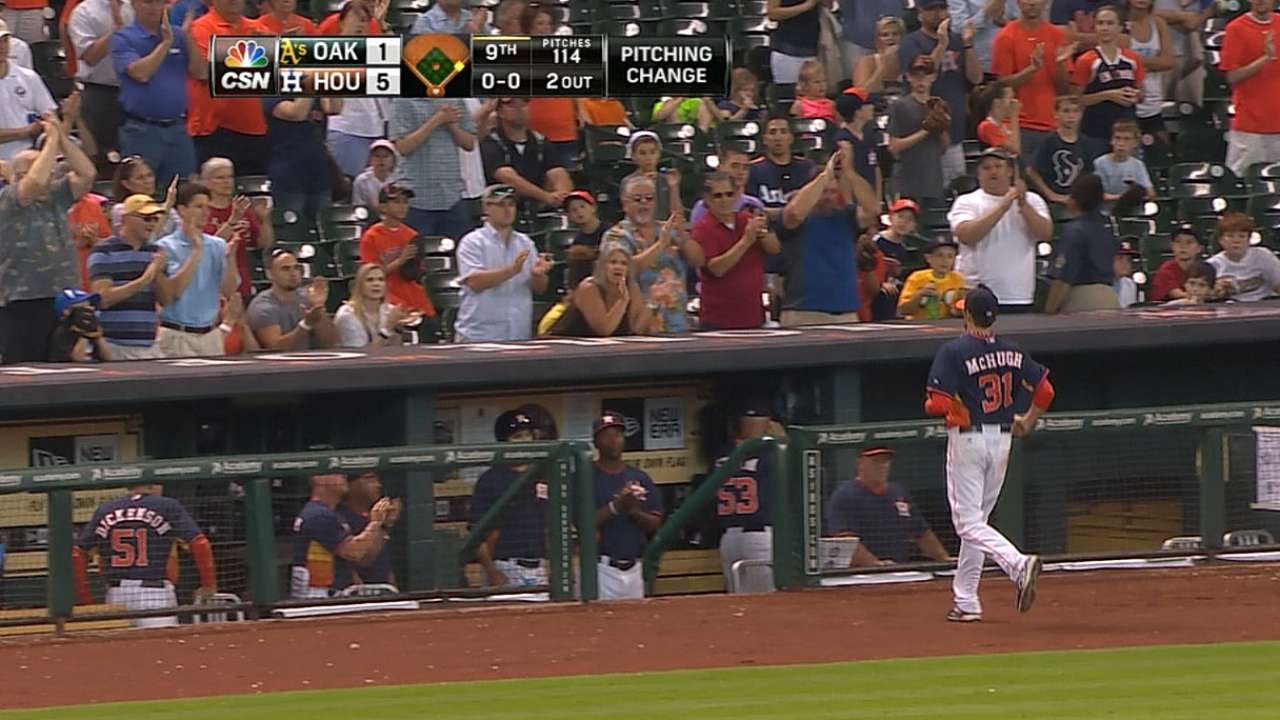 HOUSTON -- When Collin McHugh joined the Astros rotation last week following his promotion from Triple-A Oklahoma City, the goal was for him to make two starts before ace Scott Feldman was able to be activated from the disabled list.
McHugh, however, doesn't plan on giving up his spot in the rotation that easily. The 26-year-old journeyman, who was a relative unknown to most Astros fans five days ago, spun his second consecutive gem Sunday afternoon by holding the A's to one run and two hits in a masterful 8 2/3 innings in a 5-1 win in the series finale at Minute Maid Park.
"He's the man right now," Astros catcher Carlos Corporan said.
Indeed, in his first two starts with the Astros, McHugh is 2-0 with a 0.59 ERA, having allowed only five hits and one run while striking out 19 batters in 15 1/3 innings. He came within one out Sunday of recording a one-hit shutout before the A's rallied for a run.
He's the first pitcher in franchise history to pitch at least 6 2/3 innings and allow one run or fewer with at least seven strikeouts in his first two starts.
"It feels great," McHugh said. "First of all, it feels good to get another win against the A's. They're a good team. To be able to take two from them, especially at home and even the series and build some momentum, it's huge."
Astros manager Bo Porter said McHugh will remain in the rotation going forward.
"He put himself in a really good spot," Porter said. "Performance pretty much speaks for itself. This guy has earned the right to get the ball next turn."
In his first start with the Astros on Tuesday in Seattle, McHugh picked up his first Major League win by striking out 12 batters and walking none in 6 2/3 scoreless innings. He struck out seven batters and walked three on Sunday, but the A's weren't especially complimentary.
"Stuff-wise, I thought he was OK," said Josh Donaldson, who went 0-for-3 with a walk. "I don't think it was anything special. But he changed speeds well and pitched to his game plan."
McHugh's control certainly wasn't quite as good on Sunday, but he retired 19 in a row before hitting Brandon Moss with a two-out pitch in the ninth inning. The ball grazed Moss' foot and originally wasn't called a hit by pitch, but A's manager Bob Melvin had a successful challenge via instant replay.
Moss, with the Astros not holding him on, swiped second base and scored on a looping liner off the bat of Alberto Callaspo, who took advantage of a cutter up in the zone and wound up being McHugh's final hitter. He reached career highs in innings pitched and pitches (114).
"That was an outstanding performance," Porter said. "When we sent him out there in the ninth, it was with the complete hope that he was going to be able to finish what he started. That was tremendous, attacking the strike zone with all three of his pitches. To pitch that well against a really good-hitting Oakland lineup speaks volumes to Collin and the way him and Corporan worked today."
The Astros blew the game open in the seventh inning by scoring four runs on a two-run triple by Jonathan Villar and a two-run homer by Jose Altuve, his first of the year. Villar doubled and scored on a Dexter Fowler single in the third inning as the pair went a combined 4-for-7 with three runs.
"Those tack-on runs are always huge," Porter said. "When you start to look at the quality of two-out hits, those are big, big hits from a standpoint of giving yourself the extra cushion late in the game."
McHugh allowed the A's to load the bases with two outs in the first inning on a pair of walks and a single by Jed Lowrie, but he got Josh Reddick to pop out to shortstop to end the threat. He was pretty much unhittable after that, sending down 21 of the next 22 batters he faced to carry a one-hit shutout into the ninth.
"I wasn't even thinking about the hits," McHugh said. "I was more mad about the walks. I had walked a couple of guys early, and with this team you can't give them free base runners because anyone in that lineup can really do damage. Once I got that momentum and started rolling with it, it got a little bit easier to kind of make pitches and feel that flow."
Facing a lineup that featured eight left-handed hitters, McHugh credited his cutter, which zooms inside to lefties, with helping him navigate his way. Unlike Tuesday when he relied on strikeouts, he was willing to allow the A's to put the ball in play and let his defense perform.
"The guys played great defense behind me all night," he said. "Those guys put the bat on the ball. Early in the game, I was trying to pitch around them, and they're going to take and put themselves on base if you do that. The middle of the game Corp[oran] said, 'We'll go right at them and let our defense play for you,' and they did, and did a great job."
McHugh's success through two starts is one of baseball's biggest surprise stories so far. He was claimed off waivers by the Astros from the Rockies in December, and hadn't fared well in his previous 15 Major League outings with the Mets and Rockies over the past two years.
When asked if he would have believed it if someone had told him coming into this year that he would have two eye-popping Major League starts under his belt, McHugh responded: "Depends who told me."
Brian McTaggart is reporter for MLB.com and writes an MLBlog, Tag's Lines. Follow @brianmctaggart on Twitter. This story was not subject to the approval of Major League Baseball or its clubs.