Four errors in five-run sixth send Rays to defeat
Price shuts out White Sox for five innings before defense breaks down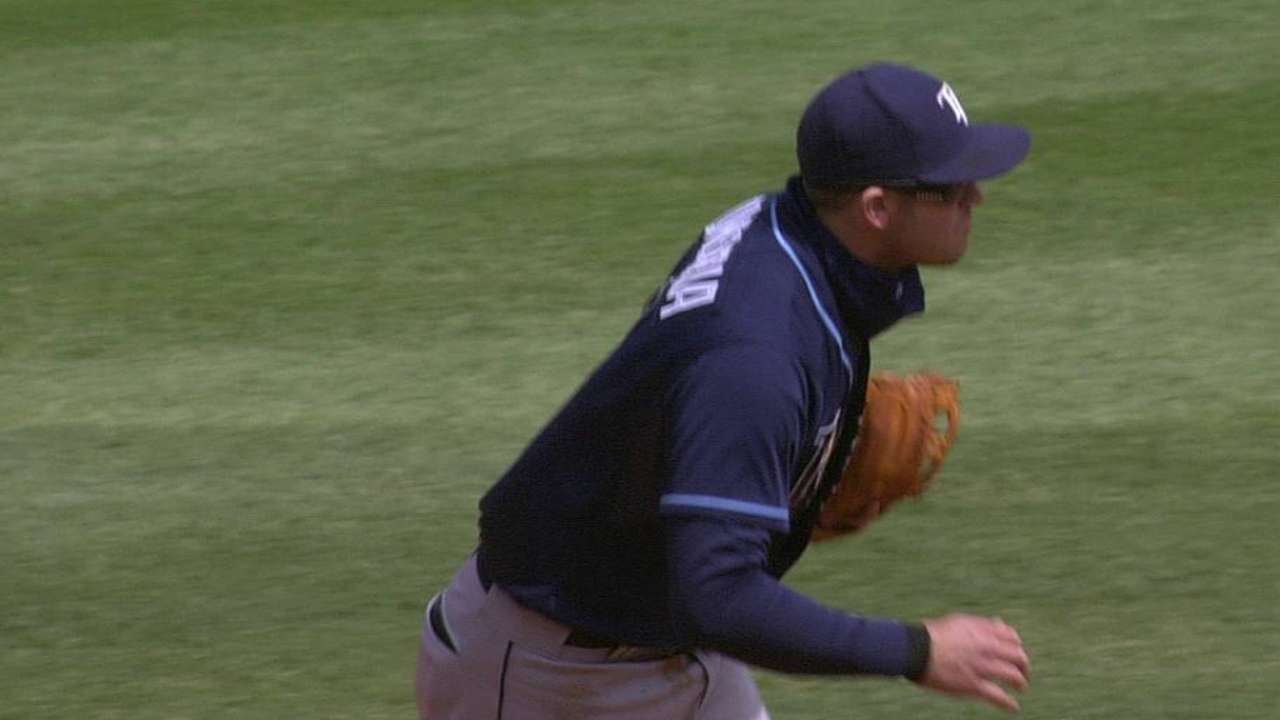 CHICAGO -- David Price expects to go nine innings every time he takes the hill, and through five innings on Sunday afternoon, it looked like he might do just that for the second start in a row.
And then the sixth inning happened. Price allowed six of the first seven batters to reach base -- thanks, in part, to four errors -- and a one-run lead quickly became a four-run deficit.
Tampa Bay allowed four more runs in the seventh inning, sputtering to a 9-2 loss to the White Sox in front of 17,313 at U.S. Cellular Field.
"We haven't made that many mistakes all year, let alone in one inning," Rays manager Joe Maddon said. "It was just one of those days. We hit into double plays. We couldn't catch the ball. We made mistakes."
Price, to his credit, was dealing early. He needed just 19 pitches to retire the White Sox in order in the first and second innings before throwing 19 in the third alone. He struck out Mark Semien to get out of the two-on, two-out jam.
Price also had great defense behind him -- at least early on. Evan Longoria made a diving snare to rob Paul Konerko in the fourth inning, and Desmond Jennings made a diving catch to rob Alexei Ramirez in the fifth.
"The defense in general this whole season has been spectacular," Maddon said. "You can't expect perfection. I talk about that all the time. It's not abut being perfect; it's about being present."
The Rays weren't present in the sixth. Gordon Beckham scored on Price's throwing error on a bunt and Adam Eaton came around to score on Wil Myers' fielding error on the same play. Dayan Viciedo later scored on Yunel Escobar's throwing error.
The four errors, in fact, were a franchise record for one inning.
"It's uncharacteristic of us, but we're human," Price said. "I still feel like I have eight Gold Glovers out there when I'm on the mound, but you'll have those days. It stinks."
Somewhere between all the miscues, Jose Abreu hit his tenth homer of the month, a two-run shot to left-center, and added two more RBIs in the seventh to set the rookie record for RBIs in April with 31.
"It seems to me if Abreu catches anything bad up in the zone, he doesn't miss it," Maddon said. "That's what I've seen through the course of this series. [Price] made a bad pitch, and he didn't miss it."
Still, it was Price's throwing error that allowed the floodgates to open.
"I didn't really have a good grip on it," Price said. "I felt like I picked up grass with the ball. I pride myself in being an athlete on the mound and being able to field my position extremely well. That's a play I got to make."
The Rays couldn't respond. They struggled against 29-year-old rookie Scott Carroll, who was making his Major League debut. Carroll didn't allow a baserunner until the third inning, when he walked David DeJesus, but a double play off the bat of Escobar snuffed out any potential threat.
"Give their pitcher credit," Maddon said. "For having not had a chance to be here in the past and getting an opportunity, he definitely made the most of it. He put the ball on the ground, threw strikes and didn't walk people. He pitched very well."
Tampa Bay took a 1-0 lead in the fifth after DeJesus scored on a fielding error by Viciedo. DeJesus, who had reached on a two-out single, scored all the way from first.
Carroll allowed three Rays to reach base in the sixth but didn't give up a run. Ben Zobrist led off with a single but tried unsuccessfully to stretch it into a double and was tagged out at second. Carroll then hit Jennings, who advanced to second on a wild pitch. Carroll then walked Matt Joyce. Longoria, however, ended the sixth inning just as he ended the fourth -- with a 6-4-3 double play.
"He didn't really care who was in the box," White Sox catcher Tyler Flowers said of Carroll. "We had a game plan going into it, and I put the finger down. He made the decision to throw that pitch and hit the spot the best he could -- and he did a great job with that all day."
Carroll, who went 3-1 with a 1.57 ERA in four Triple-A starts this season, looked like a seasoned vet. He allowed two runs -- one earned -- on six hits in 7 1/3 innings. He threw 100 pitches, walked two, struck out three and exited to a standing ovation and a tip of the cap.
"It's special," White Sox manager Robin Ventura said of Carroll's performance. "You have a guy that gets his first opportunity in the big leagues and takes advantage of it. At 29, being up there it's special. He was throwing strikes, ground balls. Even when guys got on, he had a sinker that you can use to get double plays and get out of innings it's big. He showed everybody what it's like when you throw strikes."
Price, meanwhile, ran into trouble in the seventh and was replaced by Josh Lueke, who gave up a two-run single to Abreu, who went 2-for-4 with four RBIs.
"When it was 5-1, I wanted [Price] to stay out there," Maddon said. "That's grand slam range. Being down by four, you can do something. But then they put those four add-on runs on, and it made things much more difficult."
Price gave up eight runs -- six earned -- on nine hits in 6-plus innings. He struck out seven, walked one and threw 103 pitches, 72 for strikes. The White Sox sent nine batters to the plate in back-to-back innings.
"It was just an unfortunate day," Maddon said. "It happens. It happens to the best of them, and it happened to us today. You just got to move it along. That's it."
Tony Meale is a contributor to MLB.com. This story was not subject to the approval of Major League Baseball or its clubs.