Carroll rides Abreu's heroics to victory in debut
Allows one earned run over 7 1/3 innings; rookie sets April RBI mark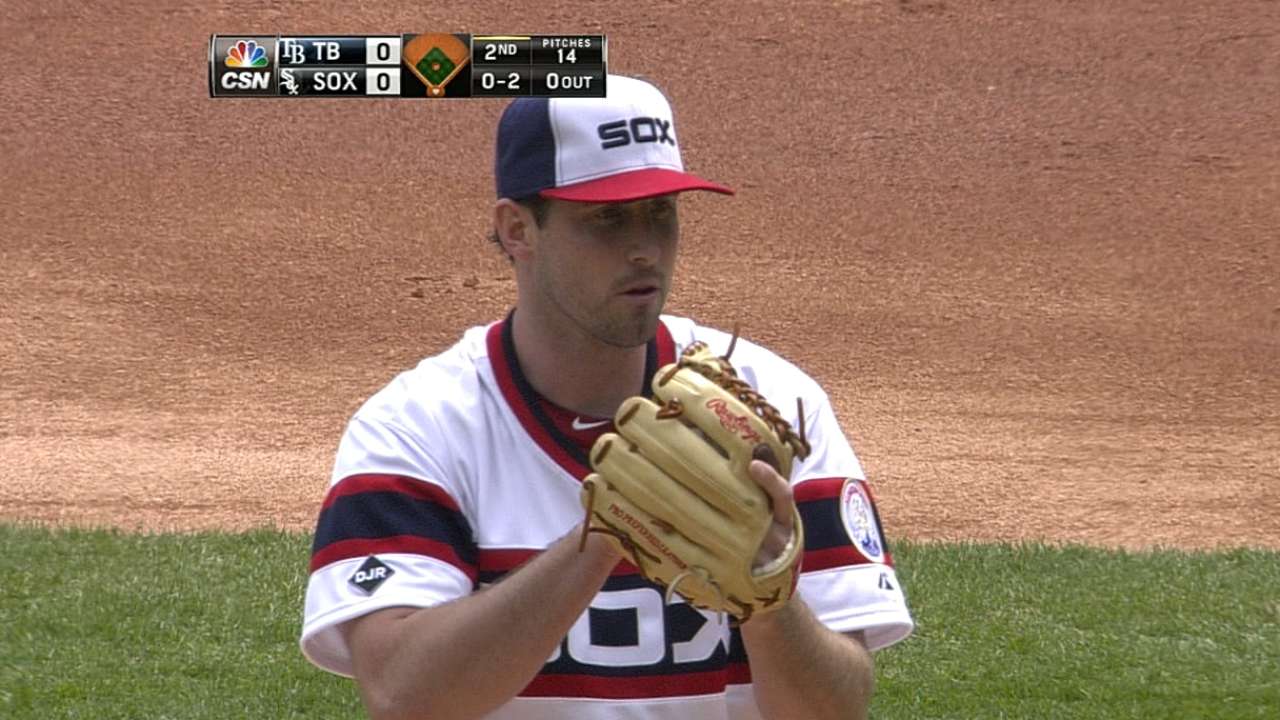 CHICAGO -- First, there was a handshake from White Sox catcher Tyler Flowers to starting pitcher Scott Carroll as Flowers reached the mound in the eighth inning of Sunday afternoon's 9-2 victory over the Rays at U.S. Cellular Field.
That was followed by a tap on the head from Alexei Ramirez and a congratulatory pat on the back from manager Robin Ventura in recognition of Carroll's first Major League start that became his first big league win.
Then Carroll left the mound and the loud standing ovation from the crowed began. Carroll waved and tipped his cap. His family and friends, numbering close to 40 strong, showed their emotions in the stands.
After 138 Minor League games over eight seasons, the 29-year-old achieved his goal.
"I'm on cloud nine right now," said Carroll, who was proud to have his family and friends in attendance for this big moment. "I knew I was capable of it, but it's just awesome to finally get the opportunity and showcase my skills here at this level.
"It's incredible. I put in all the hard work and just effort and stuff and to get to this level and succeed like I did, it was unbelievable. I've seen it so many times on TV and on movies and stuff, but to actually experience it and have that feeling myself, it was incredible."
Carroll benefited from another offensive display by Jose Abreu, who hit his 10th homer and drove in four, establishing the rookie record for most RBIs in April with 31.
Carroll (1-0) filled in for Chris Sale, on the DL with a flexor muscle strain, going up against David Price (3-2), the 2012 American League Cy Young winner and the Rays' ace. Instead of being in awe when he heard of the mound opposition, Carroll looked at the matchup as a great opportunity.
Allowing one earned run on six hits over 7 1/3 innings and 100 pitches, the right-hander made the most of it.
"There's no better chance to showcase my skills and get to go against one of the best guys, a Cy Young winner," Carroll said. "I just happened to be better than him today. It's a fun experience and I'm just so happy to do it."
"Give their pitcher credit. For having not had a chance to be here in the past and getting an opportunity, he definitely made the most of it," Rays manager Joe Maddon said of Carroll. "He put the ball on the ground, threw strikes and didn't walk people. He pitched very well."
Tampa Bay (11-14) actually grabbed a 1-0 lead in the fifth when right fielder Dayan Viciedo simply missed Yunel Escobar's two-out fly ball to right, allowing David DeJesus to score from first. Price, who held the White Sox in check behind seven strikeouts, was victimized by a poorly played sixth from the usually sound Rays' defense.
Four errors were committed behind the Rays' southpaw, with two of them coming on a Marcus Semien bunt single that Price threw away and was then bobbled by right fielder Will Myers in the recovery to let Gordon Beckham and Adam Eaton cross the plate. Jose Abreu hit the next pitch into the left-center field stands for his 10th home run, setting the Major League rookie record for most RBIs in April in the process.
Abreu's record climbed to 31 when he singled home two more during a four-run seventh, following that five-run sixth.
"When he hits it on the barrel, it can get out of any park," said Ventura of Abreu. "I don't think it was necessarily carrying to left field, but he has enough power to get it out of here."
"My adjustments are simple: I try to stay inside the ball," said Abreu through interpreter and White Sox manager of cultural development Lino Diaz. "If I do that consistently I can get good contacts and I stay solid."
Eaton, Semien and Abreu combined for seven hits in support of Carroll's debut.
Poise, pace and sink stood as the watchwords for Carroll, who never seemed to get rattled by the occasional tough situation. He walked DeJesus to lead off the third but induced a double-play grounder from Escobar.
Matt Joyce reached with a one-out single in the fourth, but Evan Longoria ended the inning with another double-play grounder. With runners on first and second and one out in the sixth, Longoria once again rolled into a twin-killing: all three going from Ramirez, to Beckham to Paul Konerko.
"We're all together. We are very happy. I feel like the whole team contributed," Abreu said. "Just getting to know the process and the steps that Scott has had to take to get here, it's a great thing and well deserved."
"I just continue to pound the zone with my sinker and just make them put the ball in play," Carroll said. "I have awesome guys behind me making plays and for them to make plays like they did today, it's a big help. That's what I'm going to continue to do."
Another starting chance will be coming Carroll's way, richly deserved after Sunday's performance. He made it through almost a decade of Minor League pitching, not to mention right hip surgery in 2009 and Tommy John Surgery in the offseason of '12.
But as Carroll got ready for the postgame family celebration, he realized the journey was worth the fight.
"This has been a long road for my family and I," Carroll said. "They've been through all this stuff with me ever since I was a kid, taking me to games as a Little Leaguer.
"For me to finally achieve my dream, my mom, she's an angel, and she's put in a lot of hard work taking care of me through two surgeries. It was pretty awesome."
Scott Merkin is a reporter for MLB.com. Read his blog, Merk's Works, and follow him on Twitter @scottmerkin. This story was not subject to the approval of Major League Baseball or its clubs.