Dickey under control as Blue Jays halt skid
Righty stifles Boston for 6 1/3 in first walk-free start with Toronto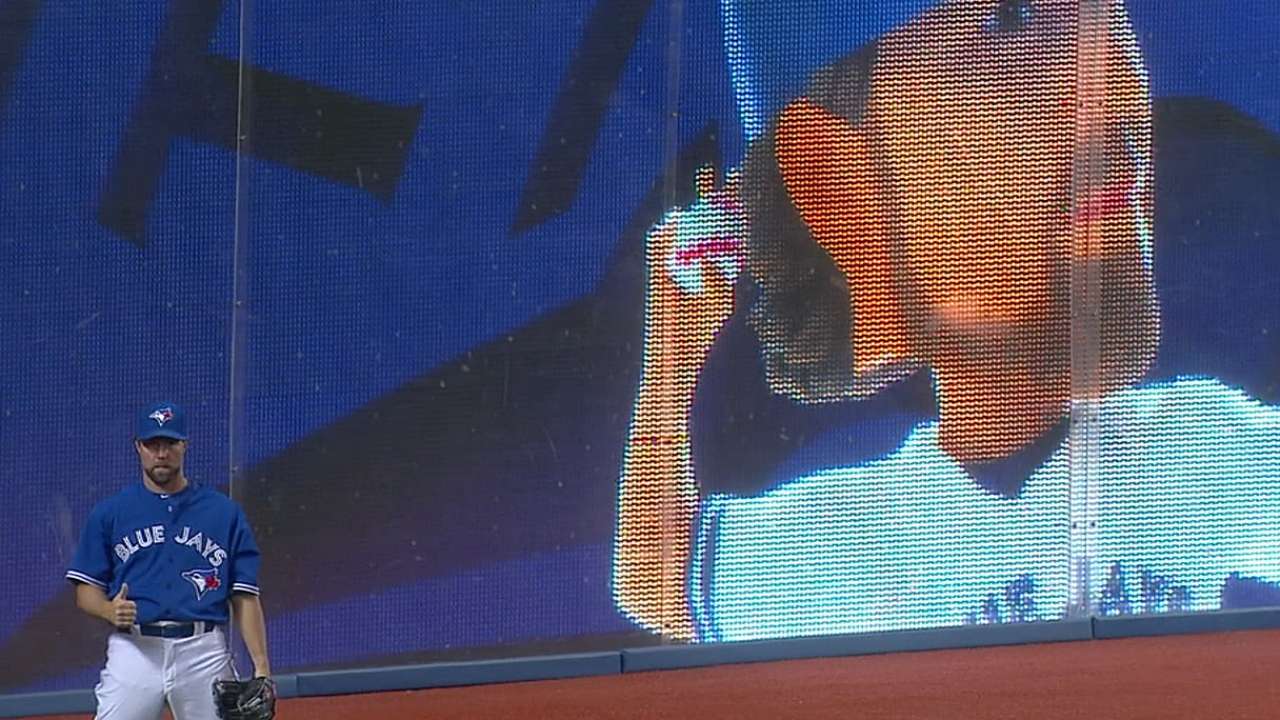 TORONTO -- R.A. Dickey was almost in total control in his best start of the season Sunday against the Red Sox.
Control, or lack thereof, has been a looming theme over Dickey's 2014 performances as the knuckleballer struggled through four of his five starts. He'd posted a 1-3 record and issued a Major League-high 18 walks. But for the first time this season, he didn't walk a single hitter.
The 39-year-old pitched 6 1/3 innings, allowing only a single earned run on five hits while striking out six as the Blue Jays downed the Red Sox, 7-1.
"It was, unbelievably, I think, it was my first game as a Blue Jay where I didn't walk a batter," said Dickey, who earned the win in front of 45,260 fans on what was, conveniently, R.A. Dickey Bobblehead Day at a sold-out Rogers Centre. "When I have one to two to zero walks, it's usually going to be a pretty good day, and that's what I need to get back to, and like I said, today was a good step in that direction."
Dickey was right. In fact, it was the first time he hadn't walked a hitter since Oct. 2, 2012, with the Mets. He matched a season-high strikeout total, and allowed his fewest earned runs against the Red Sox as a starter since 2004.
"You don't see a guy like Dickey very often," said Red Sox manager John Farrell. "It's a unique pitch and when he's on, with the number of strikes he threw today, it's a challenge, no doubt. ... He worked quick, he threw a number of first-pitch fastballs to get ahead and get a strike and then go to his knuckleball at various speeds off of that. He pitched a very good game against us."
The win snapped a four-game losing streak for Toronto, which enters an off-day Monday with a 12-13 record.
Blue Jays manager John Gibbons said getting a quality outing from Dickey was key to his team's success, which came in the form of strong defense, timely offense and a solid bullpen.
"It's no secret in baseball, if you get a good effort on the mound, everything kind of snowballs," said Gibbons. "The bullpen is better off, they're fresher, and if the starter is staying in there, it's usually a pretty good game."
There were only a few minor stumbling blocks in Dickey's performance. He got into a little trouble in the second, when Boston started a two-out rally with three straight hits, culminating in an RBI single from Jackie Bradley Jr. for a 1-0 Red Sox lead.
Dickey found himself in another jam in the seventh, and was replaced by Steve Delabar with one out and two runners in scoring position. Delabar induced two straight flyouts to end the Boston threat and keep Dickey's chance to win intact.
Brett Lawrie provided the Blue Jays with an offensive boost, hitting his sixth home run while adding an RBI double and going 2-for-4 to pace Toronto at the plate.
He evened the score in the bottom of the second with his homer off Boston lefty Jon Lester.
The Blue Jays took the lead in the third on Melky Cabrera's RBI double and extended their lead in the seventh. After a leadoff double from Edwin Encarnacion, Lawrie earned his second RBI of the day when he ripped a double to make it 3-1. A fly ball from Juan Francisco moved Lawrie to third before he scored on a fielder's choice by Moises Sierra for a 4-1 Toronto lead.
An offensive outburst from the heart of the Blue Jays' order put the game out of reach in the eighth. Jose Reyes and Cabrera hit back-to-back singles before Jose Bautista's infield hit brought Reyes around to score. With two on for Encarnacion, the cleanup man delivered a two-run double to make it 7-1 Toronto.
Lester (2-4) took the loss for Boston. He pitched seven innings, allowing four runs on five hits with seven strikeouts. With the win, the Blue Jays ended their six-game homestand against American League East teams with a 2-4 record.
After giving up the lead in three of their previous four games, Gibbons was pleased the Blue Jays were able to hold onto the advantage once they'd gained it.
"The tough part is we had the lead in most of those games, other than Friday night here, that's what gets you," he said. "Our leads were comfortable leads, but there's no secret to how the game works. You get a good start, you've got a chance."
Jamie Ross is an associate reporter for MLB.com. This story was not subject to the approval of Major League Baseball or its clubs.