Lester unable to match Dickey, gets little support
Ace gives up four runs over seven as Red Sox denied sweep by Jays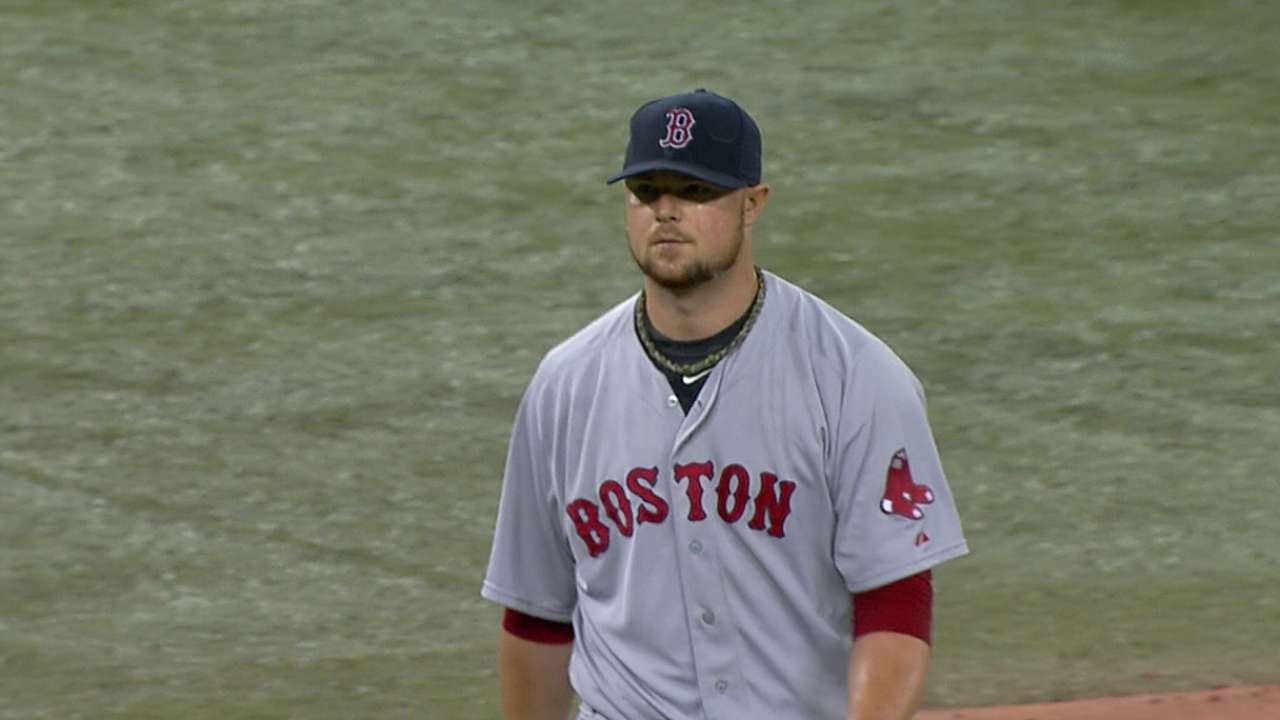 TORONTO -- It doesn't matter how well Jon Lester throws the ball if his offense is unable to come up with timely hits.
Looking to help the Red Sox complete a three-game sweep, Lester was strong until a late hiccup in the seventh, and once again received little run support in Sunday's series finale.
Lester lost for the fourth time in six starts, the bats went cold, and the Red Sox dropped the afternoon contest to the Blue Jays, 7-1, in front of a sellout crowd of 45,260 at Rogers Centre.
"Once again [Lester] worked deep into the ballgame and gave us an opportunity to win," manager John Farrell said. "He has been the one guy in our rotation where runs are a premium and are seemingly hard to come by."
A troubling trend has been developing when Lester takes the ball, with Boston's offense routinely going quiet. After scoring just once Sunday, the Red Sox are providing Lester with 1.83 runs of support per start, which is the second-lowest mark among 114 qualified pitchers.
Lester's 2-4 record doesn't reflect how well he has thrown the ball. He has gone at least seven innings in four of his six starts, sports a 3.10 ERA, has the lowest walk rate of his career, and is striking out over a batter per inning.
"You always have to stay positive and always have to look at the positives," Lester said. "Anytime you sit there and beat your head against the wall, it's a negative thing. I can't control wins, I can't control losses, I can only control what I do those five days and the preparation I have in between pitches."
The left-hander wasn't happy with some of the pitches he made -- like a 3-2 offering to Brett Lawrie in the second inning which was taken deep -- but Lester was pleased with the way he threw the ball. Toronto hit some good pitches that were thrown in the right spots, he said, and he's certainly not about to call out his offense despite its lackluster results whenever he gets the ball.
"I don't get to hit and if I did, it would probably be worse," said Lester, who allowed four runs, walked none and punched out seven. "I know these guys are busting their butt and [R.A.] Dickey threw very well today. Sometimes you have to tip your hat to the other side.
"I felt like we had chances, but I let it get out of hand there in the seventh. I felt like I threw the ball better than the four runs that are up there. But that's baseball."
Lester was strong and went toe-to-toe with Dickey for much of the contest, but entered the seventh down, 2-1. That's when the Blue Jays added insurance.
Boston's ace allowed back-to-back doubles to begin the frame, the second of which, by Lawrie, gave Toronto a 3-1 lead. Moises Sierra added another run on a groundout which scored Lawrie from third. Lester fielded the chopper, but was unable to remove the ball out of his glove cleanly, which is all Lawrie -- who was breaking home on the pitch -- needed to score.
In Lester's opinion, Lawrie was scoring no matter what.
"I had no play, regardless if I field it cleanly," he said. "I couldn't square my shoulders, couldn't do anything."
In the top half of the frame, with Boston still trailing, 2-1, the club squandered its best chance of the game.
Boston put runners at second and third with one out to chase Dickey from the contest after Xander Bogaerts ripped a double down the left-field line. The Blue Jays turned to reliever Steve Delabar but he stranded the pair by getting Jackie Bradley Jr. to pop out and David Ross to fly out on a deep drive to center field.
Bradley went up, 2-0, on Delabar and then swung through an inside fastball before ultimately coming up short.
"I have to get the job done," said Bradley, who went 1-for-3 and drove in Boston's only run with an RBI single in the second. "I'm very tough [on myself]. I feel like I let the team down in that situation right there. I had an opportunity to tie the game up and who knows what can happen from there. I have to get better, I really do."
Toronto, which added three more runs in the eighth off reliever Andrew Miller to make it a 7-1 game, scored seven unanswered after the Red Sox struck first and snapped a season-high four-game skid.
Boston's offense struggled to put anything together off the wildly inconsistent Dickey, who entered Sunday's start with a 5.90 ERA.
Starting with the final out of the second, Dickey retired 13 of 14 batters leading up to the seventh, and the knuckleballer allowed one run on five hits, didn't issue a walk for the first time in six starts and stuck out six to earn his second win.
"Throwing good pitches, and had good action on the knuckleball," Dickey said when asked what the key was for him. "I threw a lot of fastballs today, which was part of the strategy. They're a disciplined club, and so to get strike one was very important."
Although the Red Sox were unable to complete the sweep, which snapped a four-game road winning streak, they scored 16 runs over the three-game set to help them take two of three games.
Boston has an off-day Monday, then begins an eight-game homestand starting with the division-rival Rays on Tuesday night at Fenway Park.
"How we play at Fenway Park is going to be pivotal for us," Farrell said.
Chris Toman is a contributor to MLB.com. This story was not subject to the approval of Major League Baseball or its clubs.