Cubs power up, but Wood can't hold Crew down
Valbuena, Castillo go yard; southpaw gives up five runs on seven hits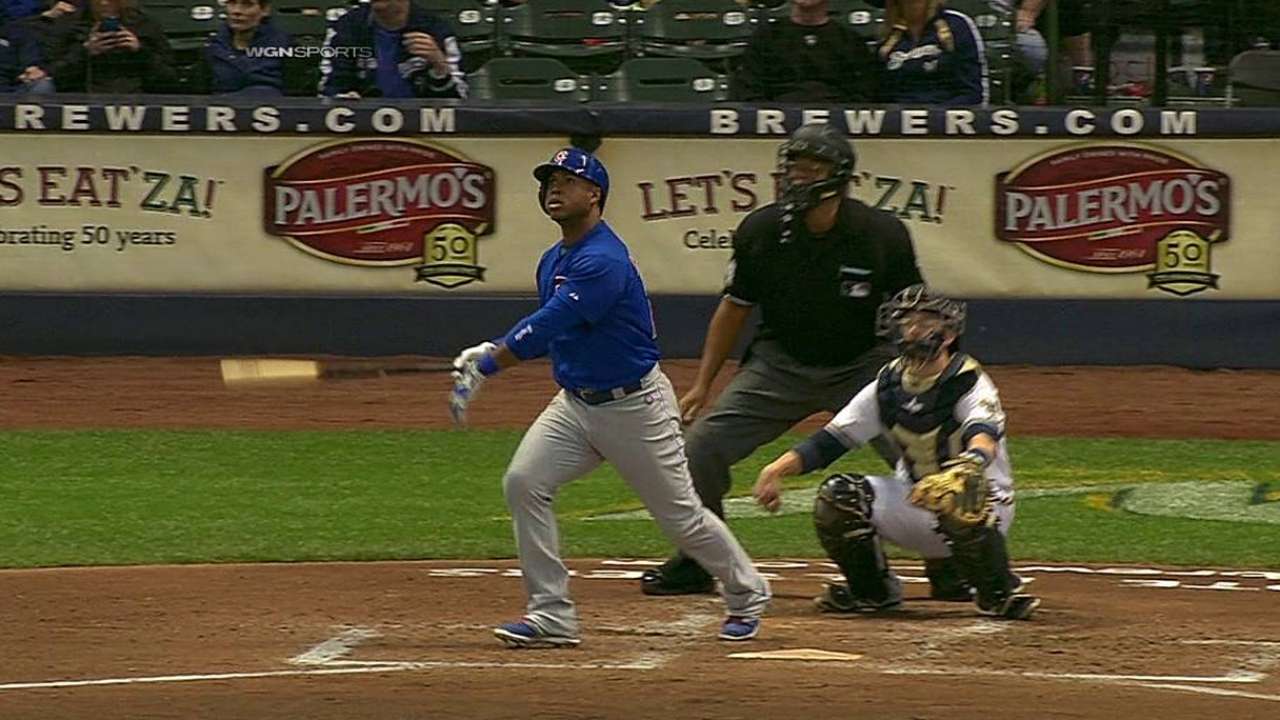 MILWAUKEE -- The Cubs dropped to 10 1/2 games behind the Brewers with a loss on Saturday, and it's only April.
Luis Valbuena hit a solo home run, Welington Castillo added a two-run shot, and both made great defensive plays, but it wasn't enough as the Brewers topped the Cubs, 5-3, on Saturday night. Chicago has now lost four straight while Milwaukee boasts a Major League-best 18-6 record.
"We've got to just keep grinding," Cubs manager Rick Renteria said. "I know everybody says it's a cliche that 'it's not how you start, but how you finish,' and we still have five months left in the baseball season and we want to keep pushing and playing.
"There have been worse starts in the game of baseball, and I'm not even worried about this as much as how we're going to respond [Sunday]," Renteria said. "What kind of energy are we going to have? What are we going to do? Are we going to focus? Are we going to play? Are we going to be determined to try to salvage a victory tomorrow?"
Let's figure out what went wrong Saturday. Khris Davis hit a solo home run and Jeff Bianchi -- who replaced Jean Segura in the mid-first -- drove in two runs to back Marco Estrada for the victory, although it may have been costly for Milwaukee, who lost Segura on a freak accident. More on that later.
Travis Wood took the loss, scattering seven hits over 5 2/3 innings. The Brewers forced the lefty to throw a lot of pitches early. Wood walked Carlos Gomez to start the Brewers' first, and he advanced on a single by Bianchi before scoring one out later on Aramis Ramirez's sacrifice fly.
In the Brewers' second, Davis singled and one out later, Rickie Weeks singled, lining a ball at third baseman Mike Olt, who ducked in time. Castillo made a tumbling catch of Estrada's popup, but Wood walked Gomez, and Bianchi hit a two-run single to open a 3-0 lead. Wood needed 48 pitches to get through the first two innings.
"It was a grind and a battle tonight," Wood said. "I didn't have my 'A' game and was missing balls on the arm side and falling behind with hitters, and they took advantage of it."
"I feel he didn't stay down in the zone as well as he normally does," Renteria said of Wood. "He has the ability and had been working down in the zone quite well since the beginning of the season."
Estrada retired the first 10 batters he faced before Valbuena launched his first homer of the season to right off a 2-0 pitch with one out in the fourth.
Milwaukee loaded the bases in the fourth on a single, a hit batter, and a walk to Estrada, who tried to bunt but ended up with a free pass. The Cubs couldn't turn a double play on Gomez's grounder, and a run scored. Valbuena then made the defensive play of the game when he snared Bianchi's popup in foul territory, and threw a perfect strike home to get the runner for an inning-ending double play.
"I knew there was a man on third base and when I caught the ball, I threw home," Valbuena said. "It was a tough play right there. It was tough because I was running to the ball. [First baseman Anthony] Rizzo helped me."
"That was a really good play," Castillo said, "because he was off balance. It wasn't an easy popup, and Rickie can run, too. He made a great play."
"That was a fantastic play," Renteria said.
Wood zipped through the fifth, needing just five pitches, but then Davis led off the sixth with his third home run. Castillo connected with one out and a runner on first in the eighth off Estrada for his fourth homer. The catcher has matched his personal monthly home run high; he hit four last September.
"The experience that I got last year is helping me this year," Castillo said. "I know the pitchers more this year."
The Brewers now know to be careful. Segura was accidentally hit in the face as Ryan Braun swung his bat in the dugout before the Brewers' first. Segura did not suffer a concussion or fracture, but did need stitches and was officially listed as day to day.
"You never want to see something like that, you know?" Braun said. "It breaks your heart a little bit, and obviously it's never something that's done intentionally.
"Whenever you're involved in a situation like that, I think it puts life in perspective and you realize how insignificant baseball is. Thank God we heard he's OK. It could have been a lot worse or a lot worse places he could have been hit."
Braun had to leave the game as well in the ninth with an intercostal strain. His status will be evaluated on Sunday. The Cubs wouldn't mind if both take a day or two off.
"That's a tough lineup to get through," Castillo said of the Brewers. "They have a lot of good hitters and a lot of momentum going with everybody doing well. Woody threw the ball well, but they're good hitters against left-handers. He battled."
The Cubs know the Brewers well. What's the difference this year?
"They're the same guys, they're just good ballplayers," Wood said. "The team is rolling and they're riding the wave."
Carrie Muskat is a reporter for MLB.com. She writes a blog, Muskat Ramblings, and you can follow her on Twitter @CarrieMuskat. This story was not subject to the approval of Major League Baseball or its clubs.