A's rally, but can't overcome bullpen's struggles
After Doolittle's rough eighth, Moss' three-run HR in ninth not enough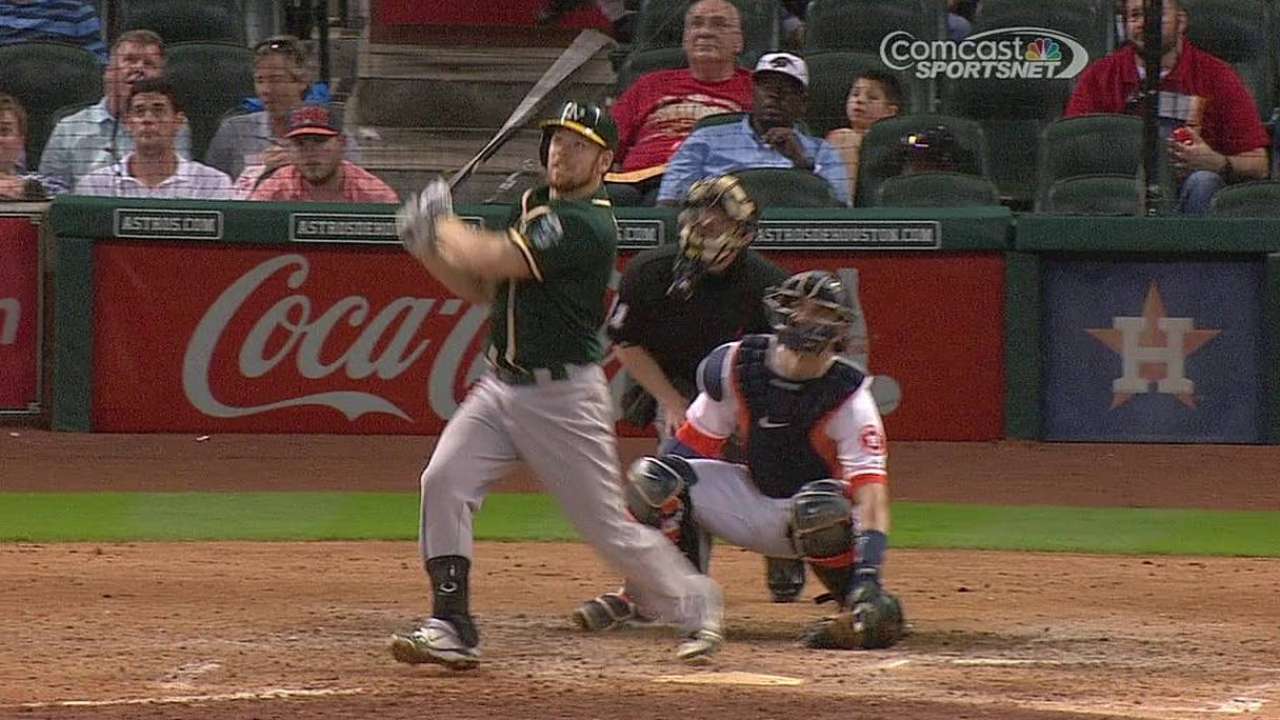 HOUSTON -- Fastball command plagued a pair of A's pitchers in the club's first loss of the season in six tries against the Astros on Saturday.
Dan Straily ditched the fastball after it was hit twice for home runs, and Sean Doolittle was tagged for four hits and as many runs on the pitch in the eighth inning, when Houston broke open a tied game.
Brandon Moss put the A's within one run via a three-run homer off Jerome Williams in the ninth, but they'd fall short in a 7-6 loss at Minute Maid Park.
Oakland can claim the four-game series with a win in Sunday's finale.
"My fastball is still my best pitch," said Doolittle. "They know that as well as I do. So on nights like tonight, when maybe I don't have my best one, I have to figure out a way to get it done. That's why I'm so frustrated. Look what happened in the ninth. There was a feeling that it was only a matter of time we were going to push some runs across. If I can minimize the damage to one or two runs… "
But Doolittle couldn't record an out in the inning, allowing four straight singles to Marwin Gonzalez, Jose Altuve, Dexter Fowler and Jason Castro to bring in a pair of runs, before being pulled in favor of Luke Gregerson.
Gregerson allowed two of his inherited runners to score, bringing Doolittle's earned runs total to seven over his last five games. The lefty, who signed a five-year deal with the A's last week, had surrendered just one in his first seven appearances.
And the A's bullpen, which entered the day with an American League-best 2.25 ERA, had not given up a run in each of its last nine innings.
"I don't really know. It was just one of those nights, and that's why it's frustrating," said Doolittle. "Right now, after going back and looking at film, I don't have a lot of answers. I just couldn't get anybody out.
"Sometimes you don't have your best stuff, and if you want to be a guy that's counted on repeatedly in those situations, you have to figure out how to get it done."
"Every now and then it's going to happen to everybody," said manager Bob Melvin, "but you don't expect that to happen to him."
Doolittle's meltdown followed an impressive bounce-back outing from Straily, who gave up a pair of homers in the first two innings -- a solo shot to Fowler and a two-run blast to Chris Carter.
But Straily settled down thereafter, yielding just two other hits in 6 1/3 innings. The right-hander walked two and struck out seven in the 89-pitch outing, going to his curveball often in the later stages, which made his slider more effective.
"Coming into this one, I was really focused on my fastball command," said Straily. "I threw just fastballs in the bullpen, and then to get out there in the first inning and realize I had zero fastball command, we just scratched that and moved forward. I was able to keep them there until my day was done.
"Every day you're going to go out there and your best pitch is going to vary as a starter. For me, my best pitch today was definitely not my fastball. It was probably my fourth-best pitch. So I worked around that and found a way to get as many outs as I could with what I had in the tank."
Astros lefty Dallas Keuchel posted similar numbers as Straily, allowing the A's three runs on six hits with two walks and six strikeouts in 6 1/3 innings.
Coco Crisp led off the game with a double and scoring on a Jed Lowrie single. Josh Donaldson's ensuing double-play grounder brought home Derek Norris, who reached on a base hit and finished the night 2-for-3.
The A's would remain off the board until the seventh, when Crisp produced a sacrifice fly.
Josh Reddick provided one of the better highlights of the night, making a perfect throw from right field to Donaldson to nail a running George Springer at third on Marc Krauss' flyout in the fourth.
It's a scene the A's have "seen a million times before," noted Melvin.
"But with a fast runner like that," he said, "when he threw it, I didn't think he had a chance. He had to be perfect with the throw and he was right on the money."
Reddick also produced two hits in a game Doolittle would like to quickly move past.
"He's one of the best relievers in the game, and tonight didn't change anything," said Straily. "He's still one of the best, plain and simple. We all have nights where we give up some runs. It doesn't matter. He's going to come back and be the Sean Doolittle we all know and love."
Jane Lee is a reporter for MLB.com. Read her blog, Major Lee-ague, and follow her on Twitter @JaneMLB. This story was not subject to the approval of Major League Baseball or its clubs.