King Felix, Mariners bullpen can't protect early runs
Saunders, Seager hit homers; Hernandez loses 3-0 lead in fifth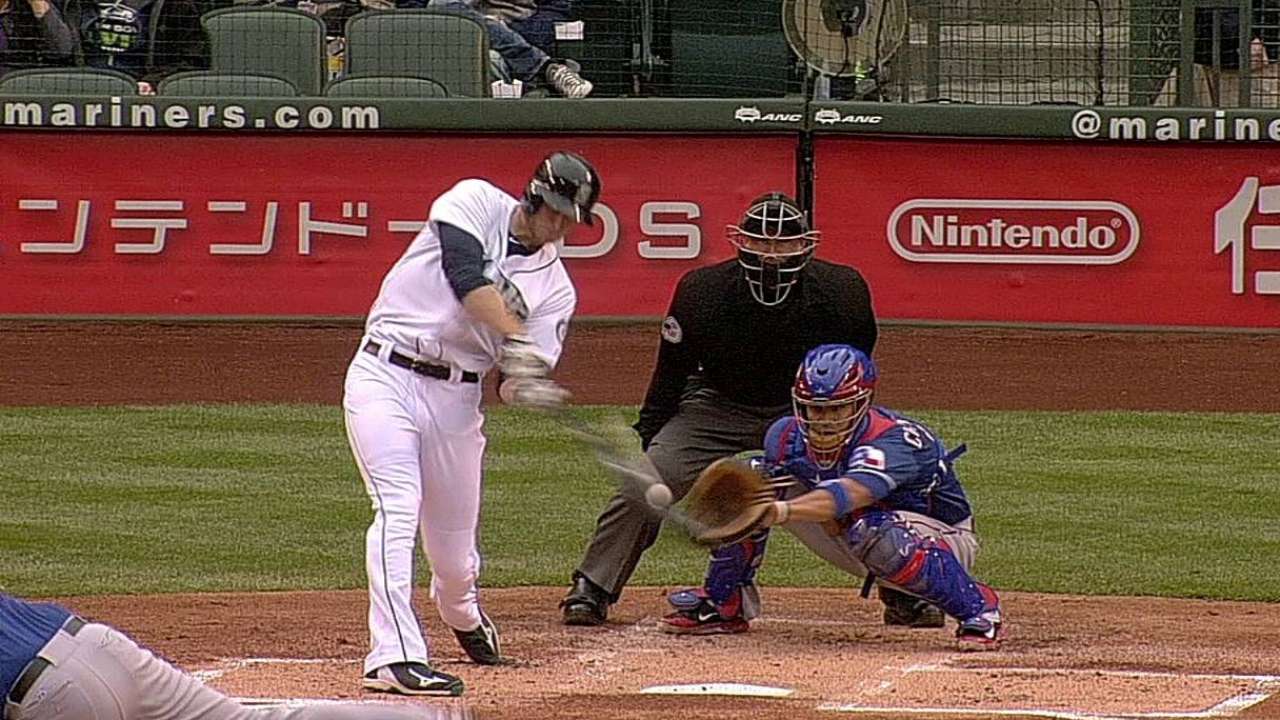 SEATTLE -- Kyle Seager and Michael Saunders hit solo home runs, the Mariners took a 3-0 lead into the fifth inning with Felix Hernandez on the hill, but the ace faltered and the bullpen couldn't withstand a late Texas rally, as Seattle fell 6-3 to the Rangers Saturday night at Safeco Field.
The decider came late for the third consecutive game.
With the score tied at three, Mariners reliever Charlie Furbush led off the eighth inning by hitting Prince Fielder.
Enter right-hander Yoervis Medina to face third baseman Adrian Beltre, who followed with a single back up the middle. After Alex Rios grounded into a fielder's choice, advancing Fielder to third, Mitch Moreland hit the go-ahead sacrifice fly. Texas added two more insurance runs in the ninth off lefty Joe Beimel. With the loss, Seattle's record dropped to 9-14.
It started well enough.
In his first at-bat in the leadoff role this season, Saunders began the bottom of the first by hitting his first home run of the year to give the Mariners a 1-0 lead. It was the third leadoff homer of Saunders' career.
Continuing his power surge this homestand, Seager tacked on in the second with a solo home run to right. It was his third homer in as many games after going without one in his first 77 plate appearances.
"I tried to bunt the first pitch so I was kind of thankful it went foul," he said. "I got a fastball that I could handle."
After back-to-back singles from Seager and Justin Smoak to begin the fourth, catcher Mike Zunino added a sacrifice fly, extending Seattle's lead to 3-0. But in top of the next inning, Hernandez gave up three singles to Moreland, Donnie Murphy, and Leonys Martin, then walked No. 9 hitter Robinson Chirinos with the bases loaded to force in a run. Entering the game, Hernandez had walked just four batters in his first five starts of the season.
Manager Lloyd McClendon was upset the Mariners didn't score more than one run in the fourth when they loaded the bases with no outs.
"We certainly had an opportunity to blow the ball game open and we didn't get it done," he said.
Hernandez knew he could have shut the door in the fifth. But he didn't.
"They were swinging at the first pitch, I made a couple mistakes and they just put good swings on it," he said. "After that I don't even know. I don't even remember the last time I walked somebody four straight pitches with the bases loaded."
Michael Choice's single through the left side cut the lead to 3-2, then Elvis Andrus tied the game at 3-3 with a sacrifice fly before Hernandez got Fielder and Beltre to ground out to end the inning.
"The big thing for us was making the guy throw strikes," Andrus said. "Felix had 70-something pitches by the fifth inning so everybody was doing a great job. We were fighting whether it was a positive at-bat or a negative at-bat. As long as we made him throw a lot of pitches and find a way to get on base, good things happen."
Hernandez threw a scoreless sixth before his night ended after 107 pitches, 66 of which went for strikes, but his final line showed that he wasn't especially sharp. In six innings, Hernandez allowed three runs on five hits and three walks. He struck out four but extended his winless streak to three games after beginning the year 3-0.
"He just elevated some balls -- strikes but just not quality strikes for him," McClendon said.
Seattle threatened with a runner on first and two outs in the sixth when shortstop Brad Miller laid down a perfect bunt. Rangers reliever Aaron Poreda fielded it and threw to first. Initially, Miller seemed to beat the throw, but first-base umpire Gabe Morales ruled him out.
McClendon immediately left the dugout to discuss the call before opting to use his challenge under Major League Baseball's new instant replay policy. The umpires conferred with MLB headquarters in New York, then upheld the call.
"It's not a guarantee that we'll get a hit the next guy coming up, but I would have liked to have the opportunity," McClendon said.
Adam Lewis is an associate reporter for MLB.com. This story was not subject to the approval of Major League Baseball or its clubs.