Cards' bats keep quiet as Pirates even the series
Lyons tagged with costly four-run fourth as lineup seeks answers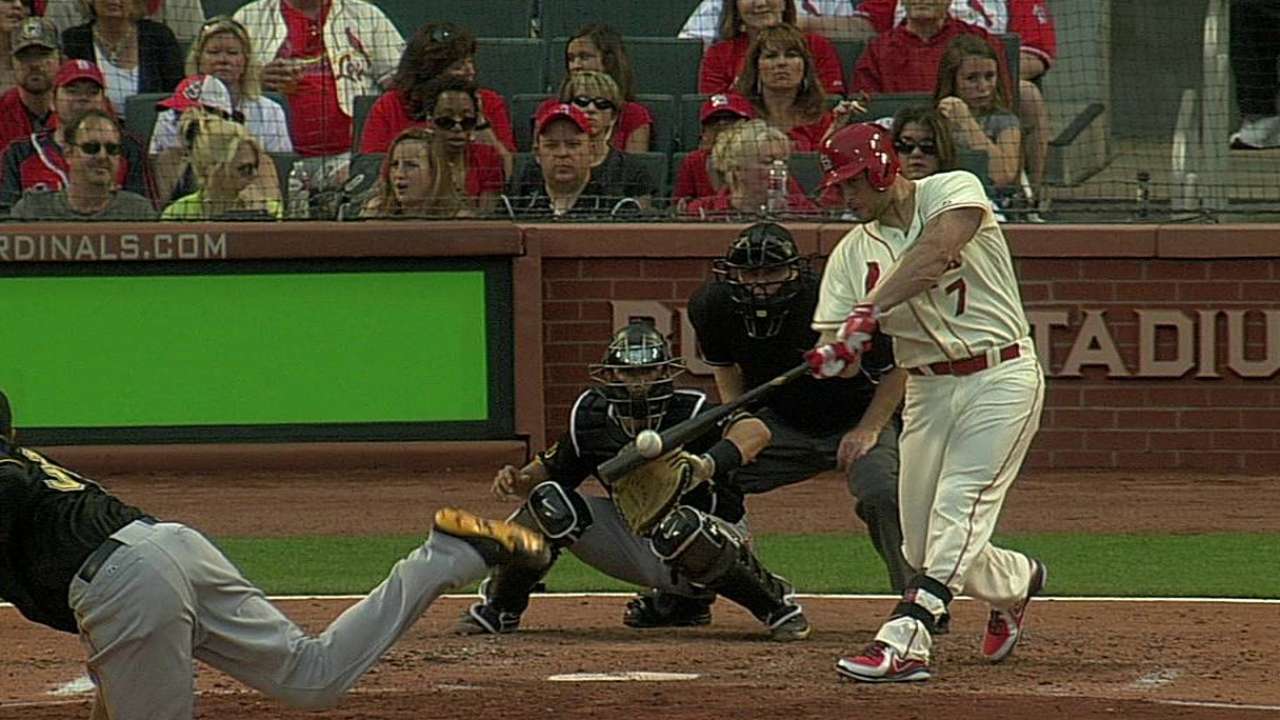 ST. LOUIS -- The sidewalks and streets surrounding Busch Stadium were packed dozens deep hours before Tyler Lyons threw his first pitch on Saturday, as fans clamored for the limited number of Yadier Molina replica jerseys being given away at the gate.
The Cardinals would have preferred to hand out a win.
Molina had the opportunity to help send those folks home with the added amenity, but his inability to twice come through with multiple runners on base served as a microcosm for the Cardinals' ongoing offensive futility. With the offense unable to capitalize against flu-stricken Francisco Liriano and the Pirates' relievers that covered the final seven innings for him, the Cardinals were sunk by one troublesome inning for Lyons.
The Pirates' four-run fourth keyed them to a 6-1 win, evening the series in front of a sellout crowd of 46,254.
"There's really no sugarcoating," Matt Carpenter said afterward. "We're not clicking on all cylinders. I think we're having good at-bats, guys are competing, just stuff is not falling in for us. … We just couldn't get the big hit when we had an opportunity to."
The club's run total through its last nine games (3-6 record) sits at 15, and it has now gone 10 games (354 at-bats) without connecting for a home run. All that magnified the scoring opportunities missed on Saturday, as the Cardinals went 2-for-12 with runners in scoring position and couldn't help themselves in a couple of situational-hitting spots.
Four players in manager Mike Matheny's starting lineup -- Allen Craig, Jhonny Peralta, Mark Ellis and Peter Bourjos -- are still peering up at the Mendoza Line.
"I don't think that there's any doubt about it that if you look back at this game, we hit some balls hard and it just didn't work out," Craig said. "It's been a little bit slow lately, but I think we're going to stay optimistic and keep grinding out at-bats. I feel like we've had good at-bats. The results haven't been there."
The Pirates, meanwhile, made the most of an ambush against Lyons in the fourth.
Lyons opened his second start of the season by retiring the first nine batters he faced on 26 pitches. He then lingered on base during an extended bottom of the third that slowed when Liriano had to leave because of a bloody nose, dizziness and flu-like symptoms. Stolmy Pimentel was given all the time he needed to get warm.
He then threw 23 pitches before closing the frame.
"It's not ideal, obviously, having that much time in between innings and being out on the bases," Lyons said. "But it's not an excuse. You go back and you walk the leadoff hitter, and that is what starts that."
After a leadoff walk to Starling Marte, Lyons was peppered with three straight hits to push three runs home. Jose Tabata's RBI single with one out added to Pittsburgh's lead.
It took Lyons 29 pitches to navigate through the eight-batter inning. He did not allow a baserunner in any of the other five innings he pitched.
"The leadoff walk, those end up typically giving us trouble," Matheny said. "Overall, he had good stuff. He got into trouble with the wrong part of the lineup is what happened."
"Overall, I've been alright, but I have to eliminate mistakes to stop beating myself," Lyons said of his two-start assessment. In his season debut he was stung, in particular, by an error and walks.
That fourth inning served as a shift in momentum also because of what had immediately preceded it. Lyons had opened the bottom of the third by drawing a walk, and Carpenter joined him on base when Pimentel inherited Liriano's 3-0 count and delivered a ball.
Neither Peralta nor Matt Holliday could advance the runner, though Matt Adams loaded the bases with a single to bring up Molina.
"You see Liriano leave the game and all of a sudden we have guys all over the bases and it looks like here might be our spot," Matheny said. "We're sitting there in that situation thinking that the thing is going to turn around right there."
Pimentel squashed that anticipation, winning a nine-pitch battle against Molina with a strikeout.
"As big an inning as we've had pitched for us all year," Pirates manager Clint Hurdle said. "That situation ... two on, no outs, 40-plus [thousand] on their feet, 3-2 count on Molina on jersey day ... and to get the swing and miss and be able to carry it deeper -- a big-time push from Stolmy today."
"I don't want to say that took the wind out of our sails because we still had a lot of game left and at that point nobody had scored yet," Carpenter said. "But it's always nice to score first and we weren't able to do that. We couldn't find the way to get the big hit."
The clutch-less trend continued.
Two innings later, after Holliday plated a run with a double to left field, neither Adams nor Molina could find a way to push home two runners in scoring position. That was one of two innings the Cardinals opened by drawing consecutive walks. Holliday's hit was the only time they took advantage of the generosity.
In total, the Cardinals stranded three runners at third and four more at second in the loss, the team's fifth in its last seven games. A leaping catch by Tabata and a well-planned shift thwarted a scoring opportunity in the seventh. It would be the last time the Cardinals threatened.
"We just have to keep pushing," Matheny said. "It's not going to happen by us wishing it. We're going to work our way through it. … We've had some opportunities, and, like I said, it sometimes takes a couple big ones, someone to step in and get the one that kind of breaks the ice and we start rolling."
Jenifer Langosch is a reporter for MLB.com. Read her blog, By Gosh, It's Langosch, and follow her on Twitter @LangoschMLB. This story was not subject to the approval of Major League Baseball or its clubs.