Rally sparks Bucs' win after Liriano leaves early
Bats come through with four-run fourth after lefty departs with illness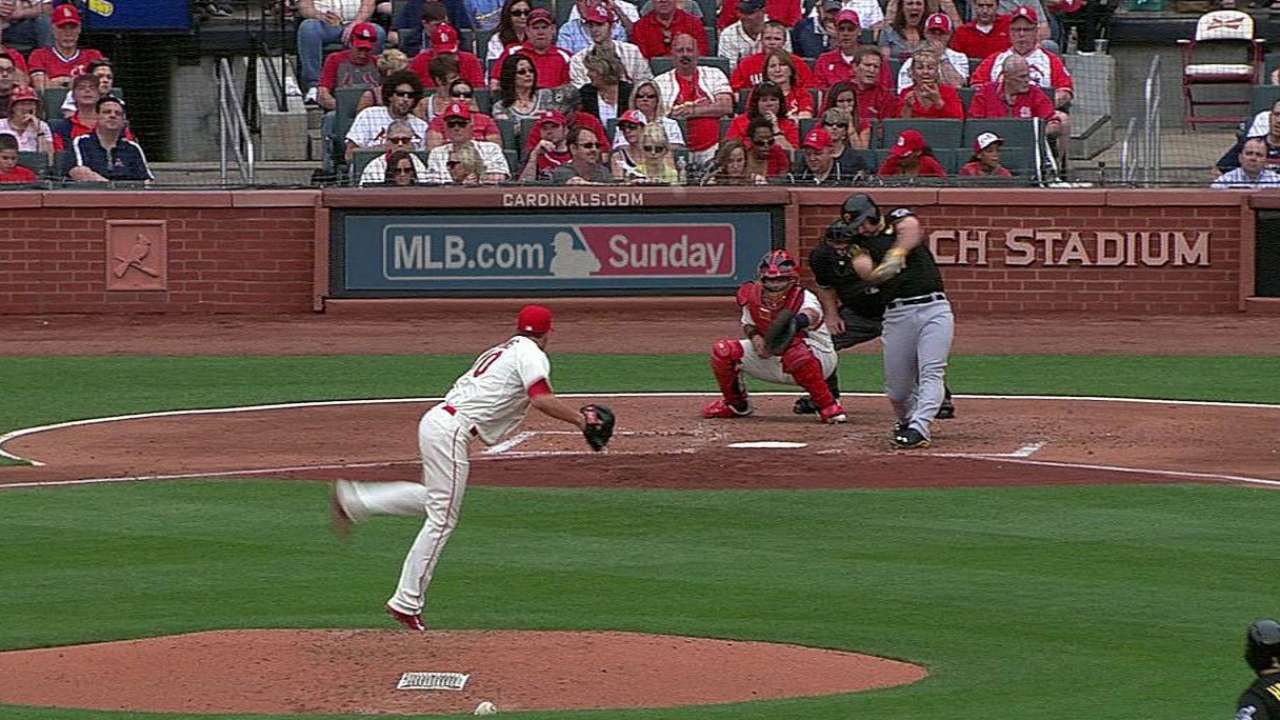 ST. LOUIS -- Clint Hurdle, as do most leaders, often makes the point that hard times reveal more about men than do good times.
That may not be what a national television audience witnessed here on Saturday, but there was no question it saw the Pirates take the high road from the low point of their season.
"You can't stress about what is happening around you. You just keep your head down and play," Gaby Sanchez would say at the end of the day.
Minutes after losing their Opening Day starter to illness and a couple of hours after having lost closer Jason Grilli and catcher Russell Martin to physical ills, the Bucs improved their mood with a four-run surge that broke up a scoreless tussle with the Cardinals and led to a 6-1 victory.
The victory prevented the Bucs' losing streak from reaching five games for the first time since September 2012, and kept their record from dipping to seven games below .500 for the first time since the end of the 2011 season.
"Sometimes, storylines get changed," Hurdle said. "Our guys will continue to play and push. We'd taken on a lot in the past 24 hours, but you've got to keep pushing."
Looking for a hero, or at least someone capable of blowing "Reveille" into the horn, the Pirates came upon Stolmy Pimentel.
As are most heroes, Pimentel was turned into one by emergency. In his case, ace left-hander Francisco Liriano's sudden departure with none out in the third, a man on and a 3-0 count on another man. Pimentel finished the walk of Matt Carpenter -- which went on Liriano's record, defining the act of adding insult to injury -- and retired two men before seeing Matt Adams single to deep second, just to make it interesting.
Because that brought up Yadier Molina with the bases loaded. A worthy nine-pitch battle ended with Molina striking out to keep the game scoreless, and silence the sellout Busch Stadium crowd.
"Pimentel pitched as big an inning as we've had pitched for us all year," Hurdle said. "That situation ... two on, no outs, 40,000-plus on their feet, 3-2 count on Molina on Jersey Day."
The game did not remain scoreless for long. What ensued was an equally big pick-me-up.
After not having scored for 20 innings, since the first frame on Thursday at home, and only one run in their last 27 innings, the Bucs erupted for a four-spot in the fourth. Run-scoring singles by Andrew McCutchen and Jose Tabata bookended Sanchez's two-run double.
"Too many times, experience has shown me, you let off the gas at the time you're about to push through," Hurdle said. "Everybody came up big. Big inning, big at-bats when we needed them. McCutchen breaks the ice, and Sanchez follows up."
"It was good to get the lead and to stay ahead," Sanchez said. "The team pulled together and got some key hits -- something we have not been doing."
"Tabata continues to find a way to find hits in this ballpark," Hurdle continued. "A lot of players seem to find their niche someplace. He's been a solid offensive player for us here."
Tabata continued to run the house of the Cards. He followed up his RBI hit in the fourth with a couple more singles, and the 3-for-4 lifted his lifetime average in Busch Stadium to .345 (40-for-116) in 28 games -- having hit safely in 26 of them.
"I always feel good here," said Tabata, wearing the biggest smile in the winner's clubhouse. "It's just weird, but I hope it continues."
Stationed in right field, Tabata also made a terrific running, overhead, backhand grab of Matt Holliday's seventh-inning drive with one out and a man on second.
Hurdle called that grab a "potential game-saver."
The four-run burst may not have made Liriano's stomach feel better, but it sure settled Hurdle's.
"When they came to me and told me Liriano is light-headed, I got light-headed," the manager said.
According to Hurdle, Liriano had a nosebleed when he came off the field after the second inning. In itself, not alarming for the pitcher, who said he gets frequent nosebleeds.
"I went to the hospital because of that once, but they don't know what it is," Liriano said, shrugging. "My mother and father also got nosebleeds. Today, I just felt weak."
"We were watching from the start [when Liriano returned to the mound for the third], and felt like we got him out at the appropriate time," Hurdle said. "Once he started making pitches [in the third], I think it just snowballed on him."
Unlike the bad vibes, which the Bucs did not let overwhelm them, much to the Cardinals' disappointment.
"You see Liriano leave the game and all of a sudden we have guys all over the bases and it looks like here might be our spot and it doesn't happen," St. Louis manager Mike Matheny said.
"We're in the bullpen in the third inning, we feel pretty good about our situation," Matt Carpenter said.
But they weren't facing just any bullpen.
Pimentel went 2 2/3 innings in starting the bullpen shuttle that was a notable trademark of the 2013 club. Jared Hughes, fresh back from Indianapolis, got four outs and Justin Wilson's one inning was the bridge to the new end-game. Tony Watson sat down the Cardinals in order in the eighth, and Mark Melancon cleaned up in the ninth to seal the win.
After Tony Sanchez's two-run single in the top of the ninth opened up a five-run lead, all Melancon could "save" in the bottom of the inning was his lengthy stretch without allowing a home run -- which he did, working a perfect inning, his 75th since last allowing a home run, more than a calendar year ago.
Tom Singer is a reporter for MLB.com and writes an MLBlog Change for a Nickel. He can also be found on Twitter @Tom_Singer. This story was not subject to the approval of Major League Baseball or its clubs.