Arroyo at last as advertised, but D-backs can't hold on
Righty allows two over 6 1/3 frames; Prado error leads to four Phils runs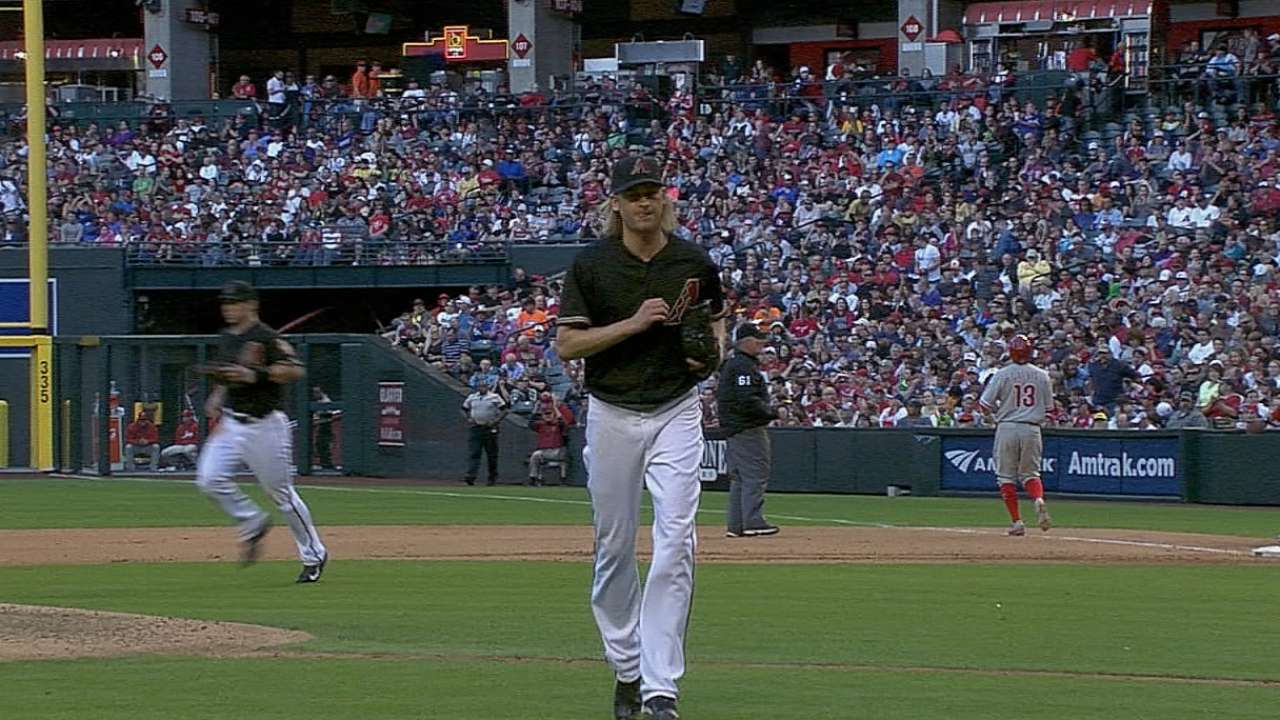 PHOENIX -- Bronson Arroyo did his job at Chase Field on Saturday night, but his best effort since he signed with the team was wasted along with a five-run lead in a 6-5 loss to the Phillies.
The veteran right-hander pledged that the D-backs and their fans were going to see the real Arroyo and they did as he easily outdueled Philadelphia ace left-hander Cliff Lee by pitching 6 1/3 innings of two-run, seven-hit ball.
But all his work was undone in a four-run Phillies eighth that began when D-backs third baseman Martin Prado dropped a simple pop fly off the bat of Ryan Howard in short left-field for an error that started the deluge.
"I was playing in," said Prado, who was the only player on the left side of the infield as the D-backs shifted to the right against the left-handed swinging Howard. "I took my eyes off the ball and it was hard to recover from that. I thought the wind was a little factor in there, but I'm not making any excuses. I should have caught it."
To add insult to injury, the last chance for the D-backs to come back dissolved in the ninth inning when Prado over-slid second base trying to advance on a short passed ball. Prado had singled off Jonathan Papelbon to open the inning. Umpire Chris Conroy called him safe as catcher Carlos Ruiz's strong throw seemed to be a split-second late. But Phillies manager Ryne Sandberg challenged and the call was overturned via instant replay review.
Prado went past the base and second baseman Chase Utley applied the tag a split second before Prado returned to it. Prado said he had a good look at the instant replay.
"Yeah, I did. I slid too close to the base," he said. "My foot just off the base a little bit. He tagged me at that time. This is not the time to make excuses right now. This is a lack of a lot of things. I'm trying not to feel bad about myself. Things happen. It's just unfortunate we lost the game. We lost a real good game. Even when I missed the fly ball, everything started. They took advantage of that. It's just a shame."
It's not as if the D-backs bullpen picked him up. Manager Kirk Gibson said the usual culprits -- Brad Ziegler, Addison Reed and Randall Delgado -- were unavailable. Thus, he went to Trevor Cahill, a dethroned starter, to replace Joe Thatcher in the crucial inning after Prado's error. He wasn't up to the task.
"I felt good. The confidence was there, but I just couldn't execute," Cahill said.
The Phillies sent 10 men to the plate as Cahill began by walking Marlon Byrd. Four hits later, the Phillies had the lead and the 5-0 bulge Arroyo took into the seventh inning had been squandered.
"It was tough one," Arroyo said. "It's why you talk about things like that [dropped popup] being so important. Especially against a good lineup like theirs you open up a can of worms. You can't put the lid back on sometimes. It's definitely deflating."
The early portion of the game provided a startling turnaround for both starters. Lee had allowed only four earned runs since his first start of the season on March 31 and was coming off eight-innings of four-hit, shutout ball in a win over the Dodgers at Dodger Stadium on Monday night.
Arroyo, the former member of the Reds and Red Sox, signed a two-year, $23.5 million free agent contract with the D-backs just after camp opened and promptly hurt his back, missing most of Spring Training. He hurriedly returned to open the season and thus had a very un-Arroyo-like 9.50 ERA and 1-2 record to show for his first four starts. He was blasted for 14 runs and 18 hits in his last two starts against the Mets and Cubs, both losses.
This time, Lee was ordinary. He came into the game with 38 strikeouts and only two walks to his credit this season, but he issued two free passes on Saturday -- both in the third inning -- and whiffed a pair before he was lifted for pinch-hitter Tony Gwynn Jr. in the seventh inning. He allowed five runs (three earned) on eight hits.
Cody Ross, back in action after two games out of the starting lineup, did a lot of the damage against Lee, driving in three runs with a pair of singles. Ross went into the game in a 1-for-22 stretch since coming off the disabled list on April 18 after recovering from last season's serious hip injury and surgery.
Arroyo left to a rousing ovation from a crowd of 35,462 with one out in the seventh after Gwynn plated Ruiz with a pinch-hit double. Arroyo walked one, whiffed two and threw 97 pitches. As far as the fans were concerned, that was more like the performance anticipated from this year's big free-agent signing.
But it all unraveled in the eighth after Prado dropped Howard's popup and that was it for the D-backs as their modest three-game winning streak came to an end. Their overall record dropped to 8-19 and 2-12 at home.
"We should have had enough pitching to get through that game," Gibson said. "We scored five runs, we made three errors, we made it tough on ourselves. We just didn't play well. It's a game we should have won. I think we'd all agree about that."
Barry M. Bloom is a national reporter for MLB.com and writes an MLBlog, Boomskie on Baseball. Follow @boomskie on Twitter. This story was not subject to the approval of Major League Baseball or its clubs.