Ramos keeps White Sox off board for first win
Lefty allows five hits over five-plus innings; Hanigan hits two-run double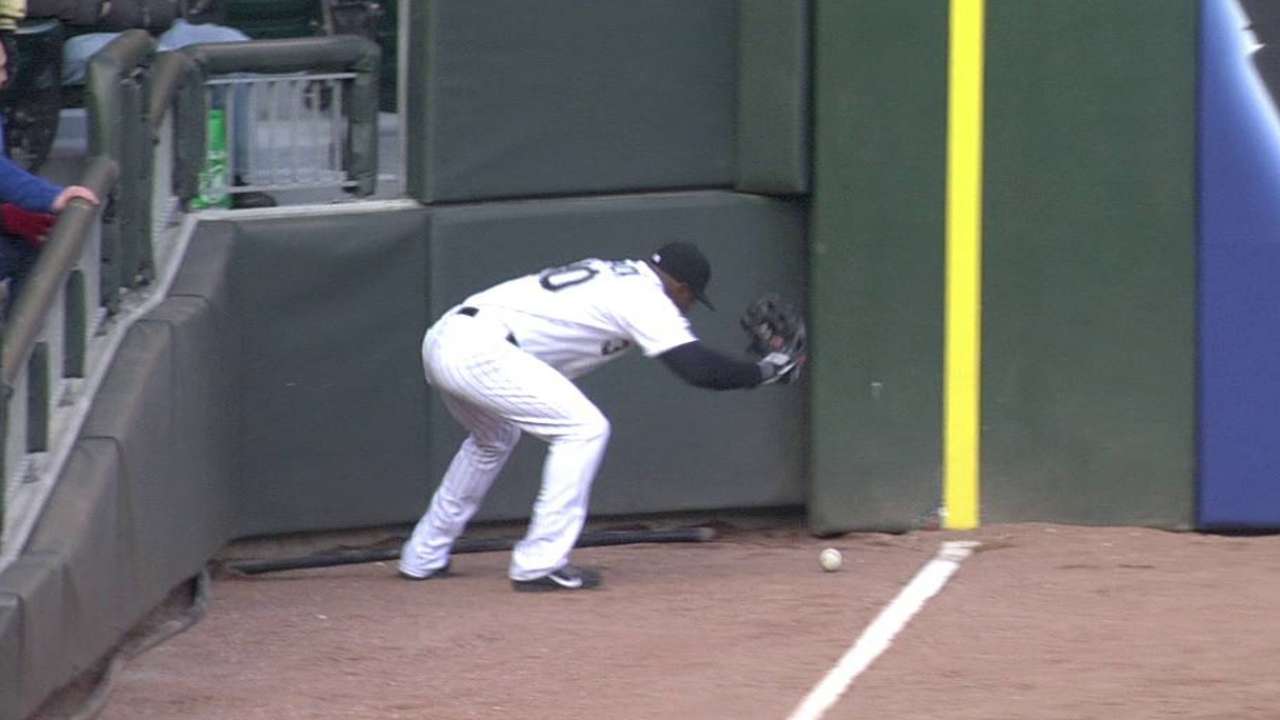 CHICAGO -- For a guy with only six career starts on his resume, Cesar Ramos is starting to get the hang of this whole starting pitching thing.
Ramos was shaky in his first start this season -- allowing four runs in two innings against the Reds -- but the 29-year-old has been solid ever since. In his last two starts, against the Yankees and White Sox, he's allowed just one run over 10 innings.
He didn't allow any against the top-scoring offense in baseball on Saturday night over five-plus innings, helping the Rays to a 4-0 win over the White Sox at U.S. Cellular Field.
"He kept the ball down," Rays manager Joe Maddon said. "He did. He kept the ball down. He elicited weak contact, for the most part. They weren't all over him. He didn't make a lot of mistakes up in the strike zone."
Ramos, who earned his first career win as a starter, retired the White Sox 1-2-3 in the first inning and allowed just one hitter to reach base in the second, third and fourth innings. He gave up a leadoff double to Gordon Beckham in the third before retiring the next three batters.
"I was just getting ahead, especially with the way the weather was," said Ramos, who kept battling as temperatures dipped into the low 30s. "They don't want to be out there any longer than we do. They were aggressive, and I was throwing strikes."
Ramos ran into two jams in the fifth, but didn't let the ball leave the infield either time. He put runners on second and third with only one out, but gloved a grounder from Adam Eaton, who was thrown out at first.
"He doesn't have explosive stuff, but he's smart with his pitches and he makes things look better than what they are -- and credit to him," Eaton said. "But as we mature as a team and as young hitters, we'll learn better how to approach that."
Then, after walking Marcus Semien, Ramos faced Friday night's walk-off hero, Jose Abreu -- again coming up with the bases loaded -- but induced a dribbler to third base, which Evan Longoria fielded for the final out.
"It was huge," Ramos said. "It kind of took their wind out. If they get a hit, they're right back in the game."
While the conventional play may have been to remove Ramos, Maddon stuck with him.
"I don't know Abreu well yet, but I thought the first couple at-bats he didn't see him that good," Maddon said. "So, I know it looked kind of counter-intuitive to leave him in there at that point, but I kind of liked what I saw in the first two, and that's why I did it."
Paul Konerko and Beckham went a combined 4-for-4 against Ramos, but everyone else in Chicago's lineup went 1-for-15.
"He's effectively in and out of the zone, and he had us chasing, taking a lot off," White Sox manager Robin Ventura said. "He wasn't adding anything. He was just going slower than slow. It's tough to hit when you have conditions like this and a guy has a good change-up. He was moving the ball pretty good."
The Rays got out to a three-run lead for the second straight night -- only this time, they made it stick.
Ryan Hanigan opened the scoring in the second inning with a two-out, two-run double to left that plated James Loney and Logan Forsythe, while Loney singled home Wil Myers in the third to make it 3-0. Loney went 3-for-4 with three singles.
The Rays threatened again in the fourth inning -- Yunel Escobar and Hanigan led off with a single and double, respectively -- but failed to score. Ben Zobrist grounded out to third, Desmond Jennings struck out and Myers flied out to left.
Still, the Rays made John Danks work. Danks had thrown 88 pitches through four innings. Ramos, by comparison, had thrown just 38.
Ramos threw a career-high 65 pitches -- 39 for strikes. His previous high was 57 against Toronto on May 14, 2012.
The Rays added a run in the sixth, when Zobrist scored on an RBI triple by Jennings to make it 4-0.
Danks threw 123 pitches, 63 for strikes, in 5 2/3 innings. He had four strikeouts, four walks and allowed four runs on seven hits. Chicago has lost Danks' last five starts against the Rays, who snapped a three-game losing streak.
Ramos allowed a leadoff single to Dayan Viciedo in the sixth and -- with Konerko striding to the plate -- was quickly replaced by Brandon Gomes, who needed just four pitches to get out of the inning.
"Konerko is so good against left-handed pitching," Maddon said. "I've seen enough of that. For many years, I've seen that. And I thought if he had one more crack against [Ramos], it would have been difficult for us."
Overall, Gomes pitched three innings of shutout ball.
"Just ride him, baby," Maddon said. "Gomer was outstanding. He looked so darn good, why take him out with a four-run lead? That's what we got to do. To be really good, you got to utilize your 25-man roster. You got to give everybody an opportunity to make an impact, and Gomer definitely made an impact tonight."
The White Sox were shut out for the second time this season. The first came April 18 at Texas, where they lost 12-0.
Maddon, who was ejected in the bottom of the eighth inning for arguing a check-swing on Eaton, was happy to see his team respond after Friday's crushing loss.
"I'm really proud of the guys after a really difficult loss last night to come back and play as well as we did today and shut them out," Maddon said.
Tony Meale is a contributor to MLB.com. This story was not subject to the approval of Major League Baseball or its clubs.