Early runs result in Danks' first loss of season
Allows three over first three innings; Konerko, Beckham get two hits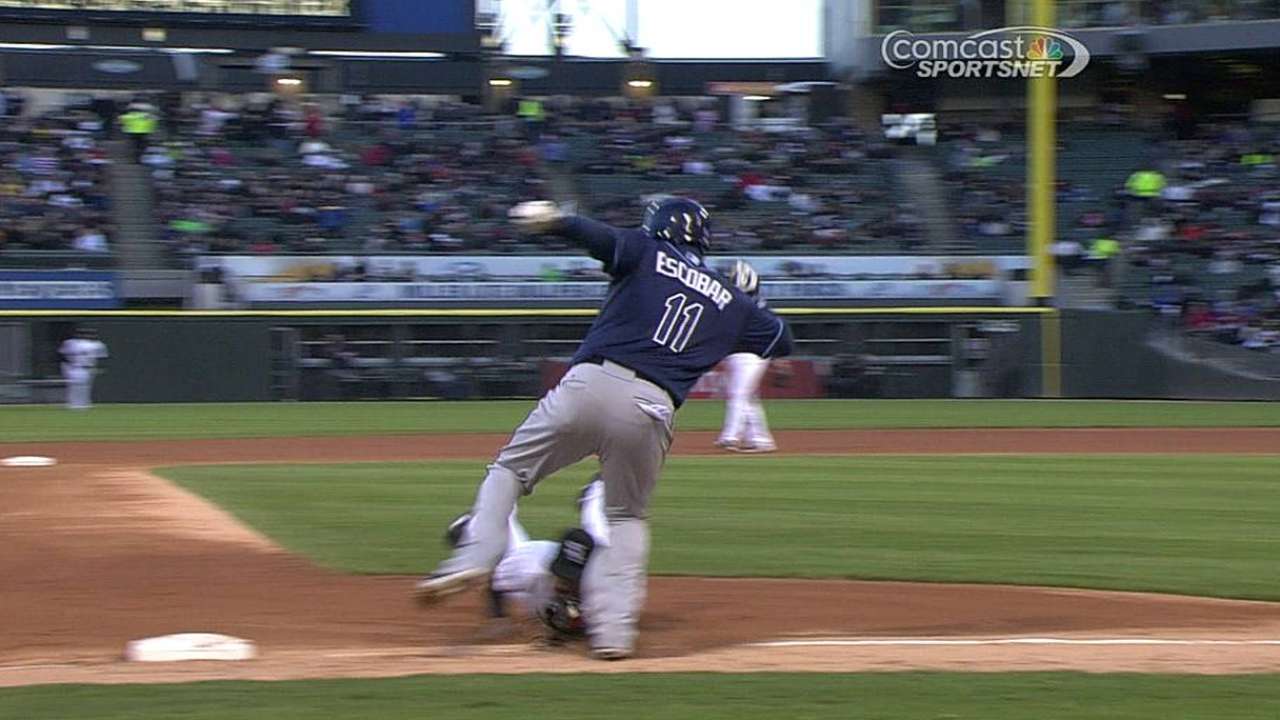 CHICAGO -- The way the White Sox lost to the Rays on Saturday night was a common occurrence in 2013. It's been quite the opposite so far in 2014, but no offense is invincible.
Rays starter Cesar Ramos and two relievers combined to blank the White Sox, 4-0, in front of 22,412 chilled fans at U.S. Cellular Field, just the second time Chicago has been shut out this season. All five hits came off Ramos, and only one, Gordon Beckham's double to lead off the third, was an extra-base hit.
The young and aggressive White Sox lineup battled temperatures in the 30s and looked off-balance all night against Ramos, who mixed a sinker that topped out around 90 mph with a good mixture of offspeed pitches. Four of Chicago's five hits belonged to veterans Beckham and Paul Konerko.
"He's effectively in and out of the zone and he had us chasing, taking a lot of off. He wasn't adding anything," White Sox manager Robin Ventura said. "He was just going slower than slow. It's tough to hit when you have conditions like this and a guy has a good changeup. He was moving the ball pretty good."
The White Sox rarely threatened against Ramos, who threw 39 of his 65 pitches for strikes. In the third, Beckham was stranded after Adrian Nieto and Adam Eaton grounded out and Marcus Semien lined out hard to third. The best chance to score came in the fifth. Alejandro De Aza walked and Beckham singled and moved up a base on Nieto's sac bunt. Eaton grounded back to Ramos and Semien walked to load the bases with two outs, but Jose Abreu grounded out to third.
"It was huge," Ramos said of getting Abreu with the bases loaded. "It kind of took their wind out. If they get a hit, they're right back in the game."
Eaton, in particular, struggled against Ramos. He dove at Ramos' offspeed stuff, resulting in three weak groundouts. His groundouts in the third and fifth both came with runners in scoring position and were easy choppers right back to Ramos.
"Yeah, I need to hit the ball a little harder ... especially when we have less than two outs," Eaton said. I [was bad] tonight when it comes to that and nothing really bounced my way tonight, and I need to be better in those situations for this team to be successful and it definitely lays on my shoulders tonight."
Starter John Danks was also willing to shoulder blame for the loss. The left-hander entered with a 2.84 ERA and had tossed a quality start each of his first four outings, but one disturbing trend continued: He labored in the early innings. This time, it cost him.
Danks allowed three runs between the second and third innings, all with two outs, and four overall. He needed 123 pitches to get through 5 2/3 innings, none of them in 1-2-3 fashion. His ERA in the first three innings this season rose to 4.80 -- compared to a 2.40 ERA from the fourth inning on.
"I was glad to be able to go back out there and tried to get as deep as possible," Danks said. "I didn't do myself any favors, but trying to save the bullpen, trying to do everything I can to get us a chance. I certainly take the blame for the offense tonight. Ramos pitched well, but it's hard to get in a groove when you're standing out in the field for 30 minutes after each inning.
"This one's all on my shoulders. It happens, but I'll be ready to go next time.
The Rays put up a pair of runs in the second. James Loney singled and Logan Forsythe walked with one out. After Danks struck out Yunel Escobar, Ryan Hanigan doubled home both runners to give the Rays a 2-0 lead. In the third, Wil Myers doubled with one out and Sean Rodriguez walked with two. Loney delivered an RBI single to right that scored Myers and gave the Rays a 3-0 lead.
Danks escaped major trouble in the fourth with some help from his defense. Escobar singled and Hanigan doubled to open the frame, putting runners on second and third with no outs. Ben Zobrist hit a hard grounder down third-base line that Semien snagged on a dive. Danks then struck out Desmond Jennings and got Myers to fly out to left to strand the pair.
He started to cruise a bit from there, retiring five of the next six before walking Zobrist with two outs in the fifth. Jennings followed with an RBI triple to center. Eaton made a leaping attempt at a catch, but the ball went off the top of the wall and his glove, scoring Zobrist for a 4-0 Rays lead and chasing Danks.
Danks, who gave up seven hits while walking four and striking out four, said none of his pitches were working Saturday night.
"I had moments where I was able to throw only one of four over the plate, but none nearly consistently enough," Danks said. "It's hard to pitch 2-0, 3-1 to these guys. It's something we're definitely going to have to work on. But gonna have to be better. It's a part of it, but certainly there's plenty to work on."
The White Sox had an off night offensively for one of the few times this season. They have scored three or fewer runs now eight times in 25 games, or about 32 percent of the time. In 2013, they did so in 82 games, almost half of the time. The 2014 edition remains more exciting and competitive - coming in to the game the White Sox ranked second in the Majors in runs per game and first in the American League in slugging -- but they will hit bumps in the road like this one from time to time.
"Well, we're young hitters for sure -- I don't think anyone would argue against that -- except for Paul, who had success," Eaton said. "I think, young hitters, we'll learn to be patient ... and get a good pitch to hit.
"[Ramos] doesn't have explosive stuff, but he's smart with his pitches and he makes things look better than what they are and credit to him. But as we mature as a team and as young hitters, we'll learn better how to approach that."
Joe Popely is an associate reporter for MLB.com. This story was not subject to the approval of Major League Baseball or its clubs.