Markakis delivers walk-off hit in Nick of time
New Orioles first baseman's single in 10th even series with Royals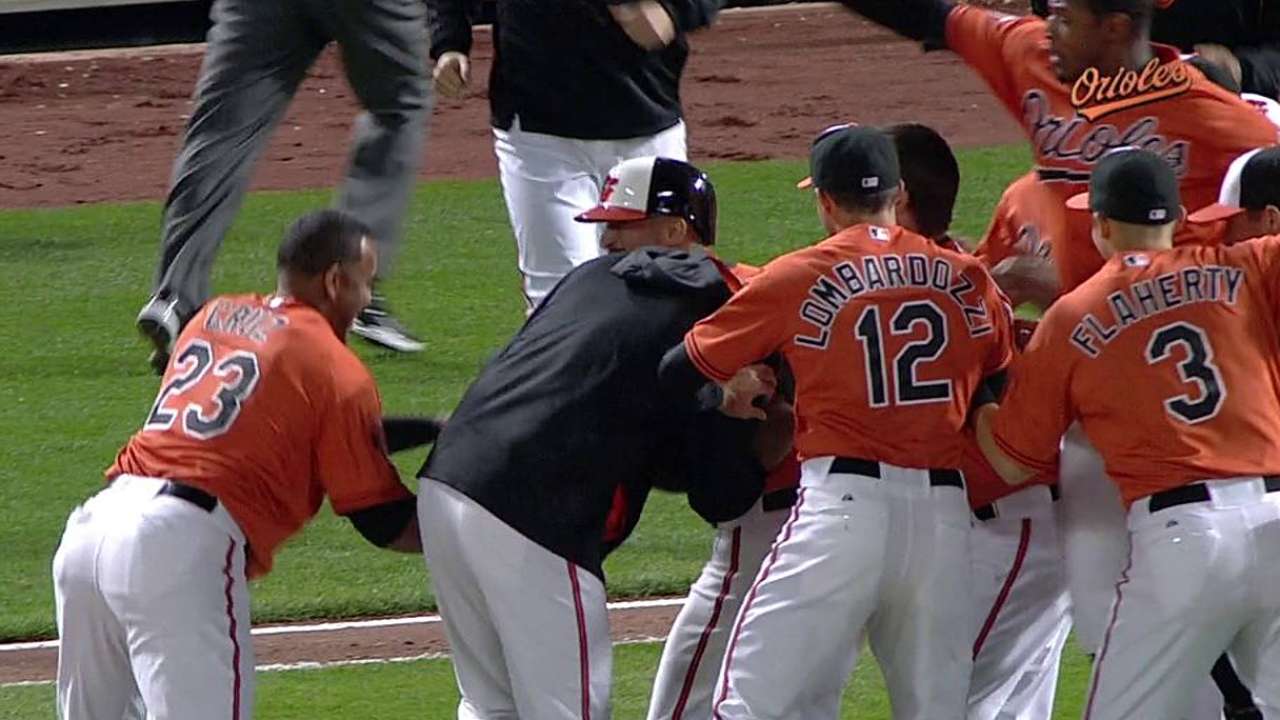 BALTIMORE -- When Orioles manager Buck Showalter called Nick Markakis into his office on Saturday night, the discussion was pretty quick. Showalter already knew what Markakis, a Gold Glove right fielder, would say about making the move to first base in the wake of Chris Davis' left oblique injury.
'What do you need?'" Showalter recounted of Markakis' response, "Or what do we need, more importantly, is what he says."
So, the longest-tenured active Oriole suited up for his third carer start -- first since 2011 -- with a first-base glove. And then, Markakis won the game with his bat, delivering a one-out single into left field to lift the Orioles to a 3-2 walk-off victory over the Royals in 10 innings.
It was a series-evening win that caused the home dugout to empty in glee.
And as Markakis prepared himself for the celebratory pie in the face that center fielder Adam Jones has made tradition, a different scene unfolded. Shortstop J.J. Hardy came out holding the pie like a waiter, handing Markakis a plastic utensil.
"That's Jonesy's decision," Markakis said with a grin when prompted to explain the unusual pie protocol. "He was actually nice to me today."
And for good reason.
"Nicky's just: This is what the team needs," Showalter said. "He didn't bat an eye. Some people would look for a reason not to be good at it. He looks at it as a way to make a contribution that a lot of people can't do. There's a lot of Gold Glove right fielders who would have broken out in hives if you asked them to play first base."
Things began in the 10th when the Orioles loaded the bases against Royals reliever Danny Duffy, capitalizing on the pitcher's fielding miscues in the process. For the second consecutive inning, the O's got their leadoff man on when Duffy hit Jonathan Schoop in the right hand.
Duffy, who entered the game not having allowed a run in 8 1/3 innings, gave the O's a big break in fielding David Lough's sacrifice bunt and trying to nab the lead runner. Duffy's throw to second went wide, trickling into the outfield to allow both runners to reach safely.
Jemile Weeks followed with another bunt -- and this time Duffy went to first base, but his throw was wide to put Weeks on for the third time and force Royals manager Ned Yost to bring on Louis Coleman to face Markakis.
"It's just pitchers' fielding practice, man," Duffy said. "It's a simple game and I just wasn't sharp. I just didn't do my job tonight."
The Orioles executed things much better with the small ball helping to back up a solid performance from six pitchers, starting with a stellar outing from lefty Wei-Yin Chen to allow the offense time to work.
Lefty Zach Britton picked up the win after striking out Jarrod Dyson for the final out in the top of the 10th, as he came on after closer Tommy Hunter -- on for his second inning -- gave up a two-out double.
The Orioles used three pitchers to navigate through a scoreless eighth inning. Evan Meek gave up a leadoff single to Salvador Perez and exited after Dyson's sacrifice bunt. After Brian Matusz retired pinch-hitter Mike Moustakas, Darren O'Day got Alcides Escobar to fly out in foul territory to keep the game tied.
Chen turned in a fabulous effort in one of his best starts of the year, going a season-high seven innings for his second quality start in three games. The lefty, who tied a season-high with 102 pitches thrown, scattered nine hits and struck out six.
"My slider was working real well tonight and it makes it a good combination with my fastball," Chen said through his interpreter. "[Catcher Matt] Wieters knows what's working so he called a real good game today."
Staked to a 2-0 lead before even taking the mound, Chen cruised before allowing a two-out third-inning double to Eric Hosmer. The Royals tied it on a trio of singles in the sixth, with Justin Maxwell's two-out blooper into center scoring Alex Gordon.
Chen looked to be in some trouble in the seventh after issuing a two-out walk to Hosmer and Billy Butler's single. But he held firm, striking out Gordon to rousing applause from the crowd at Camden Yards in his final frame.
The Orioles got on the board immediately against Royals starter Jeremy Guthrie, a former O's Opening Day starter, scoring two runs in the first inning. Weeks, recalled from Triple-A prior to the game, singled for the first of two hits and red-hot Nelson Cruz followed with a walk. Markakis singled to drive in a run and the O's pushed it to a two-run advantage on Jones' groundout.
"It's tough to lose a guy like [Davis]," Markakis said. "But we have depth, we have guys that can come up and fill in. And that's what guys have been doing. Jemile today for example, he led off the game, base hit to get things going. We end up scoring two runs off that.
We have confidence in our guys and in our system. To be a successful baseball team, guys are going to have to come up and fill in and help out."
Brittany Ghiroli is a reporter for MLB.com. Read her blog, Britt's Bird Watch, and follow her on Facebook and Twitter @britt_ghiroli. This story was not subject to the approval of Major League Baseball or its clubs.