Royals can't find relief in extras loss to O's
Duffy's struggles in 10th inning lead to Markakis' walk-off single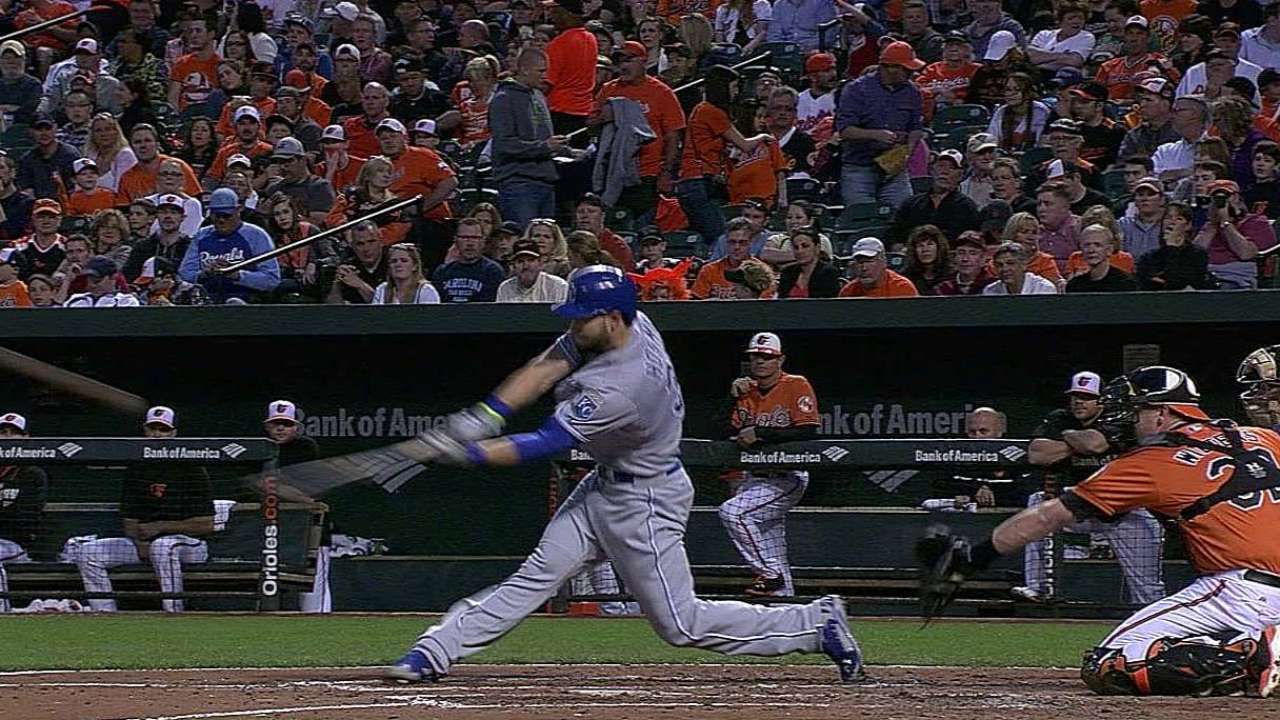 BALTIMORE -- Everything fell apart for Danny Duffy and the Royals in the 10th inning on Saturday night.
With Duffy hitting a batter and making two throwing errors, the Orioles loaded the bases and won in a walk-off, 3-2, as Nick Markakis lined a single off Louis Coleman to provide a dramatic finish for 34,941 fans at Camden Yards.
"There's nothing I can do about it," Duffy said. "I can't take it back, but I just feel terrible right now because the team played their butts off today. I just came in for a blink of an eye of it and just wasn't sharp, and it ended up costing us the game."
It was 2-2, when Duffy took over the mound in the 10th and he began by hitting Jonathan Schoop with a pitch.
"I got ahead of the first guy [Schoop] and tried to go up and in on him," Duffy said. "I thought it was a good pitch. The ball got up and away from me and he didn't really make an attempt to move out of the way."
Ex-Royal David Lough bunted and Duffy tried for a forceout at second, but the ball sailed into center field for an error. Shortstop Alcides Escobar, covering second, collided with Schoop and was down for a time with an aching knee but stayed in the game.
"With a good throw, he's got him out," manager Ned Yost said.
With runners at first and second, Jemile Weeks also bunted. Duffy thought about a forceout at third.
"I was screaming to go to first," catcher Brett Hayes said. "In that situation, you just want to get an out."
Duffy finally turned and threw high to first base for another error.
"I thought we had a chance at third and, at the last second, I turned and threw to first and the ball just sailed on me, too," Duffy said.
The bases were loaded with no outs and Duffy was excused in favor of right-hander Coleman, who came in and struck out Nelson Cruz.
"I really liked the matchup with Louie with Cruz and he ended up striking him out," Yost said. "I liked the matchup with Adam Jones if we got that far. Louie's kind of a sinker-slider guy and we're playing the infield in, you're hoping you can get a ground ball and somebody can turn a home-to-first double play."
First, though, Coleman had to deal with Markakis, a left-handed batter. The count went to 2-2 and Markakis reached out and poked a floating line drive down the left-field line. Alex Gordon had no chance.
"Markakis just stuck his bat out there and I don't know how far it was fair, but it wasn't much," Yost said. "Louie did a nice job."
Yost, by the way, said he didn't consider using closer Greg Holland to relieve Duffy because the Royals didn't have a lead at that point. He had used Holland in a 3-3 tie on Opening Day at Detroit and the closer gave up the game-ending hit.
"That's the first time I've ever used my closer [that way] because I really wanted to win that game on Opening Day," Yost said. "But I'm not going to do it [again] because I've got confidence in everybody down there."
If the 10th-inning injury had forced Escobar to leave the game, that would have presented an interesting dilemma. Backup infielders Danny Valencia and Jimmy Paredes were already out of the game. Who would play where?
"Good question," Yost said. "Gordon was going to come to third, Omar [Infante] was going to go to short, Moose [Mike Moustakas] was going to go to second and probably [pitcher Michael] Mariot was going to go to left."
Escobar, after being looked at by head trainer Nick Kenney, stayed in the game. He had a spike mark on his leg and his left knee was jammed, but Escobar reported after the game that he was OK.
Whether he'll be ready to play in Sunday's series finale remains to be seen.
For seven innings, the game was a duel between the starting pitchers, the Royals' Jeremy Guthrie and the Orioles' Wei-Yin Chen.
The Orioles' first two hitters in the game, Weeks and Cruz, reached base and both scored -- on Markakis' single and a forceout. After that, Guthrie worked six shutout innings.
"Our defense was working big as it always does," Guthrie said. "Esky made a number of great plays as well as Omar."
The Royals got a run in the third on Escobar's double, Nori Aoki's bunt single and Eric Hosmer's RBI double into the right-field corner. But they left the bases loaded.
Chen gave up a second run in the sixth as Gordon and Valencia each singled, and Justin Maxwell sent an RBI looper into center.
"The two starters did a great job," Yost said.
The Royals stranded 11 runners, the last in the 10th after Salvador Perez's double, his third hit of the game. Paredes ran for him.
"We didn't really want to pinch-run for him there, but knowing we had Dyson behind him, a singles-type hitter," Yost said. "They were going to play their outfield short and we needed some speed in case we got a hit."
Left-hander Zach Britton came in to face Dyson and struck him out to end the inning.
"He had good gas," Dyson said.
Then Duffy, with his brief relief career showing 8 1/3 scoreless innings, entered the fray. Everything that could go wrong went wrong -- a hit batter and two errors -- and he wound up sitting forlornly in front of his locker in the visitors' clubhouse.
"It's just pitchers' fielding practice, man," Duffy said. "It's a simple game and I just wasn't sharp. I just didn't do my job tonight."
Dick Kaegel is a reporter for MLB.com. This story was not subject to the approval of Major League Baseball or its clubs.