Matheny not concerned with Cards' power outage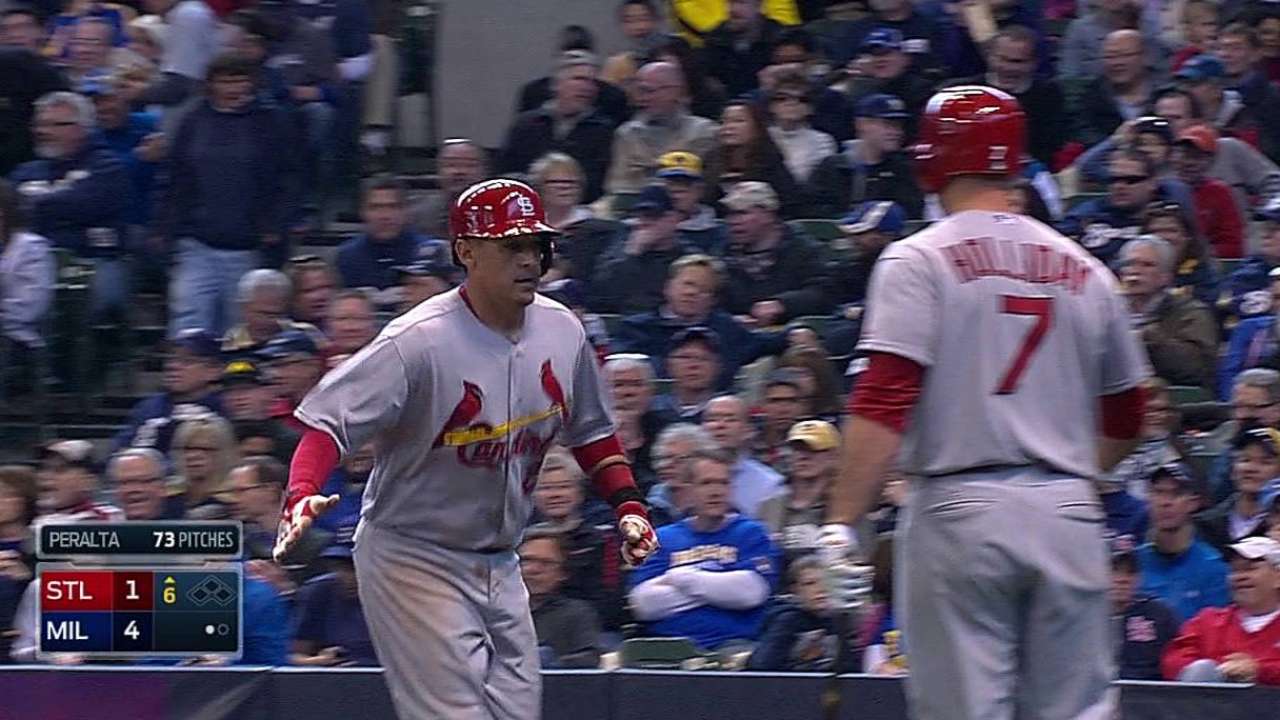 ST. LOUIS -- Another homerless game on Friday extended the Cardinals' power drought to nine games -- a distinction that might normally go mostly unnoticed if not for the team's recent struggles to score at all.
It has been 322 at-bats since the Cardinals last went deep, that coming with Allen Craig's solo homer in the sixth inning of the team's April 16 loss to the Brewers. Power hasn't manifested itself in extra-base hits, either, as the Cardinals have only 18 during that span.
Count manager Mike Matheny among those unconcerned -- not that the Cardinals are laboring to score, but in the specifics of how they do so.
"Just like last year, it didn't mean anything to me and I don't think it means too much to our guys except people want to keep making a big deal of it," Matheny said. "When we're scoring runs like we were last year, the home runs and the power production numbers don't mean anything to us. Once again, if we're not scoring runs, it stands out and is something you maybe point to."
Indeed, this is a topic two years in the making. The Cardinals saw a dip in home runs last season, one year after having five players reach the 20-homer mark individually. The 125 homers hit in 2013 was the team's lowest season total in a non-strike shortened season since 1993, when the club had 118.
Through 24 games this year, the Cardinals have hit just 12. Only the Royals, with nine, have a lower team total. Yadier Molina and Jhonny Peralta are the only Cardinals players to have hit at least two home runs for a team currently on pace for 81.
The expectation is that the total will rise as the temperature does. The organization is also interested to see how the addition of Ballpark Village behind the left-center-field side of Busch Stadium affects the wind stream in balls hit that way.
"I was watching [batting practice] yesterday and Craig and [Matt] Holliday lost about $2,000 worth of balls," Matheny said. "Little warmer and maybe the new building out there is going to help it a little out there, too. I didn't see that many balls leave the field in a month last year in batting practice. I don't know why. It just hasn't carried the last couple of years. We'll see if things are any different. I think it has something to do with it getting a little warmer, maybe, and maybe the new structure out there will help things as well."
For comparison, the Cardinals were sitting on 19 home runs heading into game No. 25 a year ago.
"I think that we'll have better power numbers than we had last year just by default, because I think history shows with the guys on this club," Matheny said. "We need to get guys locked in, taking good at-bats. I think their natural ability is going to allow for the ball to travel a little further at times than others and those numbers will most likely be there. But it can't be a focus."
Jenifer Langosch is a reporter for MLB.com. Read her blog, By Gosh, It's Langosch, and follow her on Twitter @LangoschMLB. This story was not subject to the approval of Major League Baseball or its clubs.