Hughes in top form as patient Twins pull out victory
Second straight quality start supported by four-run fifth inning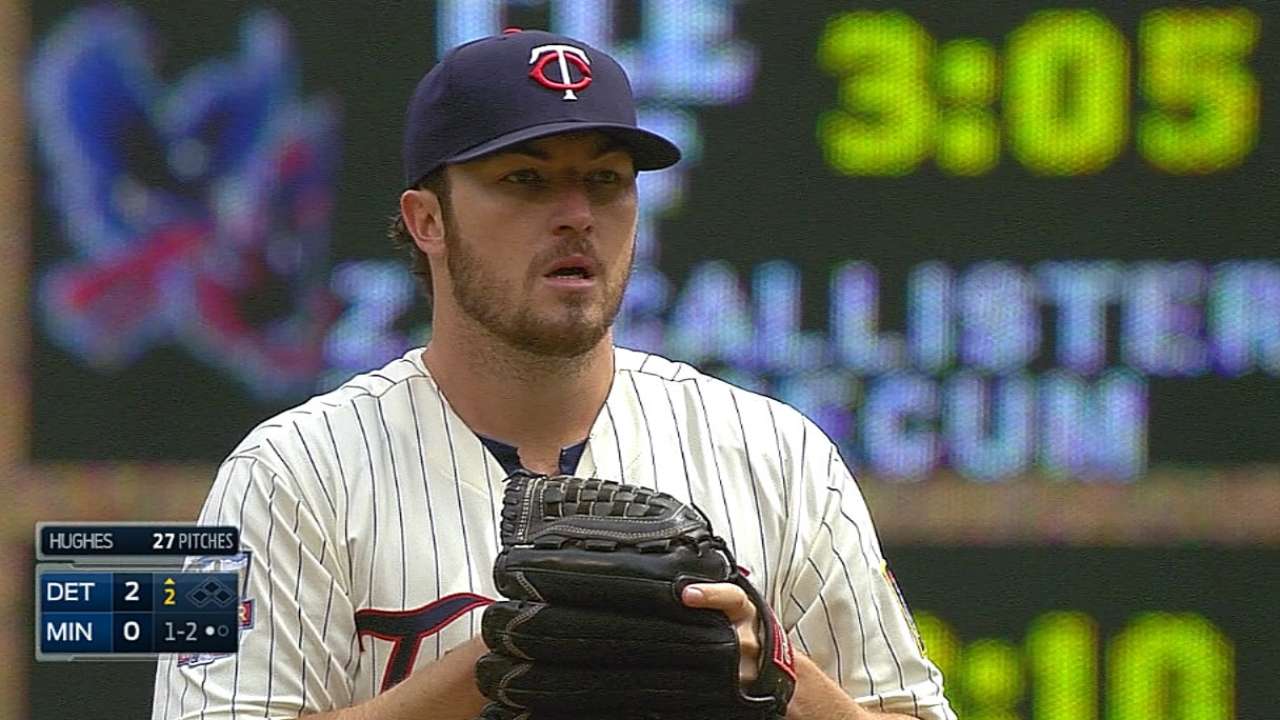 MINNEAPOLIS -- As the Twins proved again on Saturday, drawing a walk is sometimes just as good as getting a hit.
The Twins have been using walks to their advantage early this season, as they lead the Majors in both walks and runs scored per game, and it was evident once more against the Tigers on Saturday afternoon.
Minnesota used eight walks to its advantage, including five in a four-run fifth inning, to back seven strong innings from right-hander Phil Hughes in a 5-3 win over the Tigers at Target Field.
The Twins scored two runs in the fifth before they had a hit, and their first was a big one from Trevor Plouffe, who came through with a go-ahead two-run single in the fifth with the bases loaded that proved to be the game-winner.
"We didn't kill the ball today, but we took our walks when we had to," Twins manager Ron Gardenhire said. "As we've talked about many times now, we're taking our walks and getting people on. You can score runs that way, so it's a good way to go about your business. We know that when we walk guys, they usually score, so it's working for us now."
The four-run fifth was enough for Hughes, who turned in his second straight quality start after struggling in his first three outings of the year, as he gave up two runs (one earned) on just four hits and no walks with six strikeouts.
Hughes gave up the two runs in the first inning, but he settled down from there. Torii Hunter singled with one out in the first and scored on a double to right field from Miguel Cabrera that went off Sam Fuld's glove. Fuld's throw into the infield was off line, allowing Cabrera to reach third and eventually score on a sacrifice fly from Victor Martinez for an unearned run.
Hughes retired 16 batters in a row after Cabrera's double, and he went seven innings for the first time this season.
"It was good," said Hughes, who improved to 2-1 with a 5.14 ERA. "In the first, I was coming apart a little bit and not staying within myself and overthrowing a little bit. But I was able to settle down pretty quick and get on a roll, which was nice."
The Twins caught a break offensively, as right-hander Anibal Sanchez left the game with a blister on his right middle finger after 2 2/3 hitless innings.
Right-hander Jose Ortega, who was recalled from Triple-A Toledo before the game, replaced Sanchez and was erratic against Minnesota.
The Twins used his wildness to their advantage in the fifth, as Fuld and Aaron Hicks started it off by drawing back-to-back walks with nobody out. Eduardo Escobar then laid down a sacrifice bunt and catcher Bryan Holaday tried to throw out Fuld at third base, but the throw ended up in left field to allow Fuld to score Minnesota's first run.
Brian Dozier then walked to load the bases before left-hander Phil Coke was brought in to face Joe Mauer. Mauer promptly walked on four pitches to tie up the game, even though the Twins still didn't have a hit through four-plus innings.
Plouffe's two-run single back up the middle gave the Twins a two-run lead they wouldn't relinquish. It was a gutsy at-bat for Plouffe, who was dealing with a left triceps contusion after being hit by a pitch in his previous plate appearance.
"I had some adrenaline going," said Plouffe, who eventually left the game in the seventh. "I've faced Phil enough to know he's sinking the ball up there. The biggest thing was getting him over the plate. I didn't want to chase anything. I got to 3-1 there and zoned up looking for a pitch in one spot, and got it."
The Tigers made it interesting in the eighth, loading the bases against reliever Jared Burton with one out, but Cabrera grounded into an inning-ending double play. Burton, who entered the game with a 10.13 ERA, had been struggling early this season, but Gardenhire stuck with him and it paid off.
"We couldn't draw it up any better, having Miggy up with the bases loaded," Tigers manager Brad Ausmus said. "But he can't be the hero every single day."
Twins catcher Josmil Pinto crushed a solo shot to the second deck in left field in the bottom of the inning off reliever Al Alburquerque for his fifth of the year. Martinez answered with a leadoff homer in the ninth off Minnesota closer Glen Perkins, who finished the inning despite giving up a double to Austin Jackson to pick up his sixth save.
"We got enough runs and held on there at the end," Gardenhire said. "It was exciting."
Rhett Bollinger is a reporter for MLB.com. Read his blog, Bollinger Beat, and follow him on Twitter @RhettBollinger. This story was not subject to the approval of Major League Baseball or its clubs.