Padres unable to solve Roark in loss to Nationals
Manage only three hits against Washington's right-hander in shutout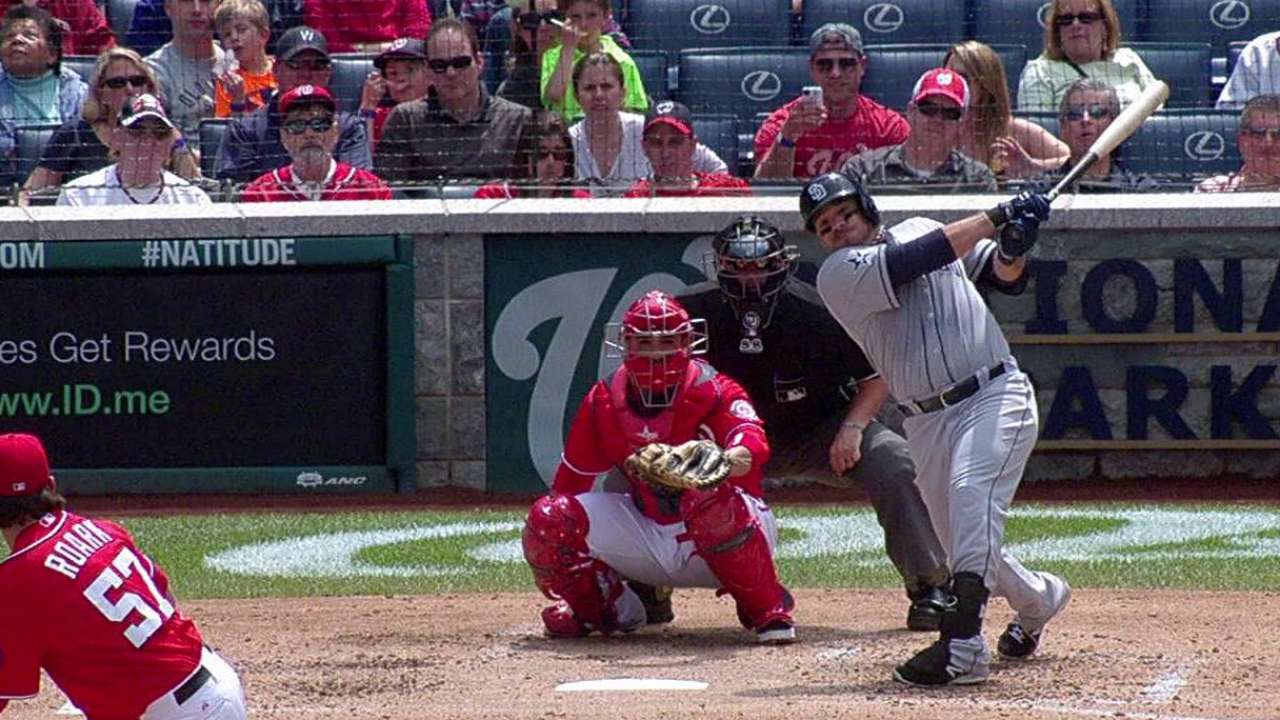 WASHINGTON -- For five fitful innings on a sun-kissed Saturday, just about everything that could go wrong for the Padres did go wrong, and in spades.
There were fielding and throwing errors, a potential double-play ball was dropped, a replay challenge went against them and pitcher Andrew Cashner was drilled in the right knee by a line drive.
Eventually, there were too many obstacles for the Padres to overcome on Saturday, as Nationals pitcher Tanner Roark (2-0) tossed a shutout -- allowing three hits, while striking out eight -- as Washington topped the Padres, 4-0, before a crowd of 31,590 at Nationals Park.
A night after getting one-hit by Stephen Strasburg, Roark tied the Padres in knots with impressive command of his fastball and changeup. Roark didn't allow a hit -- or a baserunner -- until Rene Rivera, hitting just .167 when he stepped to the plate, slapped a single up the middle with one out in the sixth inning.
"He was aggressive," said Nationals manager Matt Williams. "He threw a lot of really good changeups today for strikes -- that's one of his weapons. He keeps lefties off balance with that and his comeback fastball in to the lefties, as well. He threw the ball really well."
How good and efficient was Roark? He needed all of six pitches to get three outs on three ground balls in the fifth inning.
Did we mention the Padres had no hits and just as many baserunners to that point?
"When you don't score and make a couple of errors, [shortcomings] become more magnified," said Padres manager Bud Black.
All told, Roark needed just 105 pitches to get his 27 outs.
Simply taking more pitches in hopes of making Roark work harder wasn't the approach Black wanted from his hitters.
"If the guy is throwing strikes and you're taking pitches, you're going to be behind in the count," Black said. "... If you're trying to make him work, you're going to be 0-1, 0-2 awfully quick. He was throwing strikes and working both sides of the plate with his fastball. We just couldn't square any balls up."
Roark's counterpart, Andrew Cashner, called his stuff as good as it's been at any time this month, with the one notable exception of where many of those pitches ended up -- over the heart of the plate. His two-seamer had late run and his slider had movement, but he couldn't steer the ball from the middle.
"I thought I threw some of the best pitches I've had," Cashner said. "I just couldn't stop the bleeding."
Cashner (2-3) was undermined by the defense behind him, as the Padres had a season-high three errors and could have -- and likely should have -- had a fourth, which changed Cashner's final line dramatically.
The Nationals (14-11) scored three runs in the bottom of the first inning, as Anthony Rendon -- who had four hits on Friday -- and Jayson Werth singled. Adam LaRoche had an RBI single and Ian Desmond and Danny Espinosa also knocked in runs.
Werth's ball was initially ruled as an error on second baseman Jedd Gyorko, who moved to his right and was in front of a hard ground ball that kicked off him and into shallow left field. Cashner, who was charged with four earned runs over six innings, could have easily been charged with two unearned runs.
Shortstop Everth Cabrera threw a ball into the seats on a double play he tried to complete himself after he stepped on second base. First baseman Yonder Alonso also threw a ball away. Gyorko was charged with an error in the fifth inning, when he overran a ball.
Black sensed that position players might be allowing their offensive struggles -- the team has a collective .221 average -- to affect their defensive play.
"We've got to stay away from our hitters letting their offense go into their defense. That's been talked about," Black said. "Whether that's happening because we're not swinging the bats, we'll address that."
Aside from Rivera's hit, the Padres -- who have scored one run over their last 18 innings -- got a single by Gyorko in the seventh inning and a single by Chris Denorfia in the ninth.
"We do hope our offense gets better," Black said.
So far, it hasn't happened. No matter the mixing Black has done with the lineup, it's been terribly difficult to squeeze runs out of the offense with the team's top two hitters coming into the season -- outfielder Carlos Quentin and third baseman Chase Headley -- on the disabled list.
There is a sense in the Padres' clubhouse that things will change, that better at-bats are coming and, with that, better offensive production. But 25 games into the season, and with May less than a week away, it still hasn't happened.
"We're going to get out of this sooner or later," Rivera insisted. "We just have to keep playing baseball. I still think we've got a good ballclub."
Corey Brock is a reporter for MLB.com. Keep track of @FollowThePadres on Twitter. This story was not subject to the approval of Major League Baseball or its clubs.