With chance to start, Murphy comes up big for Yanks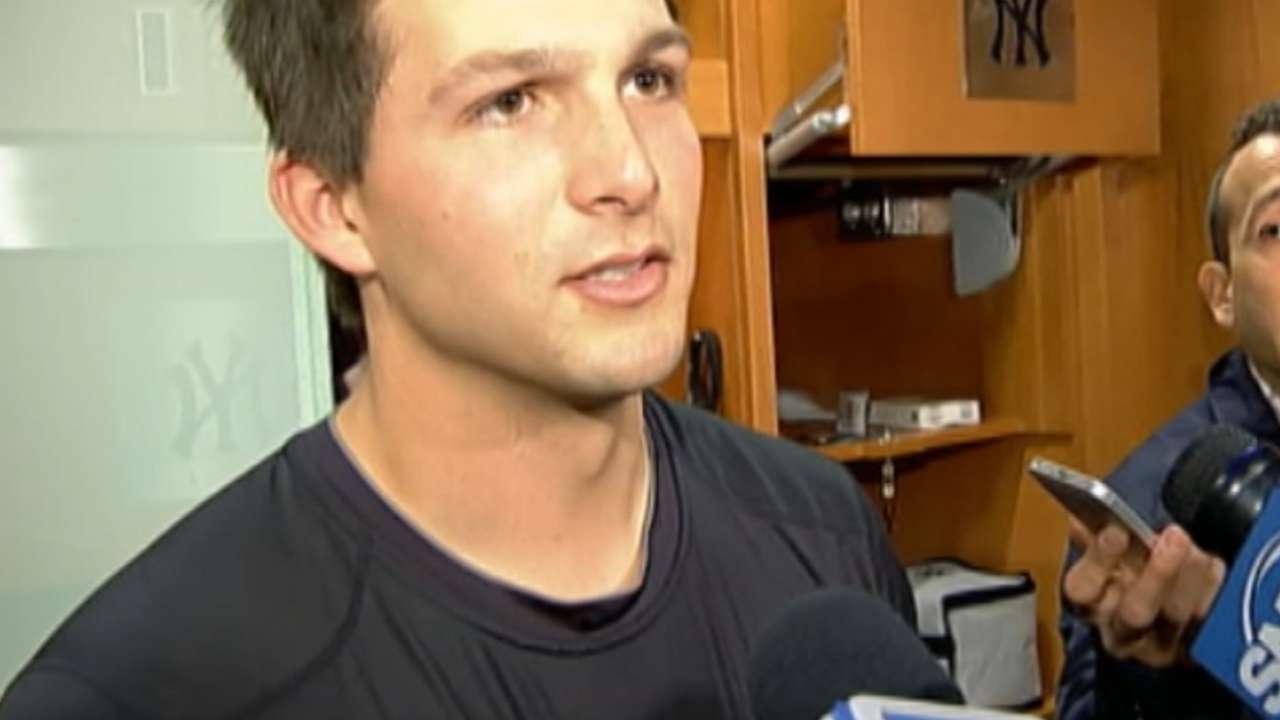 NEW YORK -- John Ryan Murphy found his name on the Yankees' lineup card for Saturday's matinee simply so everyday catcher Brian McCann could rest his knees a day after a night game. But by the time the 22-year-old stood in the on-deck circle awaiting his third at-bat out of the nine-hole, the Angels were already playing the matchup game against him.
Murphy drove in his first three runs of the season -- one on the first homer of his career -- to lift the Yankees to a 4-3 victory against the Angels, evening the series at a game apiece entering Sunday's prime-time finale.
"It's nice to contribute when I'm playing once a week," said Murphy, who finished 2-for-3 for the first multihit game of his career. "It's really fun to help the team win."
Murphy's start coincided with the second of the season for left-hander Vidal Nuno, and Murphy coaxed 4 1/3 innings out of his Triple-A teammate from last season. Nuno started shaky, allowing a Mike Trout home run in the first after Collin Cowgill led off with a drive that Jacoby Ellsbury chased down on the warning track in straightaway center.
But after Nuno escaped the first and worked a 1-2-3 second, Murphy delivered a New York lead.
"We win a game 4-3, and he has three of the RBIs, so a huge day," said manager Joe Girardi. "He did a great job behind home plate working Nuno and our bullpen. He just had a really good day."
Murphy stepped to the plate in the second inning with the bases loaded, and after Mark Teixeira touched home on a Hector Santiago balk, Murphy drove in the remaining two runners with a single to right-center that gave the Yankees a two-run lead.
"The hit by Murphy to give those guys three runs that inning was definitely a momentum-shifter," Angels skipper Mike Scioscia said.
But Murphy's home run in the fifth proved the decisive blow, breaking a 3-3 tie after the Angels scored two in the fourth and chased Nuno with one out and Trout on first in the fifth. Girardi said before the game that he planned to limit Nuno to about 80 to 85 pitches, and the left-hander exited after throwing 72, 48 for strikes.
Dellin Betances entered with Albert Pujols at the plate and escaped the jam -- part of two scoreless innings that lowered the rookie reliever's ERA to 0.77 through nine outings and earned him his first career win.
"When he's in the strike zone," Murphy said, "he's unhittable."
Murphy would know better than most. Betances called Murphy "one of my good friends" after the pair spent parts of the past two seasons together at Triple-A Scranton/Wilkes-Barre and Double-A Trenton, where Betances was one of the Yankees' top starting pitching prospects before his move to the bullpen.
"I'm happy for the kid. He's been through a lot," Girardi said of Betances. "He's had to change roles, and he's had to fight to get here. He's throwing the ball extremely well for us. Today was probably the toughest situation we've put him in so far, and he responded very well."
So did Murphy, who wants to be aggressive with his limited at-bats.
It showed when he jumped on Santiago's first offering of the fifth and drove it into the left-field seats.
"When he hit it, we were all like, 'He got it! He got it! He got it!'" said David Robertson, who capped his first save since April 6 with a 3-2 swing-and-miss cutter to Howie Kendrick, punctuated with a fist pump.
Ellsbury, who made a sliding grab to limit the Angels to two runs in the fourth, and Derek Jeter followed Murphy's homer with singles, but they remained stranded once Los Angeles turned to its bullpen.
When Murphy returned to the plate an inning later, Scioscia lifted lefty Nick Maronde in favor of a righty-righty matchup between Michael Kohn and Murphy. Kohn won, inducing a flyout to right field, but Murphy had already done his damage, leaving the ballpark with a home run ball he plans to give to his mother, Carolina.
"It's special, and it means even more because we won the game by one run [because of] what he did," Girardi said. "He'll never forget it."
Steven Miller is a contributor to MLB.com. This story was not subject to the approval of Major League Baseball or its clubs.