Kemp, Adrian go long to get Maholm, Dodgers a win
Outfielder hits fourth; first baseman's eighth is 1,500th career hit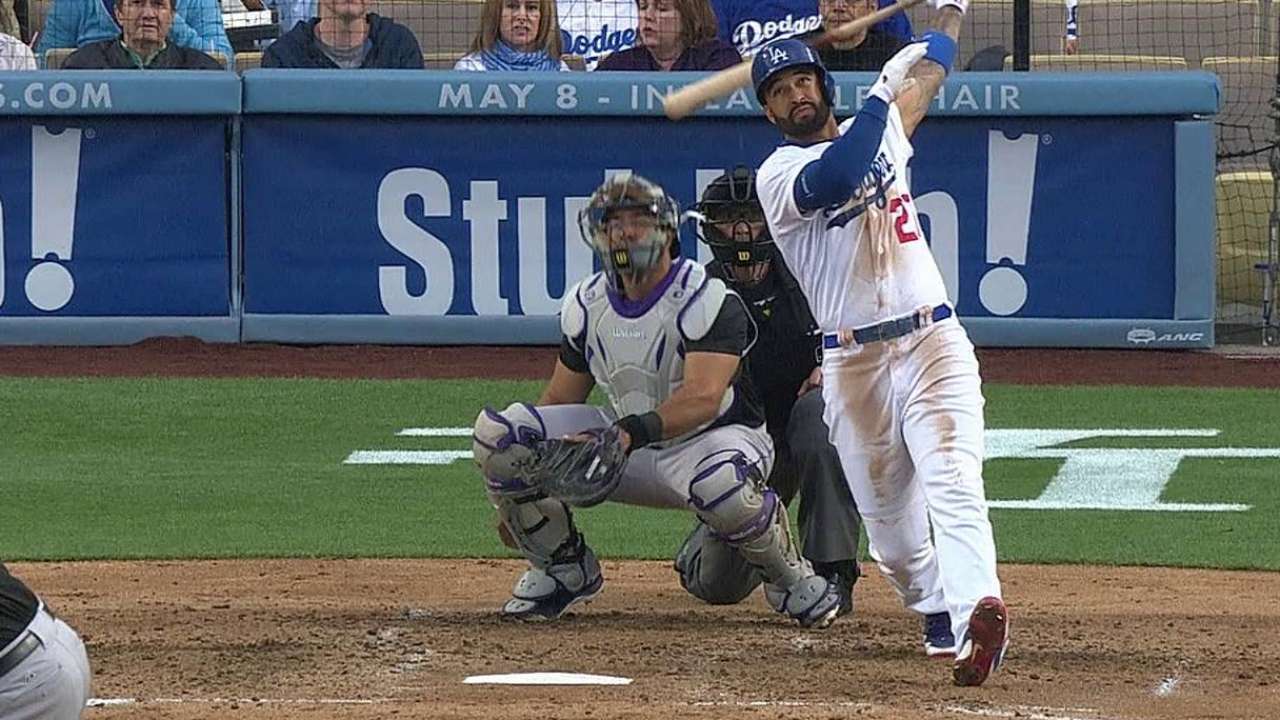 LOS ANGELES -- Booming and crashing their way to victory has been a rare thing for the Dodgers lately.
Not that runs have been scarce over the past couple of weeks, but the rain a night earlier moved the Southern California "drought" needle away from precipitation and squarely onto the Dodgers lineup.
Before Matt Kemp and Adrian Gonzalez homered, Dee Gordon tripled and Yasiel Puig doubled to power the Dodgers to a 6-3 Saturday night special over the Rockies, you needed a magnifying glass and maybe a metal detector to locate some runs from what was supposed to be a potent batting order.
"I think a lot of us are starting to get our swings back," said Kemp, who rapped a double to go along with his homer.
"We should have scored more," Gonzalez said.
It was no secret, this frustrating silence. Manager Don Mattingly talked openly about it as his club hit before the middle game of this Rockies series. Since leaving Arizona, the manager said, there are no two ways around it, the offense has not been good.
The Dodgers scored 22 runs in the three games in Arizona from April 11-13. But over 11 games since then, the Dodgers had managed just 33 runs. And during that stretch, they had scored six or more runs just once -- in an 8-6 win over Arizona on April 19.
So, while Saturday's cruise over the Rockies might not have seemed like much, it was a sudden and torrential outpouring of runs considering the way things have been going.
Puig and Gonzalez scooped up two RBIs each, and the Dodgers wound up with six extra-base hits.
"Matt was good tonight," Mattingly said. "I thought Puig was good, Dee was good, [Andre Ethier] had some good at-bats. Adrian continues on. It's good to see.
"We put runs on the board and continued to score throughout the game."
It started in the third, right after the Rockies had pushed one run across, with Gordon ripping a line drive into center field and then doing what he does best. Run. He didn't stop until he was on third for a leadoff triple, one more key moment in a string of them for Gordon this season.
For now, it looks like the Dodgers have found a leadoff hitter: Gordon is hitting .345 with eight runs scored, two doubles, two triples, a homer and four RBIs in 13 games in the leadoff spot.
Next, Puig was hit by a pitch, Gordon scored on a Hanley Ramirez ground ball and then Puig scored on a Gonzalez sacrifice fly. Then Kemp ripped a home run.
The Dodgers added a fourth run in the fourth when Puig's double drove Drew Butera home following a leadoff walk, and then Gonzalez blasted a homer off of Colorado starter Juan Nicasio to boost the Dodgers' lead to 5-2.
For Gonzalez, the home run doubled as career hit No. 1,500. The Dodgers got him the ball back -- he traded it for an autographed bat. And in a sign that things are going really well for Gonzalez, he pushed the home run the opposite way, to left field.
It was his third to left field this season -- or, as he was quick to correct, fourth, if you count left-center.
However you count, Gonzalez, who insists he's not a home run hitter, now leads the National League with eight.
"I'm not a power hitter," he said.
Then how does he explain his current status atop the NL?
"I guess the rest of the guys aren't hitting many," he quipped.
What it all added up to was an extraordinarily rare win over the Rockies for Dodgers starter Paul Maholm, who had a personal losing streak of seven consecutive decisions against them dating all the way back to Aug. 23, 2007, when he was pitching for the Pirates.
Maholm lasted seven innings, surrendering two runs and six hits while needing only 84 pitches. He said he was "having fun" and was hoping to pitch longer.
"I felt way more rhythm today than in any other outing," he said. "I think the more work I have, I'm getting my mechanics back to where they need to be."
In the ninth, Brian Wilson walked the two batters he faced before Kenley Jansen recorded his ninth save in 11 opportunities, striking out Brandon Barnes with runners on second and third to close the game.
By then, even with Wilson wobbly again, the Dodgers were never in serious danger because of the way they ambushed Nicasio, giving them visions of all this summer could be.
Scott Miller is a contributor to MLB.com. This story was not subject to the approval of Major League Baseball or its clubs.