Bucs' offensive woes keep up in Cole's strong outing
Right-hander turns in seven innings of one-run ball in series opener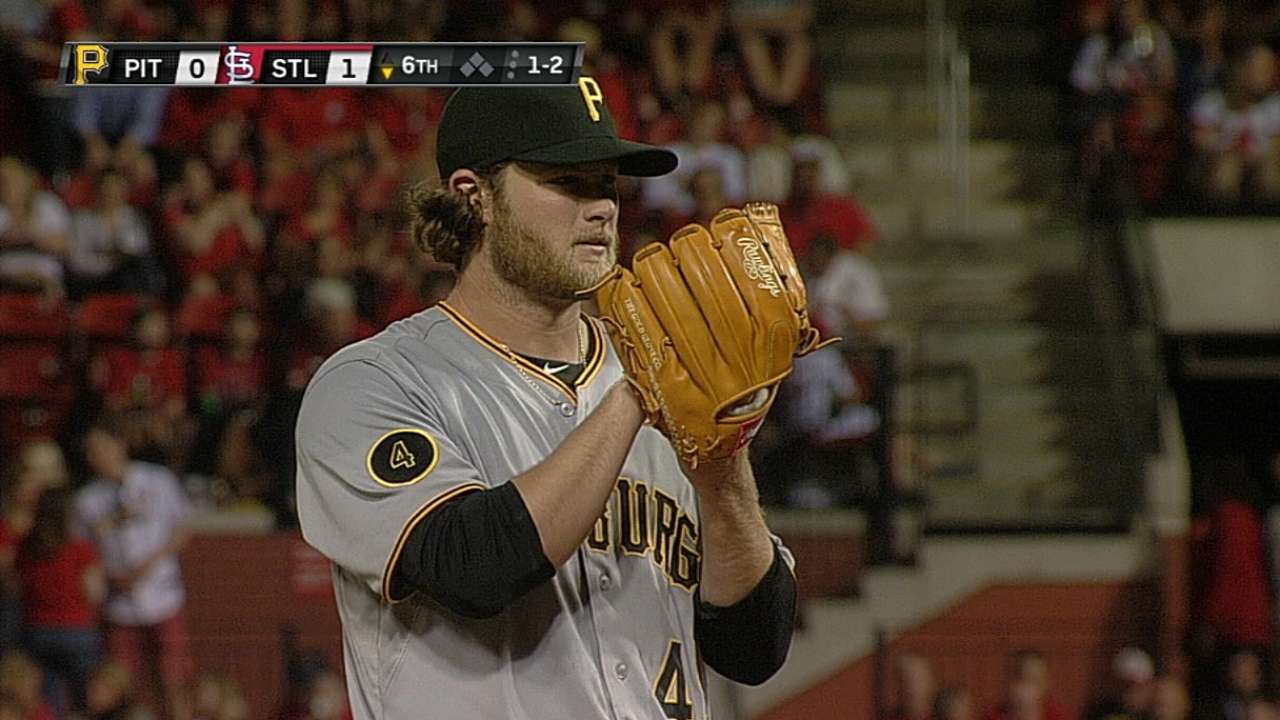 ST. LOUIS -- Given the struggling offenses of both teams, the Pirates and Cardinals could have played first-team-to-score-wins baseball on Friday night at Busch Stadium.
That plot would have held up. The Cardinals pushed across one run in the first inning against Gerrit Cole, and Shelby Miller and the relief gang protected it for a 1-0 victory over the Pirates, their 11th loss in 14 games and easily the most aggravating.
"The one opportunity they got, they scratch a run in the first and make that stand -- who'd have thunk that?" Pirates manager Clint Hurdle wanted to know.
Pros do not grind teeth. They do not sulk into the night. Pros turn the other cheek, and turn to the next game.
"Why you play 162 of these," Cole said, with a stiff upper lip. "Stuff happens, and it doesn't always go your way."
Five days earlier, Cole had given Milwaukee one run in eight innings. Friday, one run in seven innings. No wins. And the upper lip quivers a little.
"Does it hurt, sting a little more, when you do everything you can, leave it all on the field, and don't get results? Yeah, it hurts," Cole said. "I've got nothing left. It's all out there."
Cole spent the evening not on a mound but, in Hurdle's opinion, in a boxing ring.
"It was a fist fight," Hurdle said. "He pitched his backside off. Great job. Fun to watch."
When it wasn't torturous, that is.
St. Louis got its run as Matt Holliday's one-out double scored Matt Carpenter, who had led off with a bunt single pushed to third base and moved up a base on Jon Jay's grounder to first.
"We keep facing these types of pitchers, and we realize we're not going to get a whole lot to scratch," said St. Louis manager Mike Matheny, calling Cole's effort "a nice job."
"He's a solid starting pitcher. He did a great job of competing, keeping his team right there. Fortunately, Matt got a big hit when we needed it. And great idea by Matt Carpenter getting on base and taking advantage of the infield positioning."
Miller, winless against the Pirates in five prior career decisions, walked across a tightrope for 5 2/3 innings, allowing three hits and walking four.
"We didn't get the big hit," said Hurdle, summing up the difference for Miller. "He didn't make any mistakes. He pushed through it. Out of nine frames, we had only three shots to put runs on the board, and weren't able to do it."
Cole outlasted, and perhaps even outpitched, Miller. The Buccos right-hander went seven innings, giving up six hits and the run, while walking there and fanning four.
The Bucs' offensive funk was on vivid exhibit in the third inning, in which Miller struggled mightily before a most unlikely escape. The righty gave up singles to Cole and Jose Tabata, then loaded the bases by walking No. 2 hitter Neil Walker.
At that point, Miller had labored through 21 pitches in the inning, and there was still only one out. Andrew McCutchen ripped No. 22 about 10 feet to the left of the second-base bag -- where shortstop Jhonny Peralta gloved it and started an inning-ending double play.
"The quicker you accept it, the quicker you get over it," McCutchen said with a weak smile. "Once you make that swing, you can't control anything after that. I made the contact, hit it hard, hit it right at him … oh, well. Quicker you get over it, the quicker you can move on."
Then, just to accentuate the out-of-sync dilemma, next time up, McCutchen lashed a double to left.
There was more frustration to come, in the eighth inning, long after Miller had turned the game over to his bullpen.
The inning began with Starling Marte, left out of the starting lineup, doing Starling Marte things. Pinch-hitting for Cole, he got hit by Carlos Martinez's pitch. Tabata, in the starting lineup because he rakes in Busch Stadium, doubled Marte to third. Having runners on second and third with none out looked like a golden opportunity for overdue satisfaction. Looks can be deceiving. It turned out to be a prelude to despair.
Marte got hung up off third base on Walker's hard comebacker to the right of the mound, and was quickly tagged out, much too quick to allow the other runners to move up.
"When a hitter gets a secondary lead," Hurdle said, characterizing Marte's stroll down the line, "that puts him in peril if a play like that happens. The ball is hit back to the pitcher on that said of the diamond, now [the pitcher] sees the guy."
"When I got the ground ball, the first thing that I thought was to throw to home plate and try to not allow the run to score," Martinez said . "After that, I felt I could breathe better. I like to be in those situations. I know it's a close game, but that's what I like. I like to feel the pressure."
The runners still were able to move up, on a wild pitch, which simply gave the Cardinals an excuse for intentionally walking McCutchen to load the bases, with one away.
A called third strike to Pedro Alvarez made it two. A checked-swing third strike on Chris Stewart made it three -- and made for an extremely irritating Pirates evening.
"We're in position now …," Hurdle began, searching for words, "… it's not working."
Tom Singer is a reporter for MLB.com and writes an MLBlog Change for a Nickel. He can also be found on Twitter @Tom_Singer. This story was not subject to the approval of Major League Baseball or its clubs.