Miller, bullpen blank Pirates to lift Cardinals
Right-hander, relievers pick up offense with shutout in series opener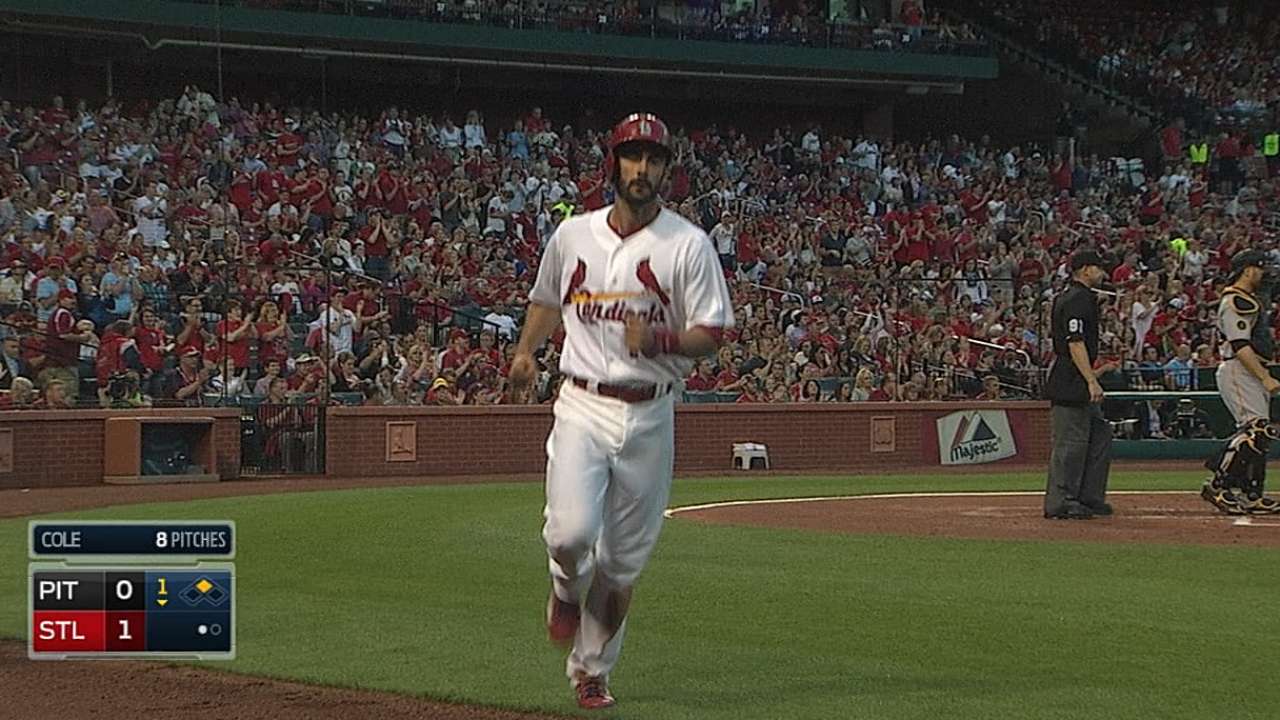 ST. LOUIS -- The margin of error continues to be slim for the Cardinals' pitching staff, which has been asked to carry a club that entered Friday having scored just 13 runs in seven games.
On this night, the Cardinals would score only one. Yet Shelby Miller tiptoed around trouble, Carlos Martinez extinguished an eighth-inning mess and Trevor Rosenthal looked like the flamethrower of old in order to help that lone run stand tall.
St. Louis opened a six-game homestand with the 1-0 win over Pittsburgh in front of 43,193 at Busch Stadium. It was the 11th time in 24 games that the Cardinals have scored fewer than three runs in a game but just the second in which that was sufficient scoring to lift the team to a victory.
"You hate to keep doing that to these guys and making them have to be perfect," said manager Mike Matheny, whose pitching staff has now tossed a National League-most five shutouts.
The Pirates are spewing the same message, as they, too, have been offensively challenged. Pittsburgh has now lost four straight, scoring four runs total during that stretch.
"We're well aware of who we're playing," Pirates manager Clint Hurdle said. "The one opportunity they got, scratch a run in the first and make that stand. Who'd have thunk that?"
Neither team scored in the final eight innings, which made the Cardinals' ability to strike quickly against budding Pirates ace Gerrit Cole key. Matt Carpenter opened the first by pushing a bunt single up the third-base line. He moved to second on Jon Jay's groundout and home when Matt Holliday doubled to right.
That would be the only hit the Cardinals tallied in 11 chances with runners in scoring position on Friday.
"Early in the season you are trying to get your time right," said Holliday, who finished 3-for-3 and reached base four times. "I really feel I'm in a good spot. I had a three-hit game a couple days ago. The last few games I just missed a couple. I felt I was real close. Tonight I got results."
That support was all Miller got in his sixth try to end a hex against the Pirates. A team that had pounded him for 20 runs (18 earned) in his first five starts (27 1/3 innings) against them couldn't capitalize on the four walks Miller issued on Friday.
He walked two in the second before inducing an inning-ending double play from Travis Snider. An inning later, Miller walked Neil Walker to load the bases with one out. Reigning National League MVP Andrew McCutchen followed with a sharp shot up the middle that shortstop Jhonny Peralta gloved on a short hop as he slid. That, too, was turned into a double play.
"That was a tough turn," Matheny said. "Anytime you turn a double play on a player like McCutchen, you know, one, he's hit the ball hard, and two, you're making a good clean exchange."
It was the first of two key defensive plays for Peralta, whose hustle to third during an eighth-inning rundown helped the Cardinals navigate around all sorts of trouble.
"I know my offense right now is not where I need to be, but I can go on defense and work hard on defense," Peralta said. "If one isn't working, I need to be [helping] with the other one."
Peralta also had the offensive side clicking by the end of the night. He ended an 0-for-22 hitless skid with a fourth-inning double and finished with a multihit game.
Miller pitched into the sixth, when with two out and a runner on second, Matheny made the move to pull him. Afterward, Matheny explained that he preferred having Russell Martin match up against Pat Neshek -- Martin was 4-for-11 against Miller -- and felt "we had pushed [Miller] as far as we could."
The move was rewarded as Neshek retired Martin.
Kevin Siegrist and Martinez passed the shutout along to Rosenthal, who converted his seventh save. It was hardly, though, as smooth as that sounds.
The Cardinals' one-run lead turned especially tenuous behind Martinez, who hit the first batter he faced, pinch-hitter Starling Marte, in the eighth and allowed him to advance to third on a single. Marte was retired in a rundown, started by Martinez and closed with heads-up coverage of third by Peralta. A wild pitch and the intentional walk of McCutchen brought up Pedro Alvarez with the bases full.
"I like to be in those situations in the eighth inning," Martinez said afterward, with Peralta interpreting. "I know it's a close game, but that's what I like. I like to feel the pressure."
He showed it, first freezing the Pirates third baseman on an 87-mph slider and then striking out Chris Stewart on 101-mph heat.
"I don't know if you could get much tougher, you look at where we were in the lineup and how we got there," Matheny said. "He's done that a couple times now where he's been able to focus in and get the job done with way above-average stuff. He doesn't want to get that spot, but not many people can get themselves out."
Rosenthal struck out the side in the ninth.
The bullpen's work helped Miller improve to 2-2 this season despite not having been all that sharp in any of his first five starts. He has issued 18 walks in 28 1/3 innings and has finished six innings just twice. That's largely due to pitch count, as Miller is averaging nearly 17 an inning. He was pulled with a count of 97 on Friday.
"I haven't been pitching as good as I want to, but still been getting by," Miller said. "I have found ways to get past [the walks] and make big pitches when it matters against tough teams that are doing well. That builds my confidence."
Yadier Molina was able to extend his hitting streak to 15 games with an eighth-inning single.
Jenifer Langosch is a reporter for MLB.com. Read her blog, By Gosh, It's Langosch, and follow her on Twitter @LangoschMLB. This story was not subject to the approval of Major League Baseball or its clubs.