A's pull away from Astros with seven-run ninth
Victory pushes Oakland to 5-0 record against Houston this season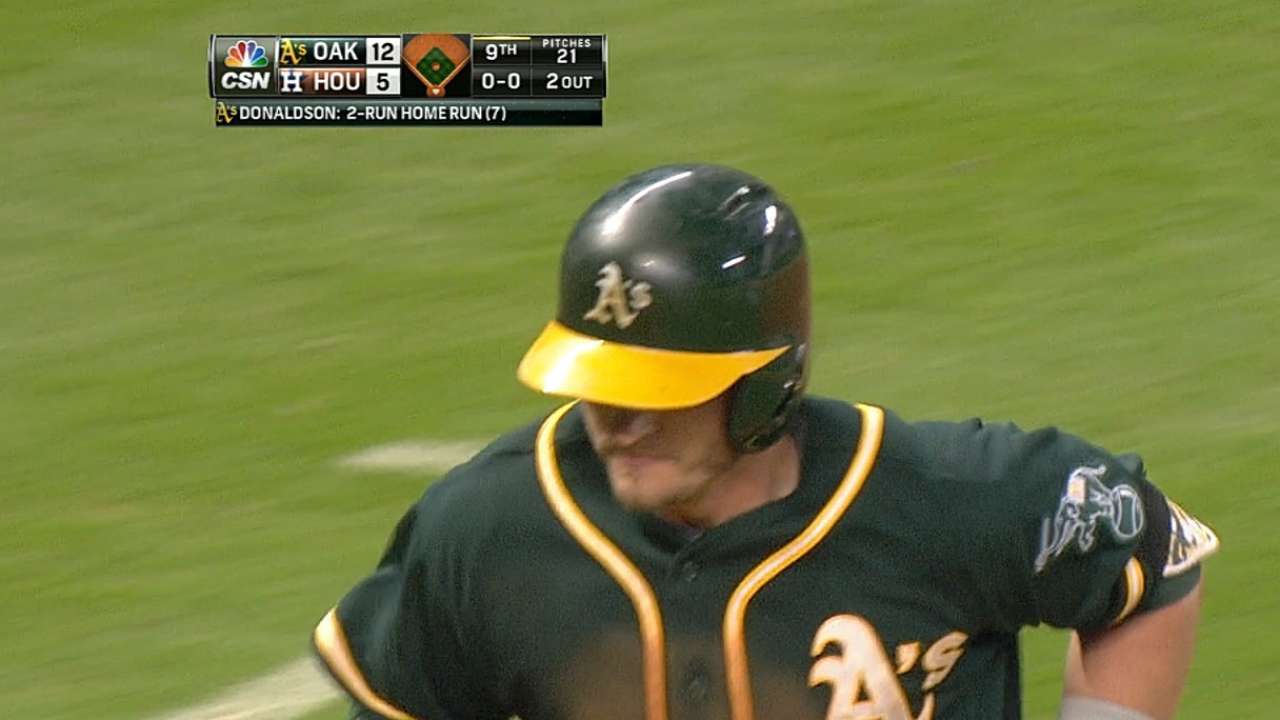 HOUSTON -- Three plunkings and one wild ninth inning later, the A's have their fifth win in as many tries against the Astros this year.
Of all things, it was a bases-clearing ground ball that paved the way for their 12-5 victory at Minute Maid Park -- part of a seven-run ninth inning that also featured some more drama between the clubs.
Brandon Moss was hit by a pitch twice in the frame -- a first in A's history -- before teammate Fernando Abad plunked Jason Castro with a pitch in the bottom of the inning, leading home-plate umpire Jordan Baker to issue a warning to both sides.
Astros manager Bo Porter argued for an ejection, because his own pitcher, Paul Clemens, was thrown out of Thursday's game after hitting Jed Lowrie, following two near misses last week. Instead, Porter was ejected.
"Whether I got hit twice or not, they've hit us a few times this series," said Moss, who was hit a second time following a two-run homer from Josh Donaldson. "I know we hit one of their guys. I think Bo said it yesterday. The game of baseball takes care of itself, and that's what happened tonight. Some people might not like it. Castro might not like it. But stand behind your words."
"I didn't see any need for that last one," Castro said. "Obviously, they got to have some feel and know that we're not trying to hit a guy with two outs and two strikes. The guy was hit earlier, but he stands as close as you can possibly stand to home plate without being out of the batter's box."
Moss acknowledged as much, but A's starter Jesse Chavez added: "It's something you take personally in a way. I understand you're trying to pitch inside. It's not like we're trying to jump ship. Make good pitches, and good things will happen. But you can't do that, where it looks obvious, especially after a guy hit a homer."
Regardless, the A's keep winning, outscoring the Astros, 41-13, this season.
After Moss was hit by a Josh Fields pitch to begin the ninth, Alberto Callaspo's base hit brought up Craig Gentry, who put down a bunt that Fields could not handle to load the bases.
With no outs, Daric Barton hit a sharp grounder to second baseman Jose Altuve, who could not quite get to it at the edge of the grass. Moss and Callaspo hustled home, and Gentry made it safely as well after George Springer bobbled the ball in right field.
"We've seen Gentry create a lot of havoc on the bases," A's manager Bob Melvin said. "Once he's let loose, he's going to keep going. I don't know that anybody else makes it around the bases like that."
Nick Punto followed with a double, and Derek Norris would hit one of his own off Anthony Bass to distance the A's even more. Just for fun, Donaldson added a two-run homer, his third of the series and seventh of the year.
Prior to the inning, Oakland was 1-for-14 with runners in scoring position, having stranded 11 along the way. The A's hadn't scored since the fourth, following a four-run third that included an RBI triple from Josh Reddick.
"It was awesome to finish the way we did," Gentry said. "Moss getting hit by that pitch and Callaspo with that nice single, I think that really got us going. Once we got a couple runs across, we were kind of relaxed and able to let it go."
It was the Astros who had altered the look of the game in quick fashion in the fourth inning, posting four runs off Jesse Chavez, including an unearned run stemming from Donaldson's sixth error of the year.
Chavez was around for five innings, after completing at least six in each of his first four starts this year. He had also allowed just one earned run in each of those outings, but on this night he was tagged for four (five total) after scattering eight hits with two walks and five strikeouts on 90 pitches.
Dan Otero, Sean Doolittle and Luke Gregerson combined for three scoreless innings in advance of the fateful ninth, which Abad closed out after hitting an animated Castro with a pitch.
"We're not all about a bean-ball war," Barton said. "It's pretty crappy when they hit our guys. It's not the first time it's happened. When it happens over and over, it's obviously not unintentional. It is what it is, and it shouldn't go farther than that."
Jane Lee is a reporter for MLB.com. Read her blog, Major Lee-ague, and follow her on Twitter @JaneMLB. This story was not subject to the approval of Major League Baseball or its clubs.