Late homers not enough in rare Cishek blown save
Closer's streak of 33 straight ends after Salty, Jones go back-to-back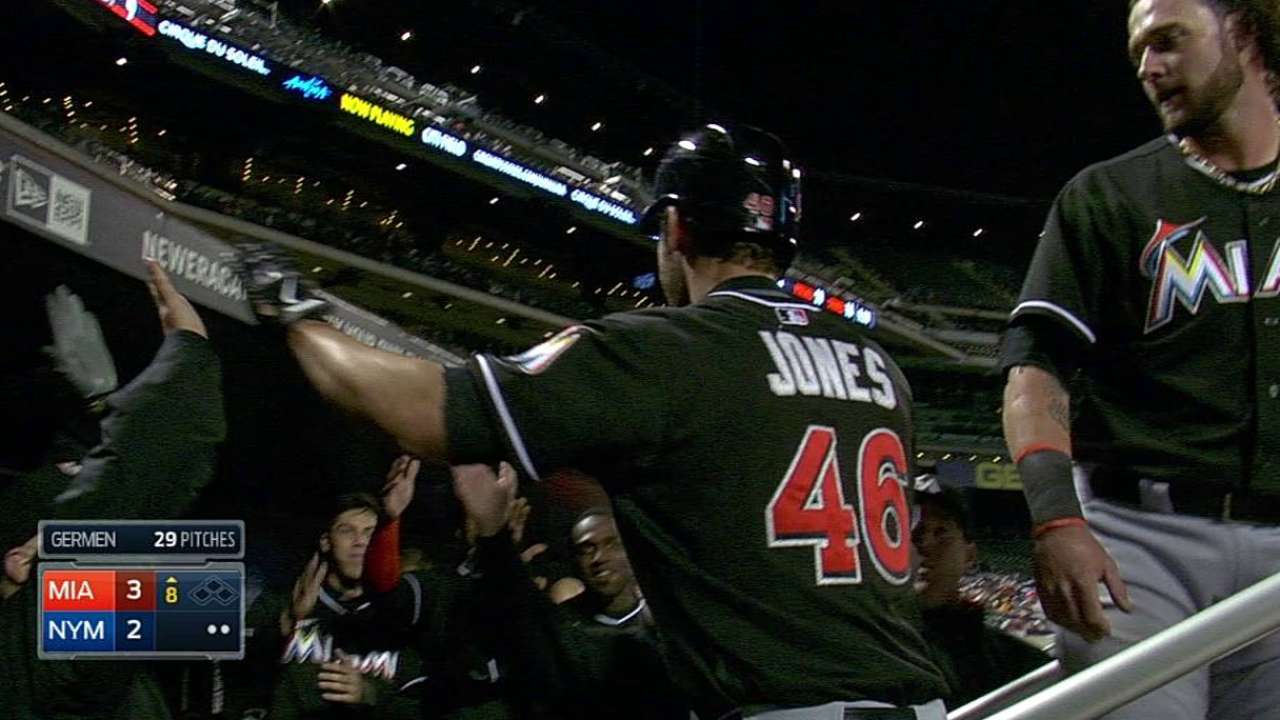 NEW YORK -- Steve Cishek had been pretty much automatic. On Friday night, the Miami closer came up human.
Cishek surrendered three straight two-out hits in the ninth inning, and the Mets celebrated a 4-3 walk-off victory on Curtis Granderson's single to right field.
Miami's sidearm-throwing closer blew his first save chance since June 4, 2013, at Philadelphia, and his team-record string of 33 straight came to an end.
Before the Mets' ninth comeback win, Cishek hadn't allowed a run in seven innings this year, and he yielded just three hits. He gave up four hits on Friday night.
"It's never a good feeling," Cishek said. "You go in there and try to get it done for your team and you let them down."
Losing late has become all too familiar for the Marlins, who have seen opponents walk off twice in four games on the road trip that started in Atlanta on Monday.
But the way the night was shaping up, it looked as if the Marlins would be celebrating because of their late-inning heroics.
In the eighth inning, back-to-back home runs by Jarrod Saltalamacchia and Garrett Jones gave Miami a 3-2 advantage.
"It's tough when we had it lined up exactly how we wanted and Cishek's been so good over a year," Miami manager Mike Redmond said. "We had a couple big hits we needed. We still had opportunities early in the game to add some runs, which we're definitely going to need. It's too bad."
Even the eighth inning, which has been so devastating, went Miami's way. After the home runs, A.J. Ramos worked a clean frame to hand the ball to Cishek in the ninth.
"It's too bad to fight back," Redmond said. "Ramos pitched a nice eighth inning. Like I said, it was set up perfect. It just didn't happen tonight."
But in the ninth, New York responded and handed the Marlins another discouraging loss. Miami is now 1-3 on the road trip, and 1-9 on the road this year.
Left-handed hitters had been 0-for-15 on the season against Cishek before New York had four hits, all from the left side.
Lucas Duda started things off with a bloop single, and after Travis d'Arnaud's sacrifice bunt, the Marlins appeared to have caught a break. Cishek elevated a pitch to pinch-hitter Bobby Abreu, which was lined sharply to left. But Christian Yelich ran the hot liner down for the second out.
"I left it right down the middle, it was flat and he put good wood on it," Cishek said. "After he hit a line drive like that, they smell a little blood."
Omar Quintanilla, with the count full, singled to left. Any chance for a play at the plate was dashed when Yelich lost his footing and had to throw in to second.
"I had to run a decent way for it," Yelich said. "It was kind of a bad angle to throw. I was going to try to throw him out if I had fielded it cleanly. It would have been a tough play either way. Then my feet went out from me. Obviously, when that happens, I've got to throw it to second."
Quintanilla showed good patience, staying away from a close 2-2 pitch that was just outside.
"There is a base open, and I don't have to feed him down the middle," Cishek said. "I'm going for the strikeout right there, just trying to put him away and get this game done. It was a great take; it was a ball."
Kirk Nieuwenhuis doubled, putting runners on second and third for Granderson, who ended it with his single that skipped just under Jones' glove at first for the game-winning hit.
"Off of him, you've just got to see the ball up and shoot something the other way, and that's what I was trying to do there," Nieuwenhuis said. "I was fortunate enough to put a decent swing on it."
Before New York's late heroics, Miami was boosted by Saltalamacchia and Jones going back-to-back off Gonzalez Germen in the eighth inning. It was the first time this year the Marlins hit home runs in succession.
Also in the loss, Yelich had his 17-game hitting streak end after going 0-for-4 with a walk.
In the eighth inning, Germen was breezing along, having retired five straight, including striking out Giancarlo Stanton and Casey McGehee to open the eighth. But Saltalamacchia got Miami back into the game with his home run to left-center with the count full. Actually, Germen felt his 2-2 pitch was strike three, and the right-hander took a couple of steps toward the dugout.
Two pitches later, Saltalamacchia found the seats, tying the score. Jones put Miami in front with his drive that hit the right-field foul pole.
In a no-decision, Henderson Alvarez gave up two runs in six innings.
New York's Zack Wheeler was in line for the win, striking out 10 while allowing one run on four hits in six innings.
"We had several opportunities to add some runs and we didn't do it," Redmond said. "We were waiting for a couple big hits and Salty had a great at-bat, hit it opposite field, and then Jones came back and hit his off the foul pole. I was feeling good, like, 'Hey man, this is going to be a nice momentum turner for us.' But it wasn't meant to be tonight."
Joe Frisaro is a reporter for MLB.com. He writes a blog, called The Fish Pond. Follow him on Twitter @JoeFrisaro. This story was not subject to the approval of Major League Baseball or its clubs.