Kuroda off, and Angels take advantage
Veteran serves up two of Halos' four homers; offense subdued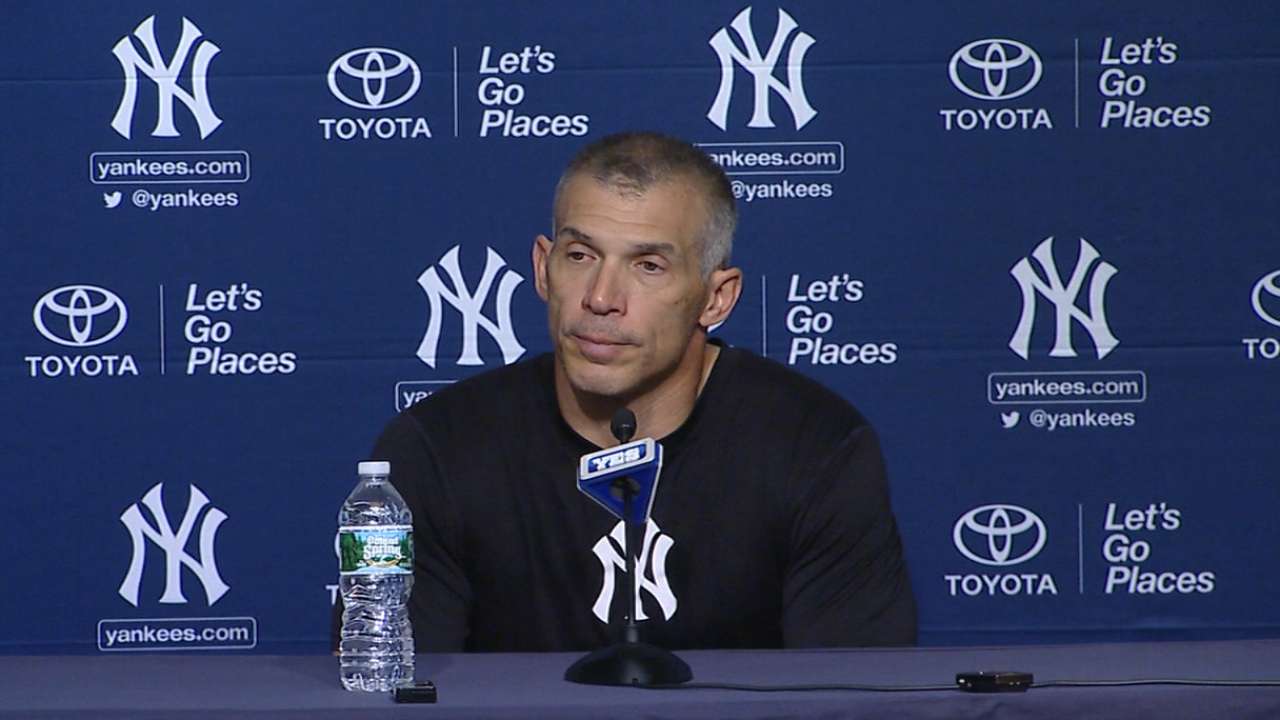 NEW YORK -- Even at his worst, Hiroki Kuroda is very rarely bad.

He was on Friday.

Even at his worst, Kuroda almost always makes it through at the very least five innings.

He didn't on Friday.

A Yankees rotation hit this week by the loss of Ivan Nova to a season-ending right elbow injury and Michael Pineda to a 10-game suspension was hit on Friday night by a rare poor outing by Kuroda, who gave up a career-high eight runs (six earned) in a 13-1 loss to the Angels.

Kuroda allowed home runs to Ian Stewart and Albert Pujols and was unable to finish the fifth for the first time since last May. He lost to the Angels for the first time since June 2011, a span of five starts.

The question the Yankees can ask now is whether this is just an isolated bad start, or whether it's a sign of aging for a 39-year-old right-hander who was good but not great in his first four starts of the season.

"I think he'll figure it out," Yankees manager Joe Girardi said. "It's been a little up and down [so far this season]. Tonight, he could never find it."

Kuroda made light of a question about his age, and about whether making adjustments becomes more difficult.

"This is my first time experiencing 39 years old, so I don't know [if it's more difficult]," Kuroda said, speaking through an interpreter. "I have to make that adjustment."

Kuroda talked about the need to improve his breaking ball but admitted that none of his pitches was as good as he wanted on Friday. And when he thought back on the game, it was an 0-2 sinker to Hank Conger in the second inning that bothered him the most.

"I think looking back, that was the key moment in the game," Kuroda said. "I had him 0-2, I gave him a pitch to hit that went to the wall."

Conger's double gave the Angels their first run but also set up the three-run second. When Stewart hit a two-run home run an inning later, the game was well on the way to being a rout.

It didn't help the Yankees' chances that they were facing C.J. Wilson, who has been particularly tough on them since his free-agent move to the Angels. He's 4-0 in five starts since then, with a 1.65 ERA.

Wilson allowed just four hits in six innings on Friday, with the Yankees' only run coming home on an Alfonso Soriano sacrifice fly after the Angels had taken an 8-0 lead.

"I thought [Wilson] looked like his old self," said Brett Gardner, who had two of the Yankees' four hits against him.

Kuroda most definitely didn't look like his old self. He started off bad and could never fix it, forcing Girardi into a pitching change with two outs in the fifth.

"He just didn't seem to be real sharp," Girardi said. "His stuff seemed a little flat. There are times when he will find his stuff [as the game goes on]. Tonight, he just wasn't able to find it."

Kuroda had never before allowed eight runs in a Major League game, although two of the runs on Friday were unearned because Carlos Beltran dropped a fly ball in the fifth. Kuroda has been particularly tough on the Angels. Before Friday, he had allowed them just 10 earned runs in six starts, and just five earned runs in three starts since coming to the Yankees.

"This guy's always tough on us," Angels manager Mike Scioscia said. "He's got that big, heavy sinker and that little split that goes down. It looks like when he made some mistakes to try to get some balls in to our lefties, he didn't miss 'em. But for the most part, I think he just got behind in some counts and couldn't finish some guys off. We had some good looks on him."

The result was a bad night for the Yankees, the fourth time in 23 games this season they've allowed double-digit runs. The White Sox and Rockies have also had four double-digit games against them; no team in baseball has had more.

Girardi could at least be happy that he didn't run through his whole bullpen, because Bruce Billings was able to pick up for Kuroda and carry the game all the way into the ninth inning. Billings, called up on Thursday from Triple-A Scranton/Wilkes-Barre, is the 18th pitcher the Yankees have used this year (counting infielder Dean Anna, who logged a mop-up inning last weekend against the Rays). The 18 pitchers used is also the most in the Majors.

Another very minor positive for the Yankees: They retired Mike Trout in all four of his plate appearances, ending his 13-game hitting streak against them.

Overall, it was a bad night for the Yankees, and an unusually bad night for Kuroda.

The Yankees will hope that it was nothing more than that.
Danny Knobler is a contributor to MLB.com. This story was not subject to the approval of Major League Baseball or its clubs.