Rule clarification met with enthusiasm
Players, managers laud MLB for resolving interpretation of a catch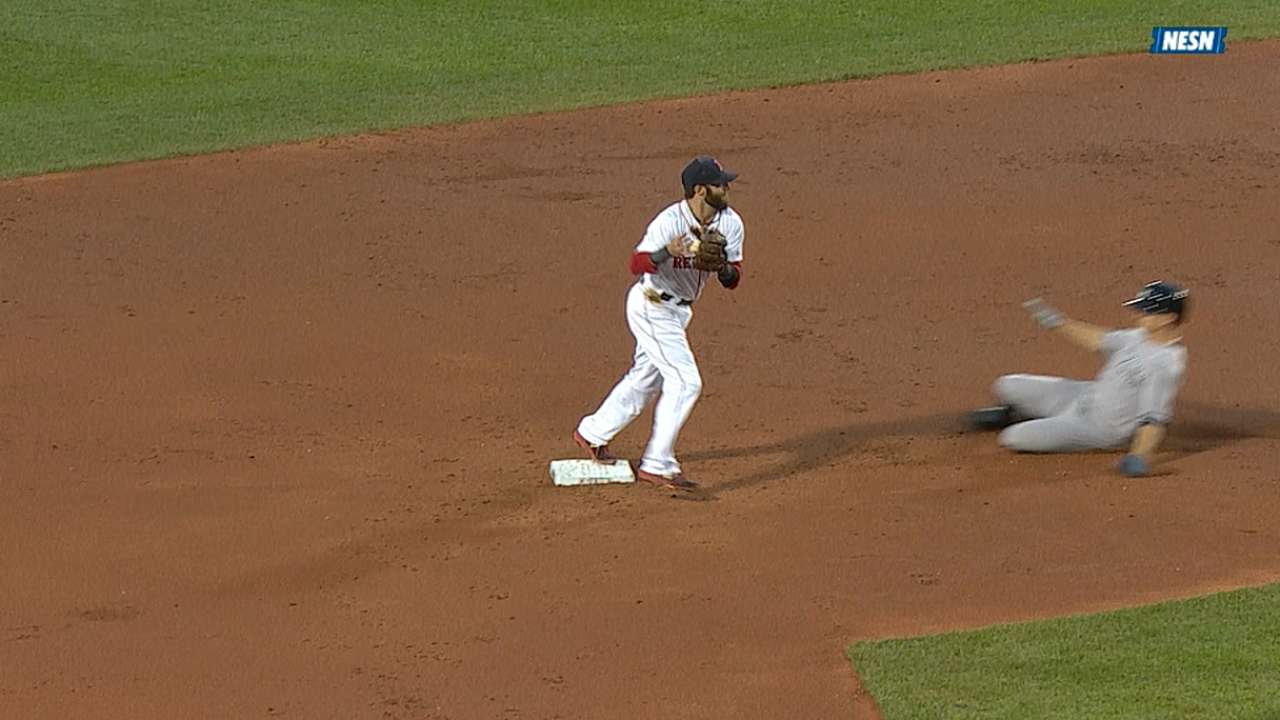 Less than a month into the 2014 season, Major League Baseball showed its ability to adjust on the fly, acting Friday to ensure the transfer rule is interpreted as intended, on the field and in the Replay Command Center.
Umpires and replay officials had been instructed before the season to follow a strict interpretation of the transfer rule, requiring fielders to cleanly remove balls from their gloves before an out was recorded.
But the Playing Rules Committee announced Friday that the interpretation of a catch will allow for outs to be called even if the ball slips out of a fielder's throwing hand while removing it from his glove. The change was made effective for that evening's games.
"We've had an outcry," Joe Torre, MLB's executive vice president of baseball operations, said on MLB Network. "Clubs and players have been upset because of the calls umpires have made. … We listened to the clubs. We listened to the players. We're just going to change the interpretation of the same rule."
Pursuant to Rule 2.00, the Playing Rules Committee said calls will be made using this interpretation of a legal catch: One has occurred if the fielder had complete control over the ball in his glove, but drops the ball after intentionally opening his glove to make the transfer to his throwing hand.
Also, the committee said there is no requirement that the fielder successfully remove the ball from his glove in order for it to be ruled a catch. Umpires are to use their their judgment as to whether the fielder had complete control with his glove.
The situation had confused even some of the most experienced players.
"It made it very uncomfortable to try to turn a double play," said Derek Jeter, who has been a part of 1,372 of them in his career. "I'm happy. That was a tough one to enforce. ... It sounds funny, but literally it was catch it, hold it, make sure you don't drop it [and then throw]. It appeared a lot of people were taking it step by step."
Torre said he has been "very shocked" by how often the transfer issue has arisen this month, often requiring long reviews.
"It's the interpretation of the rule, and when the rule was written, replay wasn't in effect," Torre said. "The rule wasn't made with replay in mind. What we're trying to do is change the interpretation so it fits in with replay. So back at BAM, when the replay umpires are looking at it they have probably a little different thing to look at, it's a little freer call."
The change in the rule's interpretation drew a very positive response across the board.
"Common sense has come into play," Twins manager Ron Gardenhire said. "If a guy makes a catch and then runs 15 yards and drops the ball on the exchange, it doesn't mean he didn't catch it. I talked to several umpires who said they hoped they'd change that rule."
Rays manager Joe Maddon compared the changing of the rule in midseason to a change in baseball's balk rule in 1988. But that change, which led to balks increasing from 356 in '87 to 924 in '88, wasn't made until the season was over.
"It's not that different than the balk rule, when that went spiraling out of control," Maddon said. "I think when you look at it, you look at how the game is actually played, there has to be some kind of a fusion between how it's written and the actual performance on the field, what's been going on for the last 150 years. I think probably what occurred is to rewrite it more consistent to how the game is actually played. That's a good thing."
Nationals first baseman Adam LaRoche said players had heard the situation might be studied as long as until the All-Star break before a change was made.
"It's about time," he said. "I think they found out very quickly that it was going to cause a lot more problems than anything else."
Angels second baseman Howie Kendrick was ecstatic.
"I feel like they got it right," he said. "When the masses speak up, I think it's pretty cool that they step up and get it done and get the rule changed."
The Angels lost an out on an April 8 replay in Seattle after left fielder Josh Hamilton dropped a ball following a caught pop fly when he pulled the ball out to throw it back into the infield, so the adjustment was welcomed by manager Mike Scioscia.
"I think it's a great that it was adjusted," said Scioscia. "It was looked at in Spring Training, but I think it was obvious to everyone on the field that it needed to be adjusted. I think Major League Baseball, when they got enough feedback and reviewed it -- it's been a month now into the season -- they have enough feedback to make the change. It'll be very welcomed by the players, I know that."
White Sox general manager Rick Hahn agreed.
"From a macro standpoint, it's an important thing because Major League Baseball has stayed true to their word. If there are problems with the replay system, they're going to try to fix them, as opposed to waiting or burying their heads in the sand," Hahn said. "I think they should be commended for acting proactively on this and getting back to probably a more logical interpretation of the rule."
Games have turned on calls made involving the transfer rule. A call went against Orioles shortstop Ryan Flaherty against Boston on Sunday, but manager Buck Showalter said he's not going to be upset about water under the bridge.
"Refresh my memory, didn't we benefit from that call, too?" Showalter said. "I'm not going to dwell on it. Ryan and our infielders knew what was going to be called. Whether it was fair or not fair ... it's not like we weren't forewarned and we talked to our guys in the spring about it."
The Rangers have had two plays go against them, on April 7 against the Red Sox and April 14 against the Mariners. Ron Washington was ejected after the second game, and was thrilled to see a new interpretation of the rule.
"It's what it should have always been," Washington said. "I said Major League Baseball would get it right, and they did. Everything wrong with the review they are going to get it right, because everybody wants to get it right. Other things, they'll get it right, too."
The Marlins benefited from the stricter interpretation of the transfer rule twice in the past week. Timing is everything, right?
"I'm glad it's [being changed] this week and not last week," Miami manager Mike Redmond said. "I think those plays for the Fish might have set them over the edge."
Maddon sees baseball going through growing pains as it gets used to replay. He believes the game will be better in the end.
"Their whole point has been to get it right," Maddon said. "I think that's the overarching purpose of replay -- just to get it right. So if you're going to attempt to get it right through video then why not the actual interpretation also? I think it's consistent. I don't think there's any inconsistency with this. I commend what they did. I think we're going to see it continue to evolve, and in a couple of years it's going to be pretty firm. The loopholes in there, the points of contention, they're going to go away. In the meantime, be a little bit patient while we're working through this. I'm good with that."
There will still be arguments on the call, said Cardinals manager Mike Matheny, because control of the baseball has always been difficult to pin down.
"It's always been one of those hazy [rules]," Matheny said. "Now, the deliberate movement, the intentional movement, is the opening of the glove. They were really putting a lot of pressure on the umpires. There were a few times we had a throw across the field, the first baseman catches it, and he's four steps into the dugout before he finally goes in and grabs the ball and then the umpire raises his hand. They were doing their job, but it was a tough interpretation of the rule. Now, there's probably going to be some hazy situations, but I think it's a little more like what we were accustomed to."
All plays are reviewed by umpires rotating through MLB.com headquarters in New York. The replay official has access to the best technology available, including high definition, slow motion, zoom and multiple angles.
Maddon believes it has been harder for players to perform this season because of the addition of replay and changes to rules involving home-plate collisions and control of the ball. He said he advised the Rays to play the game the way they always have.
"I've told our players all along to play like it's 1999," he said. "I don't want them to change anything, whether it's this or plays at plate, just go play the game and let us -- or me -- be concerned about the replay component, let the umpires make their judgments based on the new set of rules or interpretations of some things. I really don't want our players to get caught up in the minutia, the semantical versions of all this stuff."
Oakland third baseman Josh Donaldson agreed that players can get overloaded.
"It makes it tough for base runners and for fielders," Donaldson said. "When you've been doing something for so long, that doesn't just go away. We haven't had that many problems with it, but that being said, I'm glad they were able to make it right, because if it's in your glove, it's in your glove. I feel like it's common sense."
Phil Rogers is a columnist for MLB.com. This story was not subject to the approval of Major League Baseball or its clubs.