Mariners rally, then hold on to win second straight
Smoak's two-run double against his former team turns game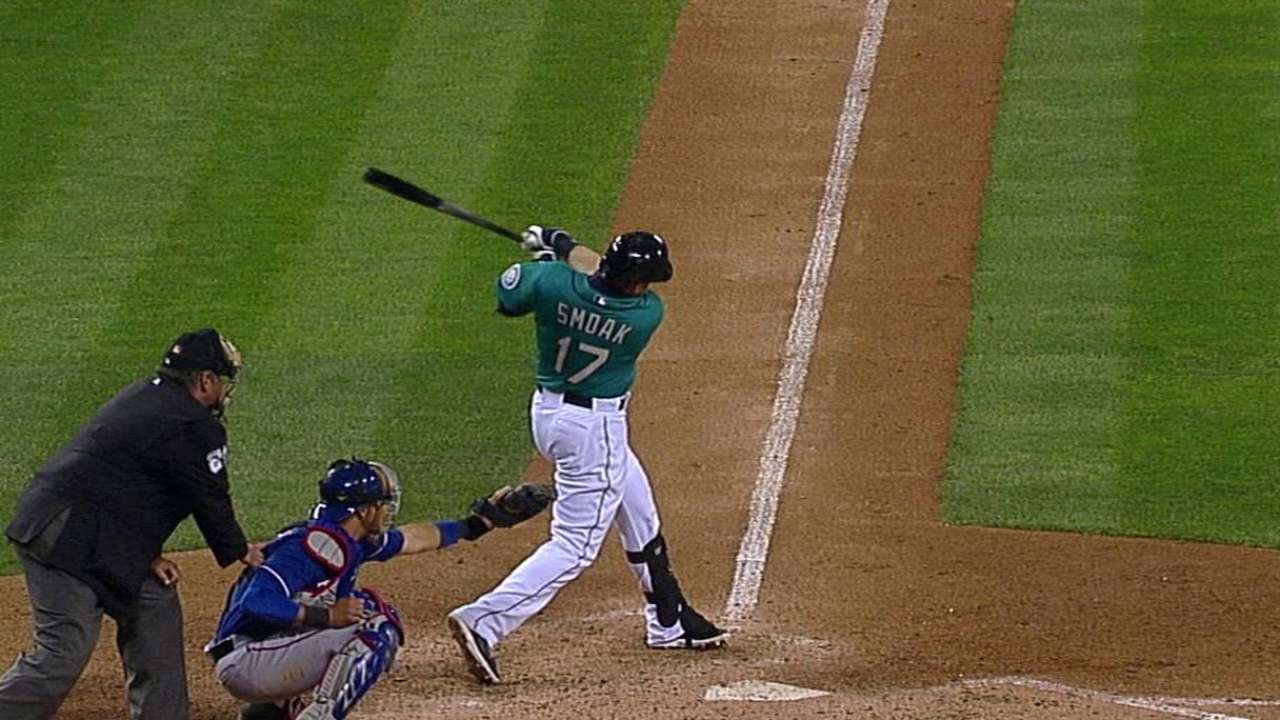 SEATTLE -- First baseman Justin Smoak came through with his glove and his bat Friday, lacing a go-ahead two-run double in the bottom of the eighth and then making a sparkling diving catch to turn a game-ended double play in the ninth as Seattle topped Texas, 6-5, at Safeco Field.
Smoak's offensive heroics capped a four-run rally in the eighth, but all that appeared for naught when closer Fernando Rodney walked in two runs with the bases loaded and one out in the ninth.
Adrian Beltre then smoked a line drive down the first-base line, but Smoak snared it with a full-out dive and then got to his feet and stepped on the bag to double off Elvis Andrus for a stunning conclusion.
"That's why we play nine guys in the field," said Rodney, who felt he was overthrowing after not getting much work recently as he recorded his fourth save.
Smoak said he saw the line drive off Beltre's bat, then just reacted the best he could. The result was a perfect ending for the Mariners' first baseman, who had bobbled a throw in the dirt earlier in the inning that spoiled a potential double play.
"I saw it, but when I dove I was just doing whatever I could to try to catch it and put a glove on it," he said. "It just happened to go in and I knew we had a double play once I caught it."
The crazy finish gave Seattle its second straight win after snapping an eight-game losing skid Wednesday. The Mariners had been outscored 18-0 in the eighth inning this year until Friday's outburst in front of 31,145 fans at Safeco.
"This was one of those wacky games tonight," said Seattle skipper Lloyd McClendon. "I saw a lot of things I hadn't seen in a long time. But in the end, the good guys came out on top."
Only after Rodney walked the tightrope, however, by giving up two singles, hitting a batter and then walking in two runs to cut the margin to one with the dangerous Beltre stepping to the plate.
Beltre, who doubled in a run earlier in the game, torched a 97-mph fastball down the line for what would have been at least a go-ahead two-run hit if not for Smoak's stop.
"It's just tough to swallow," Beltre said. "Everybody had a great at-bat trying to battle back. I was just looking for a pitch high over the plate so I could drive it to the outfield. I put a good swing on it, and Smoak made a heck of a play that saved the game. What else can you say?"
Smoak's own two-run, bases-loaded double highlighted the eighth-inning comeback, with Kyle Seager adding an RBI single before Seattle tacked on what turned out to be a huge insurance run when Smoak scored on a wild pitch to make it 6-3.
Trailing 3-2 going into that eighth, Robinson Cano led off with a single and Corey Hart was hit by a pitch, the fourth Mariner to get plunked on the night by Rangers pitchers.
Stefen Romero then dropped down a perfect bunt that turned into a base hit when Beltre couldn't get off a throw as the ball died in the grass, setting up Smoak's bases-loaded double for the go-ahead runs.
Smoak increased his team-leading RBI total to 14 with his fifth double of the season.
"He's really working with [hitting coach Howard Johnson] trying to clean his path up, trying to get better," McClendon said. "It's a work in progress, but he certainly came up with a big double tonight."
Then it was up to Rodney to slam the door and he did, but only after putting everyone in the stadium at the edge of their seats, including McClendon.
"That's Fernando," said McClendon, who worked with Rodney in Detroit earlier in his career. "Most of the time he's going to have me on the top step, but in the end he gets it done. This probably was not all his doing. We could have made it a lot easier for him if we'd turned the [earlier] double play."
Reliever Yoervis Medina earned the win, pitching a scoreless eighth after rookie southpaw Roenis Elias gave up three runs on five hits over 5 2/3 innings.
Cano went 2-for-4 with a double and two RBIs for the Mariners, who improved to 9-13 with the series-opening win. Seattle is 2-3 on the season against Texas, which fell a game back of Oakland in the American League West at 14-9.
Cano was happy to see Smoak come through as he knows it's going to take contributions up and down the lineup to get the Mariners' offense going.
"It's important for the whole team," said Cano. "That's how we win. This is not about one or two guys, it's about the whole team. Coming through in that situation is good for him. We've been struggling with runners in scoring position. Those are the kind of things that get you excited and clear your head. These guys are young. I'm happy he got a hit in that situation and came through."
Greg Johns is a reporter for MLB.com. Follow him on Twitter @GregJohnsMLB as well as his Mariners Musings blog. This story was not subject to the approval of Major League Baseball or its clubs.