Carrasco struggles and Tribe can't piece together rally
Righty goes season-high six innings, but can't quiet Giants' bats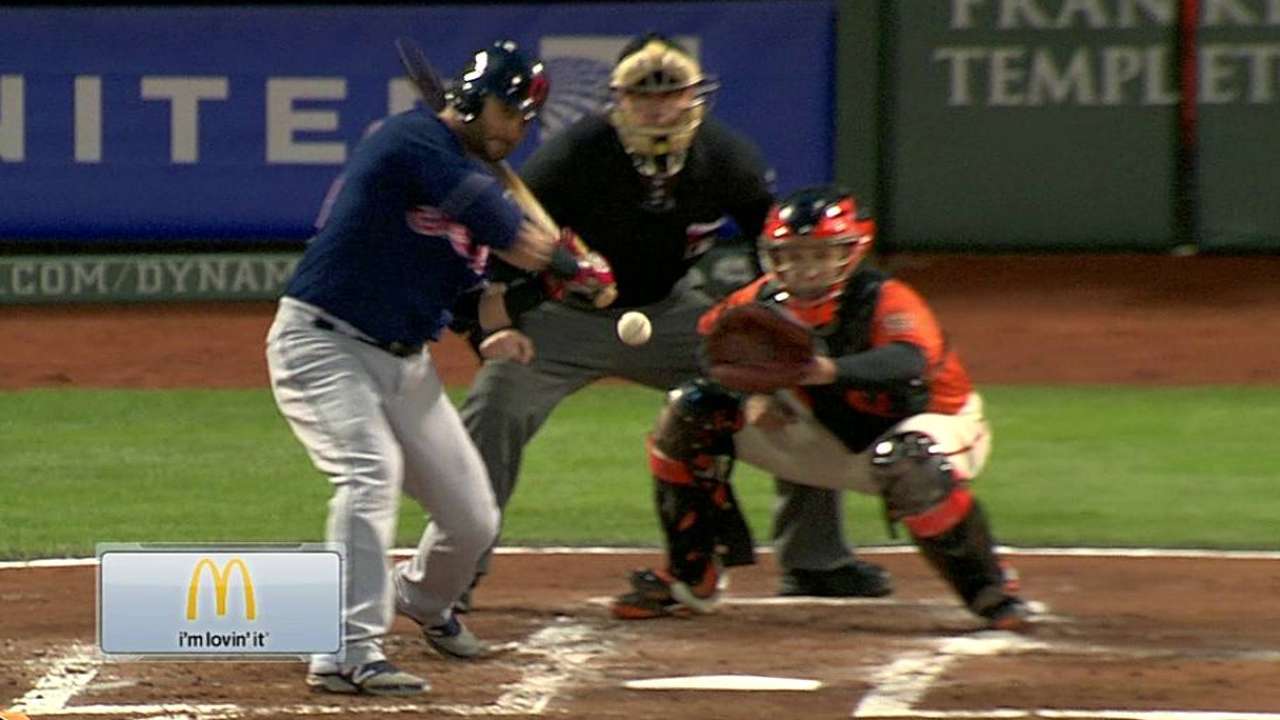 SAN FRANCISCO -- The Indians have been searching for signs of improvement from right-hander Carlos Carrasco. There were a few to be found Friday night, but the starter still struggled in spots and the end result remained the same.
Another chance for Carrasco, another loss for the Tribe.
Complicating matters for Cleveland in its 5-1 loss to the Giants was the fact that veteran Tim Hudson -- an offseason target for the Tribe -- spun a gem and quieted the Indians' offense in the opener of this three-game Interleague set at AT&T Park. Hudson's success only magnified the mistakes made by Carrasco.
Carrasco admitted to worrying about his job security.
"Yes, every day," Carrasco said. "I pitch every five days. I worry every single day."
Carrasco won the final spot in the Tribe's rotation during Spring Training, though his being out of Minor League options certainly played a role. That said, the Indians have been intrigued by Carrasco's promise for years and the club believes the big right-hander has what it takes to take flight given the opportunity.
Through four turns in the rotation (Cleveland skipped him once earlier this month), Carrasco has gone 0-3 with a 6.95 ERA. Progress came Friday in the fact that the righty logged a season-high six innings and registered 63 strikes within his 100 pitches. San Francisco still managed to plate four runs off Carrasco, who struck out six and walked one.
"I thought his fastball command was kind of what plagued him a little bit tonight right from the get-go," Indians manager Terry Francona said. "That's one thing he usually kind of does have, and he was scattering some fastballs. That's what got him into a little bit of trouble."
All winter long and throughout Spring Training, a focus for Carrasco was raising his lead (left) arm to create more deception in his delivery. Following another round of poor results Friday, the starter said pitching that way was hurting his velocity. Carrasco said when he dropped his lead arm some, his pitch speed picked up.
Carrasco sounded puzzled over that aspect of his mechanics.
"I feel different when I start doing my leadoff arm down a little bit," he said. "I feel different when I go up. Up, I'm [throwing] 90-92 [mph]. When down, I just went 94-96. That's how I feel. I feel more strong when I do that."
Carrasco last won a start for the Indians on June 29, 2011. The right-hander missed all of 2012 due to Tommy John surgery on his right elbow, but the fact remains that he has gone 0-12 with an 8.09 ERA in 17 starts for Cleveland since that last victory. That does not include Carrasco's impressive stint as a reliever (1.32 ERA in eight games) last year.
The Giants broke through at the outset against Carrasco, who gave up a leadoff single to Angel Pagan and a run-scoring triple to Hunter Pence to open the first inning. Michael Morse used a sacrifice fly to right field to bring Pence home, putting the Indians in a quick, 2-0, hole.
"He started out the game with two solid hits," Francona said. "So he's pitching out of the stretch probably three pitches into the game."
Cleveland (11-12) countered in the third inning, when Michael Bourn pulled a pitch from Hudson to deep right field, where it caromed off the brick wall to pave the way for a one-out triple. Nick Swisher followed by slashing a pitch into left field for a run-scoring single.
With San Francisco holding a 2-1 lead, Carrasco gave up a leadoff single to Pagan in the third inning. San Francisco's center fielder promptly stole second base and then scored on a base hit to right field off the bat of Pence again. One inning later, Morse crushed an 0-2 offering from Carrasco to deep center for a towering home run that pushed the Indians behind, 4-1.
"I wasn't trying to be 'big,'" Morse said. "I was trying to stay small and use the whole field and see something to hit. I got a good pitch and put a good swing on it."
San Francisco tacked on a run against the Tribe's bullpen in the seventh.
The 38-year-old Hudson used that margin to his advantage.
Over the offseason, Francona tried to persuade Hudson to come to Cleveland as a free agent. The right-hander instead chose to sign a two-year, $23-million contract with the Giants, and he made the Indians pay Friday night.
"Unfortunately, [he was] good," Francona said. "It's kind of what we've seen for a long time. Down in the zone with really good movement. Some of the pitches, you almost expect maybe a split and you look up, and it's 88 [mph]. He just has that much movement on his fastball. He knows how to pitch."
Across seven innings, Hudson limited the Indians to the lone run on four scattered hits, ending with five strikeouts and two walks. The right-hander set a Giants franchise record (since 1900) by opening the year with 30 walk-free innings, but he issued two on the night to Carlos Santana. In a defeat for the Tribe, that statistical footnote was hardly cause for celebration.
Overall, the Indians ended the evening 1-for-9 with runners in scoring position, stranding nine men along the way.
"I feel that's been our crutch as of late," Swisher said. "We need to break out of that."
Those woes certainly did Carrasco no favors on another off night.
Carrasco said he is trying not to put too much pressure on himself.
"I don't feel I am," said the pitcher. "I think I [felt that way] in the beginning. Now I just work hard."
Jordan Bastian is a reporter for MLB.com. Read his blog, Major League Bastian, and follow him on Twitter @MLBastian. This story was not subject to the approval of Major League Baseball or its clubs.