Giants open Interleague series on a positive note
Morse's homer, two RBIs lead lively offense to back Hudson's gem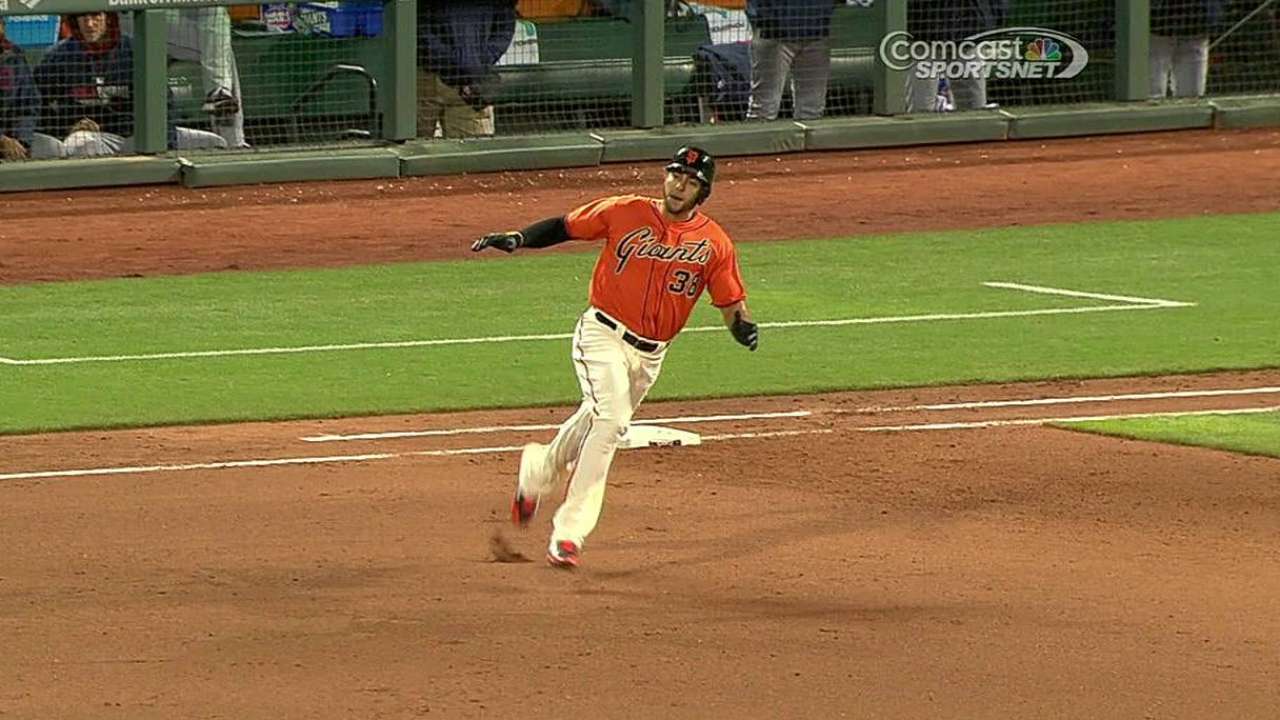 SAN FRANCISCO -- The Giants gave their zealots plenty to admire in Friday night's 5-1 Interleague victory over the Indians. But, like the rainbow that appeared beyond left field early in the game, one aspect of the evening loomed over all the rest.
Tim Hudson remained exceedingly reliable by pitching seven solid innings, though he finally proved fallible by issuing a pair of walks. Angel Pagan and Hunter Pence, the top two hitters in San Francisco's order, combined to produce three runs in the first two innings. Pablo Sandoval interrupted a 2-for-22 skid with a seventh-inning triple.
Yet Michael Morse's power eclipsed everything else, just for its sheer impressiveness.
Morse unleashed a fourth-inning leadoff homer off Cleveland starter Carlos Carrasco that resembled the drives struck by the handful of LPGA players on hand as special guests. It traveled neither on a parabola nor on a line. It simply soared steadily before landing in the right-center field stands more than 400 feet away from home plate, an area of AT&T Park rarely reached by right-handed batters.
One press-box observer compared the force of Morse to that of Mike Piazza, renowned among right-handed batters for his opposite-field prowess. Candlestick Park veterans doubtlessly recalled Atlanta's Dale Murphy and his ability to guide pitches to right-center field. "Being compared to anybody is cool," said a beaming Morse.
Morse may defy further comparisons if he comes anywhere close to maintaining his current rate. He has homered in three of his last six games, boosting his total to six. He contributed a first-inning sacrifice fly that helped hike his RBI total to a team-high 17.
The Giants led, 3-1, when Morse went deep, so he helped settle the outcome. After watching his club finish next-to-last in the National League with 107 homers last season, manager Bruce Bochy welcomes Morse's presence.
"I guess that's why he has the nickname 'The Beast,'" Bochy said. "No ballpark can hold him. ... When he squares up on it, if it's in the air, he's going to hit it out anywhere."
Morse happened to connect with an 0-2 pitch from Carrasco (0-3), who's 0-12 with an 8.12 ERA in 17 starts since he last won on June 29, 2011. Just think what Morse might have done if he hadn't been protecting the plate.
"I wasn't trying to be 'big,' " Morse said. "I was trying to stay small and use the whole field and see something to hit. I got a good pitch and put a good swing on it.
"One thing Barry [Bonds] told me in Spring Training was, try to go up there and get your hits. Home runs are a product of a good swing."
Given AT&T Park's dimensions, Morse didn't assume that he cleared the wall.
"When I hit it, I ran," he said. "You really don't know here. My first at-bat, I hit the ball pretty good to right. And it didn't even reach the warning track."
Cleveland's hitters couldn't make such solid contact against Hudson (3-1), who surrendered four hits. His seven-inning effort marked the fifth consecutive start in which he lasted at least that long. Hudson became the first Giants starter to work at least seven innings in each of his first five outings since Livan Hernandez built a six-game streak in 2002.
"He kept the ball down. He really located," said Cleveland first baseman Nick Swisher, whose third-inning single drove in Cleveland's lone run. "He used his changeup, sinker and a little breaking ball effectively tonight. He's a veteran guy. So if you go out there a little too geeked up, he knows exactly what he's doing."
Said Hudson, "Luckily for me I've been able to locate and stay down in the zone. Guys have made some really good plays behind me and as a result I've been able to get some pretty quick outs so far this year." One of the best plays behind Hudson was recorded by first baseman Brandon Belt, who darted to his right and snared Asdrubal Cabrera's sixth-inning line drive with two on and two outs.
Hudson's franchise-record, season-opening streak of innings without a walk ended at 30 2/3 when he issued a free pass to Carlos Santana with two outs in the first inning.
"It was a nice streak to start the year, but obviously it was something that was not going to continue all year," said Hudson, who faced 115 batters before throwing ball four.
Chris Haft is a reporter for MLB.com. Read his blog, Haft-Baked Ideas, and follow him on Twitter at @sfgiantsbeat. This story was not subject to the approval of Major League Baseball or its clubs.