D-backs survive late scare, win third straight
Collmenter tosses six scoreless; Hill drives in three runs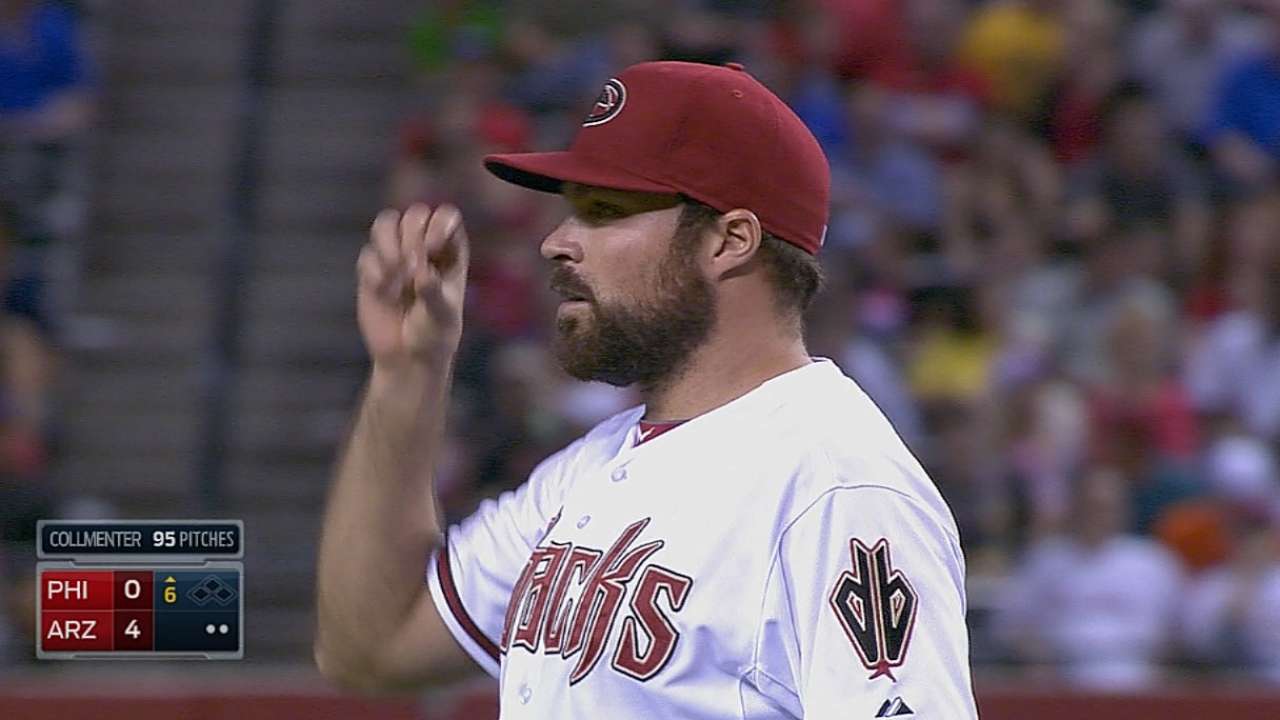 PHOENIX -- It's never easy this season for the D-backs.
"It's not supposed to be," manager Kirk Gibson said after his club held on for dear life to beat the Phillies, 5-4, at Chase Field on Friday night, earning their third win in a row.
This one ended with the tying run on second and the lead run on first after Gibson opted to have closer Addison Reed intentionally walk Chase Utley to face John Mayberry Jr. Mayberry had previously pinch-run for Ryan Howard, who would have been up in that spot.
It was unorthodox to say the least.
"What would you have done?" Gibson said more than rhetorically.
Mayberry struck out looking to end the game, so no one was going to second guess Gibson for something that went right.
"Honestly, you don't want to put the go-ahead run on base ever," Gibson said. "I just liked that matchup better and you just have to go for it."
Like most things in this now 8-18 D-backs season, they never should have been in that predicament.
The D-backs nearly wasted one of their best starting performances of the year from Josh Collmenter, who gave them six innings of four-hit scoreless ball. Second baseman Aaron Hill knocked in three runs with a double and two-run homer to give them a 4-0 lead heading into the seventh.
And after the bullpen and a two-run error by shortstop Cliff Pennington gave almost all of that advantage back, A.J. Pollock added an insurance shot in the eighth that proved to be crucial. With all that, the D-backs won at home for only the second time this season and first since a 5-4 win over the Giants on April 1 -- the second game of the season at Chase Field. They had lost eight home games in a row.
Collmenter tossed the D-backs' most efficient start of the season, walking none, striking out five and holding the Phillies to four scant singles. The team that came into the game having won three out of four over the Dodgers in Los Angeles, never had more than one base runner on in an inning against the right-hander, who was placed in the rotation when it imploded in the opening weeks of the season.
Coming into the game, the D-backs' starters had a collective 4-16 record, 6.78 ERA and had allowed 23 homers. The losses, ERA and homers were all good for the worst marks by any of the staffs in Major League Baseball.
Are things slowly starting to turn around?
"You hope so," Collmenter said. "Everyone's spirit in here was good whether they might have been pressing or trying too hard. At that point everyone wants to be the guy to get the big hit or have a big outing or strike out the side. Everybody wants to be that guy."
On Friday night, Collmenter was that guy, making only the D-backs' fifth quality start of the still young season. He left after throwing 98 pitches, Gibson saying he had no intention of bringing Collmenter back for the seventh inning when things irrevocably began falling apart.
It was in that inning that Pennington booted pinch-hitter Tony Gwynn Jr.'s grounder up the middle for a critical error, allowing two runs to score.
"That ball just seemed to eat him up," Gibson said.
In the eighth, umpires made D-backs reliever Oliver Perez take off his long sleeved undershirt because of a tear in it and the length of one of the sleeves after Phillies manager Ryne Sandberg complained. Howard then singled off Perez with one out and that's when Sandberg replaced the first baseman with Mayberry on the base paths. Marlon Byrd followed with a single that left-fielder Tony Campana fielded toward the corner.
"For me, that's a first-to-third play, and it might have even been a double for Byrd, really," Sandberg said. "With [Campana's] arm strength and being up on the warning track, we have a pinch runner in there to go first to third."
But Mayberry stopped at second and Brad Ziegler got a pair of grounders to first baseman Paul Goldschmidt and pitched out of the inning.
In the ninth, it all came around again and it was Mayberry looking at a pitch right over the plate from Reed, and the D-backs had a rare important home win.
"They're all important," Gibson said. "We haven't played well. We know we're capable of playing better. We all expected better so it's good to have a little streak going right now."
Barry M. Bloom is a national reporter for MLB.com and writes an MLBlog, Boomskie on Baseball. Follow @boomskie on Twitter. This story was not subject to the approval of Major League Baseball or its clubs.