O's lose Davis as offense stays quiet vs. Royals
Left oblique strain forces Crush to exit; Jimenez allows four runs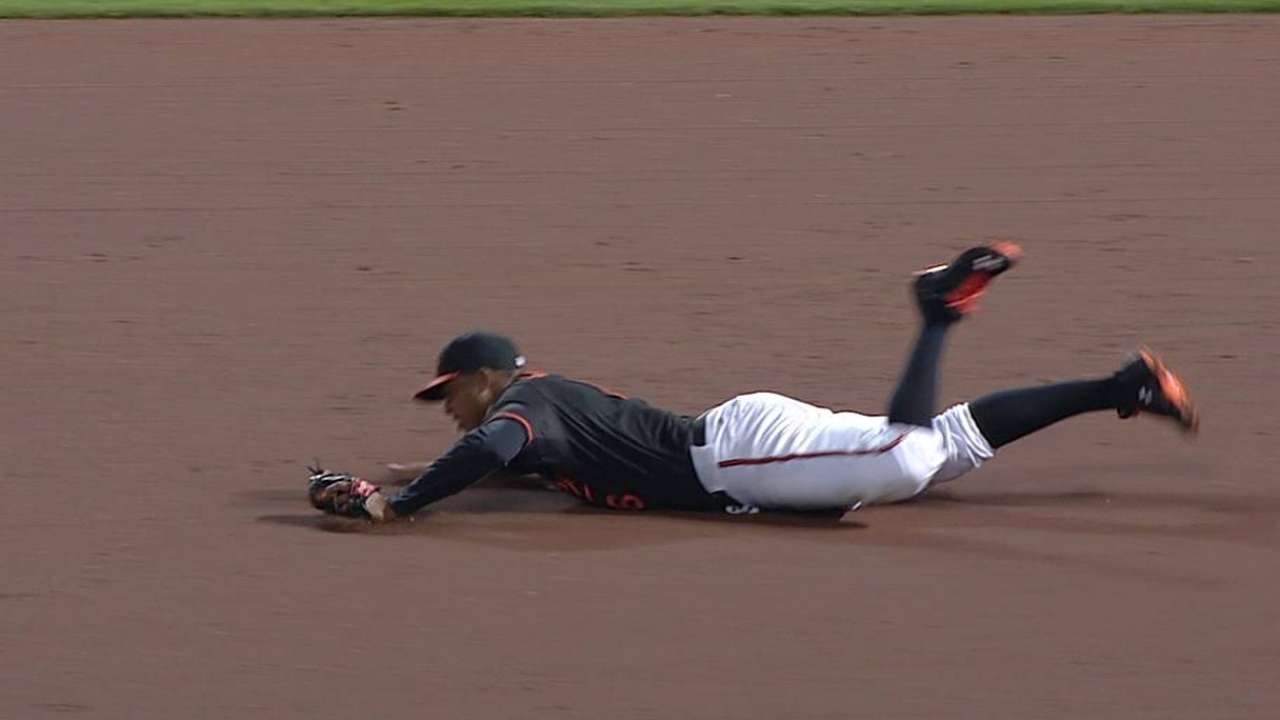 BALTIMORE -- About an hour down the road in Frederick, Orioles fans flocked to Harry Grove Stadium for third baseman Manny Machado's much anticipated rehab assignment debut. But on a night when the O's took a step forward in gaining one All-Star infielder, they lost another.
First baseman Chris Davis exited Friday's game after four innings with a left oblique strain, somber news in a cold rain-delayed contest in which Orioles righty Ubaldo Jimenez -- the team's biggest offseason acquisition -- again came up short of a quality start in Baltimore's 5-0 loss to Kansas City.
Jimenez (0-4) tied a season-high with six-plus innings and allowed four runs in what was one of his better starts this year. But the 106-pitch contest, in which Jimenez walked four and allowed six hits, is still a ways away from the performance the Orioles had hoped for when they signed him to a four-year, $50 million deal this winter.
"I'm trying to do everything possible to be there for the team. I know things have to change," Jimenez said of his 6.59 ERA through five games. "And I'm really happy that April, this is my last start in April. Hopefully [I'll] get it going in May. It seems like every time I go out there, I find a way to lose the game."
Jimenez, who has historically been a slow starter, wasn't helped by the Orioles' high-powered offense -which had posted back to back games with at least 10 runs. Royals righty Yordano Ventura fired eight scoreless innings with eight strikeouts to lower his ERA to an impressive 1.80.
"I've been throwing a lot of strikes," Ventura said. "And my offspeed pitches have been good, and my throwing on the inside and outside corners has been very good, so that gives me a lot of confidence."
Jimenez got into some early trouble in a 29-pitch first inning that put the Orioles in an immediate two-run deficit. After a one-out walk to Omar Infante, Eric Hosmer singled, and Billy Butler and Alex Gordon followed with RBI base hits that prompted pitching coach Dave Wallace to come out to talk to Jimenez. It worked, as the O's righty, following a second-inning single to Escobar, kept the Royals hitless again until the seventh.
After a leadoff walk, Jimenez surrendered a pair of hits, the latter an RBI single from Nori Aoki to chase him from the game.
"What gets magnified is the fact that their guy pitched real, real well," manager Buck Showalter said. "If he comes out and we win that game, 4-3, or whatever ... it's hard for me to fault [Jimenez]. He just ran into a night where the other pitcher was a little better.
"[Ventura] didn't catch anyone by surprise. We knew what we were up against tonight with him, especially with the weather he was pitching in."
The Orioles never really got anything going off Ventura, with one of their best chances coming with a pair of singles from J.J. Hardy and Matt Wieters in the bottom of the second. But the power righty -- who paired an upper-90s fastball with a devastating changeup -- got a pair of strikeouts from Ryan Flaherty and David Lough, with Jonathan Schoop's groundout in between.
The O's lineup took a turn for the worse after Davis exited, as the O's No. 3 hitter was grimacing following a third-inning lineout, and he came out of the game prior to the fifth. Davis had a career-high 20-game streak of getting on base entering the game.
"We'll know more about it tomorrow," said Davis, who was in good spirits despite the injury. "I've never had an oblique strain or whatever you want to call it, but it doesn't feel so bad right now that I can't move or anything like that, so I think right now we'll just take it one day at a time."
Davis was replaced at first by Flaherty. Schoop shifted from second to third base and Steve Lombardozzi entered the game at second. The O's, who designated Steve Pearce for assignment on Tuesday, have no clear-cut backup for Davis, who has two homers and 13 RBIs.
"CD is a big, big part of our lineup and part of our plan," center fielder Adam Jones said. "Whatever it is, you just want him to take his time and not rush it, because it could be longer.
"A big, strong guy like that, I think he wants to rush back. But something like that, it's early in the season, make sure you're 100 percent before you come back on the field."
Davis and Showalter were hopeful the team caught the injury early and that it wouldn't be something that would linger. The O's first baseman isn't sure what exactly caused the injury, although swinging off Ventura didn't feel good.
"I dove a couple times in Boston for a foul ball, dove in Toronto on a turf. There's plays here and there you feel a little beat up and battered," Davis said. "But there's no one specific play or swing or anything like that that I can remember. Just discomfort the past few days."
Was it concerning to Showalter to see one of his star players exit like that?
"They all do [concern you], but until we can judge what stage it is, it's a little premature, because he's a well-conditioned strong guy," Showalter said. "He's a tough guy. He plays through a lot of things. You take the proper precautions and see where you are in the next couple of days. He's worth waiting on."
Brittany Ghiroli is a reporter for MLB.com. Read her blog, Britt's Bird Watch, and follow her on Facebook and Twitter @britt_ghiroli. This story was not subject to the approval of Major League Baseball or its clubs.