Ventura shuts down O's in dominant performance
Rookie flamethrower strikes out eight in eight scoreless innings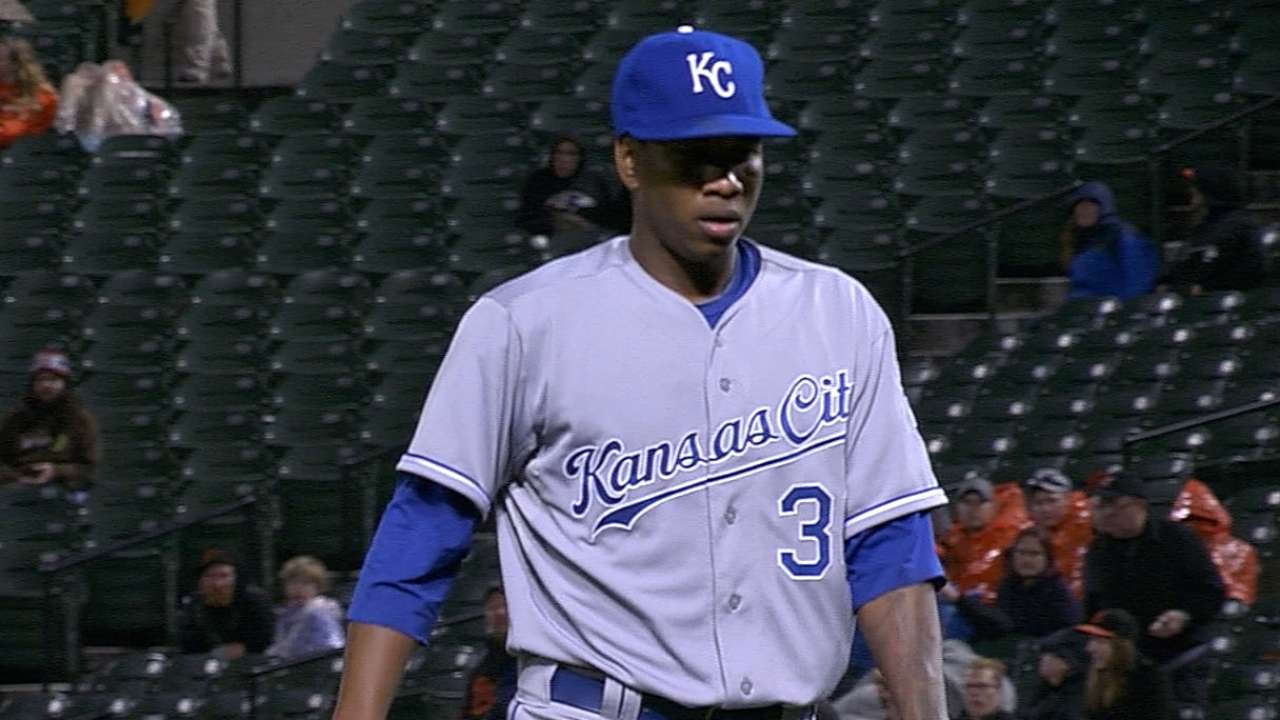 BALTIMORE -- Neither rain, nor cold, nor the Baltimore Orioles could keep Yordano Ventura from an appointment with victory on Friday night.
Delayed by rain for 55 minutes on a chilly, 52-degree evening, Ventura pitched eight shutout innings for his second win, 5-0, in the series opener at Camden Yards. It was a good preview of what the Royals expect from this hard-throwing, 22-year-old right-hander.
"That's as good as I've seen him. He had everything going tonight. Good fastball. His curveball was probably the most consistent that he's had all year and a great changeup," manager Ned Yost said.
With the luxury of a 4-0 lead, Yost sent the kid out for the eighth inning, and he finished with a career-high 113 pitches. Closer Greg Holland, who hadn't pitched since last Saturday, came and finished the shutout with a perfect ninth.
"I had never thrown that many pitches before, but I'm grateful that the manager had enough confidence in me to send me out for the eighth," Ventura said.
Yost had a backup plan, of course.
"He was mowin' down. He was at 90-something pitches, and when we sent him back out, we got [Aaron] Crow up to come into a situation if two guys got on," Yost said.
Ventura, now 2-1 in his four starts, gave up seven hits with two walks, a hit batter and eight strikeouts. This, he thought, was his best effort in his brief big league career.
"I've been throwing a lot of strikes, and my offspeed pitches have been good and my throwing on the inside and outside corners has been very good, so that gives me a lot of confidence," Ventura said.
The Orioles' Adam Jones was suitably impressed after going 0-for-4 with two strikeouts against Ventura.
"That kid's special, to say the least. He's got a 95-100 [mph fastball]; his changeup I think is the pitch that keeps people off his fastball. His curveball was filthy," Jones said. "I don't like to tip my cap, but the guy's got some good stuff and he went out there and showed it tonight. You can't do anything about it but just go and get [Jeremy] Guthrie tomorrow."
The Royals struck quickly against Ubaldo Jimenez, a right-hander who was 2-0 against them last season. They got two runs in the first inning.
Omar Infante walked with one out and Eric Hosmer singled. Billy Butler worked a full count, the runners took off and he lined a single into right field. Infante scored and, when Alex Gordon followed with a single to right, so did Hosmer.
"Any time an offense scores early for you, I think that gives a pitcher some confidence. I'm not saying that's the reason he went out there and threw eight shutout, but it gives him a little bit of leeway," Butler said. "That's what we want to have, just let him go out there and pitch his game, pitching relaxed and everything like that."
Ventura said the early cushion did indeed help him.
"Getting a lead always gives me more confidence, so I can be more aggressive in the strike zone so I can go deeper in the game," Ventura said.
After that, Jimenez was invulnerable until the seventh. He walked Alcides Escobar to start the inning and Jarrod Dyson beat out a bunt. While Nori Aoki was threatening a sacrifice, Jimenez obligingly threw a wild pitch to advance the runners. On a 3-0 pitch, Aoki bounced a single to right field and Escobar scored.
That brought left-hander T.J. McFarland out of the Orioles' bullpen. Infante greeted him with a lined single to left, bringing in Dyson for a 4-0 lead. But McFarland ended the inning by fanning Hosmer and getting Butler to rap into a double play.
The Royals added their fifth run in the ninth against McFarland on singles by Dyson and Aoki and Butler's two-out double. Dyson wound up with two hits and two runs scored.
"Dyson's really starting to work his transition from big swinger, flyball-out guy to a guy who puts the ball on the ground and is utilizing the bunt much more which is important to his game," Yost said. "With his speed, he doesn't have to be perfect with the bunts. I'm happy to see him doing that."
Ventura showed a knack for dodging trouble.
In the first inning, he drilled Nelson Cruz in the elbow with a 98-mph fastball, but he stranded him. The same goes for Matt Wieters and J.J. Hardy, who opened the second inning with back to back singles.
Nick Markakis led off the third with a single and never budged from first. Hardy walked and Ryan Flaherty singled with one out in the fourth and were left on base, both in scoring position. Markakis led off the fifth with a single and was wiped out in a double play.
The Orioles had baserunners on each inning against Ventura, but he didn't waver.
"His last start, he was battling his command a little bit, and then you get the one like tonight where his strike-to-ball ratio is two-to-one [75 strikes, 38 balls]," Butler said.
Rain paid a return visit in the sixth inning, but not enough to stop the game or Ventura.
"It didn't look like it was too tough for him tonight," Yost said.
Amen to that, said Butler.
"He had three-plus pitches, a 100-mph fastball, a great curveball and changeup -- and all three for strikes today," Butler said. "I know I don't want to be opposing the stuff he had today. I'm glad he's on my team and there's a reason why his nickname's 'Ace.' I think that speaks for himself."
Dick Kaegel is a reporter for MLB.com. This story was not subject to the approval of Major League Baseball or its clubs.